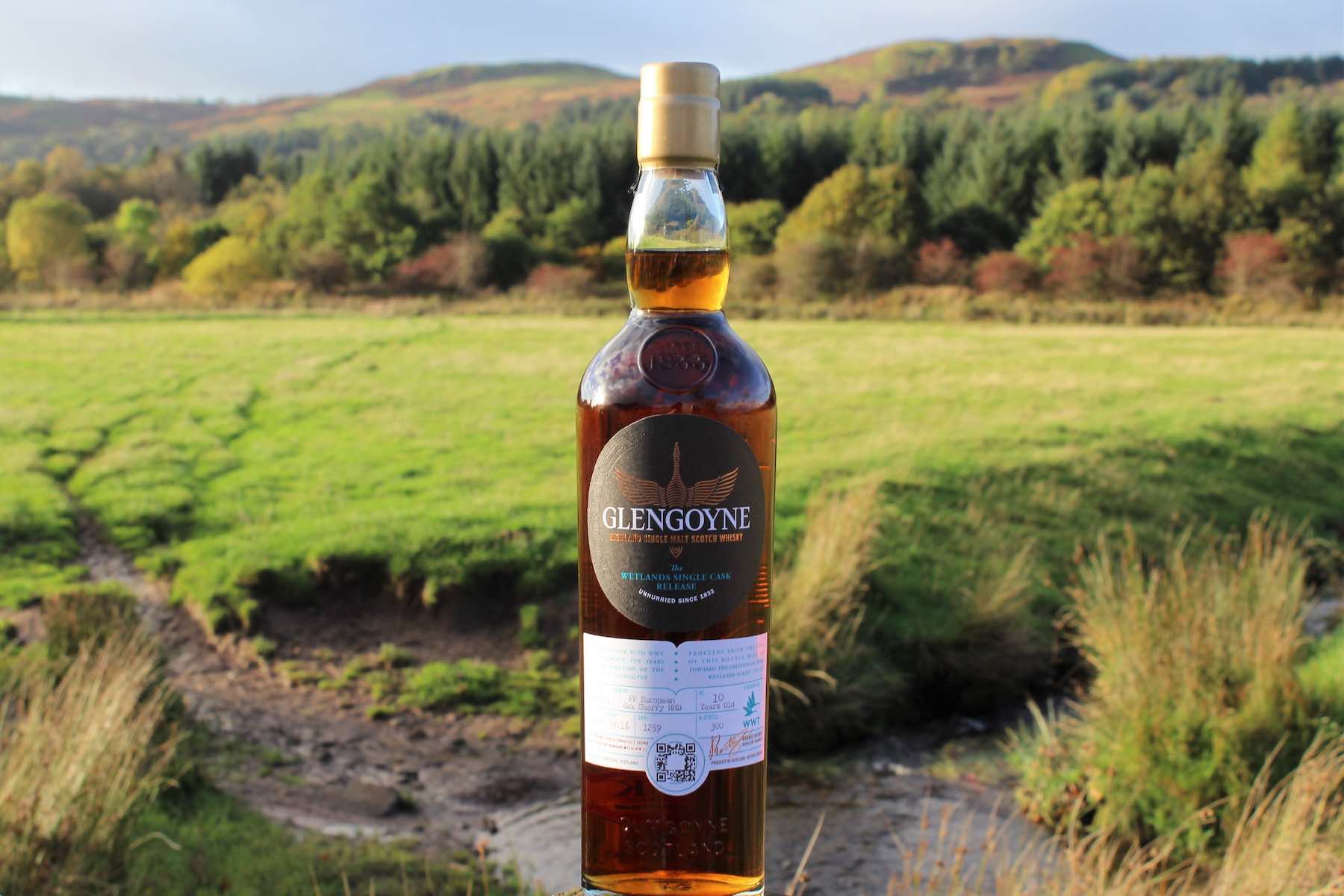 Glengoyne Wetlands Single Cask Whisky
Glengoyne has released a new limited edition 10 year old whisky: The Wetlands Single Cask. It commemorates the 10 year anniversary of its wetlands. Proceeds will go towards supporting the work of the Wildfowl and Wetlands Trust (WWT). The WWT have been partners with Glengoyne throughout their sustainability journey. The WWT, and its Blue Recovery project, aims to create 100,000 hectares of healthy wetlands across the UK.
Wetlands can help slow down climate change. They store twice as much carbon as all the world's rainforests combined. But, they too are under considerable threat from climate change.
Barbara Turing is the Brand Manager at Glengoyne Highland Single Malt. She said: "The threat of climate change is very real, and we all have a role to play in combatting its effects. We've worked with WWT for ten years. The partnership has been at the heart of our sustainability work ever since. With the release of the Wetlands Single Cask, we're delighted to donate proceeds from each bottle sold. These funds will support the valuable work that WWT does."
Distilled in the same year the wetlands were created, the 2011 European Oak Sherry Hogshead will yield 300 bottles. It's bottled at 59.1% ABV.
Glengoyne Wetlands Single Cask Official Tasting Notes:
Nose: Warming dark brown sugar and treacle, followed by warm spice and apple.
Palate: Indulgent. Deep, rich flavour of toffee apples with dried fruits, liquorice, and cloves.
Finish: Mellow oak and spice.
COP26 Climate Change Impact study
The Wetlands Single Cask coincides with the release of a report commissioned by Glengoyne ahead of COP26. The report highlights the need for everyone to come together to combat climate change.
Glengoyne enlisted climate experts at University College London to look at the effects of climate change on the Scotch industry in the next 50-100 years. Researchers found heat and drought stress from global warming could impact the volume and quality of spring barley in Scotland.
800,000 tonnes of spring barley are required every year in Scotch Whisky production. A reduction in yield, as seen in 2018, could cost the industry up to £27 million a year.
With a decline in summer rainfall of up to 18% and a 2.0˚C annual rise in temperature by 2080, they also found that summer-droughts, which halted production at many distilleries across Islay, Perthshire, and Speyside in 2018, could occur with much greater frequency. 
The study suggested climate change in the next 50-100 years could also threaten to alter the flavour profile of Scotch. Stages of its production, including malting, fermentation, distillation, and maturation, have all been developed to suit the temperate maritime climate of the area. Warmer air and water temperatures could lead to inefficient cooling in traditional distilleries. This could create challenges for conserving the character, consistency, and quality of whisky.
Professor Mark Maslin is a climate change professor at University College London. He said: "The work Glengoyne is doing to reduce carbon emissions and protect whisky production from climate change is essential. But the whisky industry is just one fish in a big pond. We need government support, investment, and infrastructure to be net zero emissions as soon as possible."
If you'd like to try this whisky for yourself, and support WWT, you can find it on Glengoyne's website. The 700ml bottle retails for £120.