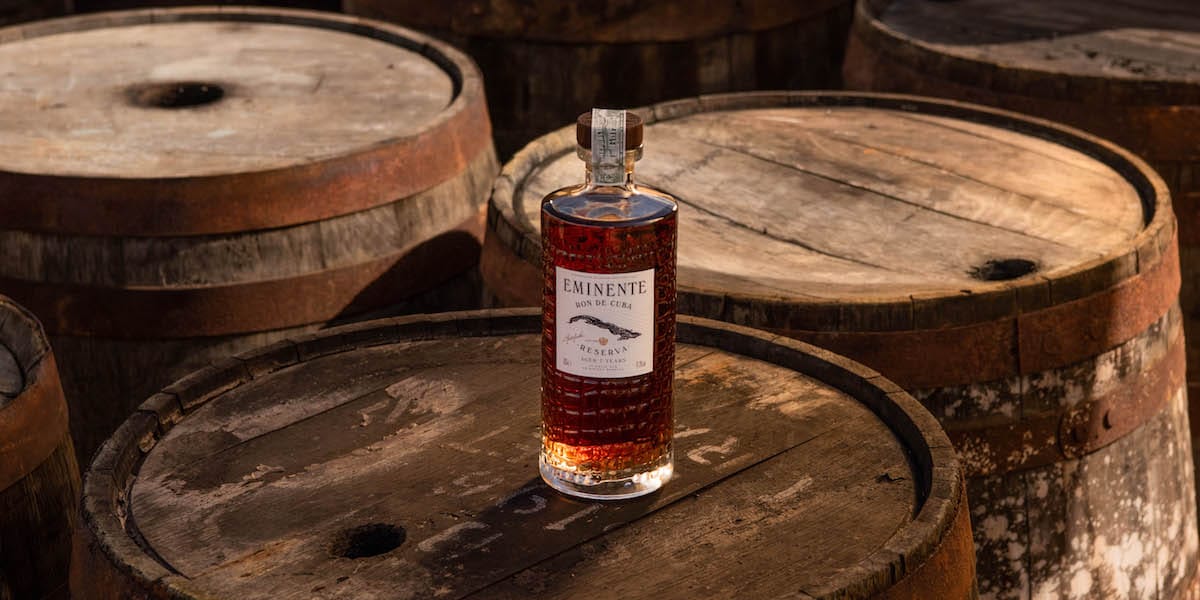 Eminente launches new premium Cuban Rum in UK
Eminente, a new premium rum from the heart of Cuba, is launching in the UK. From the island that is known by its locals as 'Isla del Cocodrilo', this premium rum has been created out of a passion to celebrate the untainted nature and rich heritage of Cuba, while taking inspiration from 19th century flavours and complex styles of Cuban rum.
Eminente's story begins with a talented creator: César Martí - one of the island's ten Maestros Roneros (master Cuban rum distillers) and the youngest ever to acquire this status – who answered his calling to create this extraordinary rum.
César grew up in the Central Province of Villa Clara in Cuba - where Eminente originates - surrounded by sugarcane fields with his family who worked the land. He learnt his craft from his grandparents and parents who, having worked in the sugar cane industry all their lives, passed generations of craftsmanship onto him. It is this family inspiration and knowledge of rum's crucial raw ingredient that lead him to pursue a career in Cuban rum. 
After having been mentored by José Navarro Campa – Cuba's first Maestro Ronero – César became the youngest of Cuba's Maestro Roneros in an unprecedented nine years.
It is with his wealth of expertise and passion that César has curated Eminente, bringing a complexity to this Central Cuban rum by mastering the art of ageing and blending aguardientes. Referred to as 'the soul of Cuba', aguardientes are the most flavourful and complex eaux-de-vie that the island produces from molasses distilled to 75% ABV, which are then aged in white oak barrels that were once used for ageing whisky, blended and aged again with traditional light Cuban rum distilled to 96% ABV. The blend of aged aguardientes and light rums creates Cuban rum as we know it. The aguardiente brings the complexity and depth of aromas, while the light rum adds vitality, thanks to the strength of the alcohol.
Eminente Reserva is aged for a minimum of seven years and is one of only a handful of Cuban rums to be classified 'Denominación de Origen Protegida' (D.O.P. Ron de Cuba). This status is granted by a Regulatory Council: the D.O.P. Ron de Cuba which dictates strict rules to ensure the authenticity and high standards of Cuban rum.
Eminente reflects Cuba's rich culture, heritage and terroir to reveal a new dawn for through its bottle design and story. It is linked to Cuba's untainted nature down to its bottle and logo. The textured glass bottle and crocodile-shaped island on the label are reminders of Cuba's native animal. The island is home to over 3,000 indigenous species, including the Cuban crocodile (found within the Zapata Swamp – Cuba's largest wetland located in the southern Matanzas Province) – the wild animal that embodies the country's unchartered essence and unexpected characteristics. The side label resembles a travel ticket and tells the story of Eminente in the words of its Maestro Ronero. Each bottle features a different number across the same label.
Max Helm, Brand Ambassador, said: "We are delighted to see Eminente officially launch in the UK, particularly at a time when the rum category is increasingly dynamic and diverse. We believe Eminente's story, the Cuban heritage and the delicious liquid in the bottle are an energising addition to this exciting spirit category and that it will bring a fresh perspective to Cuban rum: from how and where it is made, to how it can be served and enjoyed."
Ideal for sipping on its own, over a large ice cube or in cocktails, Eminente Reserva possesses the character of a traditional Cuban rum, but with the complexity of a very old spirit, making it incredibly versatile, as well as delectable.
If you'd like to try Eminente Reserva you can find it on Eminete's website here for £47. Or, if you're curious to learn more about the best quality rums, you may enjoy Secret Spirit's premium rum tasting set here.