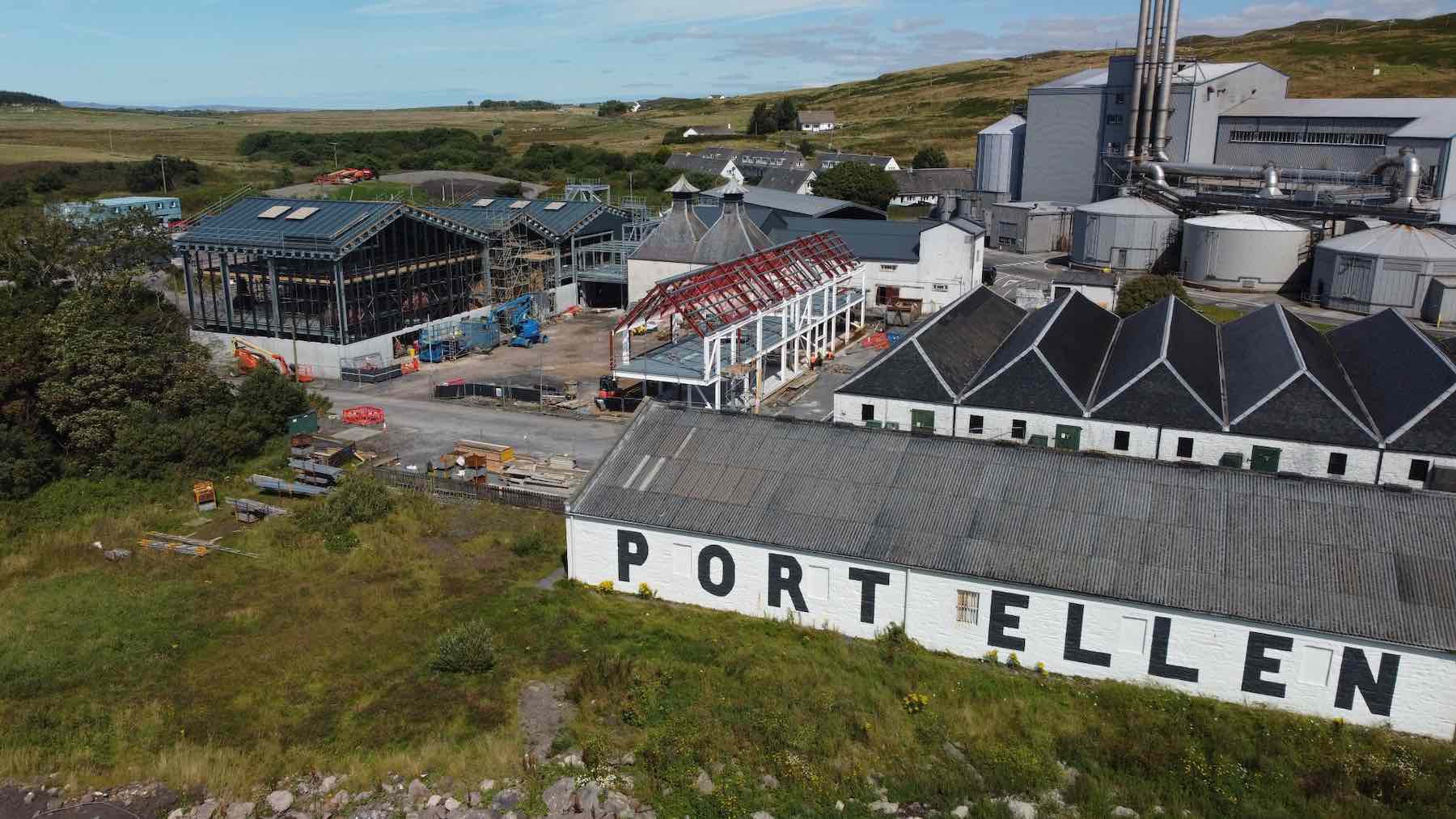 Port Ellen Distillery: An Islay Legend Reawakens
Port Ellen Distillery, situated on the enchanting Isle of Islay, is a story of resilience, rebirth, and the enduring allure of exceptional whisky. Founded in 1825, Port Ellen has experienced periods of closure and revival, ultimately securing its place as a legendary Islay distillery. In this article, we'll delve into Port Ellen's history, celebrate the rare and iconic whiskies it has produced, and look ahead to its exciting future.
A Journey Through Port Ellen's History
Port Ellen Distillery has a fascinating history that spans nearly two centuries. Founded in 1825, the distillery has had its fair share of ups and downs, including periods of closure and revival. Here's the rich history of Port Ellen Distillery, from its inception to its impending resurrection.
The Early Years (1825-1930)
Port Ellen Distillery was established in 1825 by Alexander Ker Mackay, a merchant and entrepreneur. Named after the nearby harbour village, Port Ellen Distillery initially struggled to find its footing, with ownership changing hands several times during its first few decades.
In 1836, the distillery was acquired by John Ramsay, who helped to develop its reputation for producing exceptional whisky. Under his ownership, Port Ellen Distillery flourished, and its whisky became highly sought after both domestically and abroad. Ramsay's influence on the distillery's success was significant; he oversaw the introduction of modern equipment and practices, as well as the expansion of its production capacity.
A Period of Dormancy (1930-1967)
Port Ellen Distillery faced challenging times during the early 20th century, as global economic instability and Prohibition in the United States led to reduced demand for Scotch whisky. In 1930, the distillery ceased production and was mothballed, remaining inactive for the next 37 years.
The Resurgence (1967-1983)
In 1967, the distillery was purchased by the Distillers Company Limited (DCL), which later became part of Diageo. Production resumed under the new ownership, and the distillery underwent significant upgrades to modernise its facilities. In addition to producing whisky, Port Ellen also supplied malt for other Islay distilleries, including Caol Ila and Lagavulin.
Unfortunately, the whisky industry faced another downturn in the early 1980s, with numerous distilleries closing their doors. In 1983, Port Ellen Distillery was once again mothballed, with its remaining stock left to mature in casks.
Cult Status (1983-Present)
Over the years, the whiskies produced during Port Ellen Distillery's relatively short period of activity garnered a cult following among whisky enthusiasts. Bottlings from the distillery became increasingly rare, with demand far outstripping supply. As a result, Port Ellen whiskies have fetched premium prices at auctions and become highly sought after by collectors and connoisseurs alike.
The Revival (2017-Present)
In 2017, Diageo announced its intention to revive Port Ellen Distillery, with plans to invest £35 million into the project. The distillery's resurrection has generated much excitement among whisky enthusiasts, who eagerly await the release of new Port Ellen whiskies. The distillery is set to resume production in 2023, with the first new whiskies expected to be available by 2030.
The Rare and Celebrated Whiskies of Port Ellen
Port Ellen's whiskies are revered for their elegant complexity, harmonious balance of peat and fruit, and the distinctive maritime character that is the hallmark of Islay malts. The distillery's closure in 1983 left behind a finite supply of whiskies, transforming them into highly sought-after collector's items and symbols of Islay's whisky-making heritage.
Over the years, Diageo has released a series of official Port Ellen bottlings, known as the Annual Releases, which showcase the distillery's exceptional spirit in all its glory. These limited-edition whiskies have gained a cult following and are celebrated for their rarity, age, and exquisite quality.
Port Ellen and Independent Whisky Bottlers: A Showcase of Rarity and Excellence
Port Ellen's relationship with independent whisky bottlers has given rise to a plethora of extraordinary expressions that highlight the distillery's spirit in unique and exciting ways. Esteemed independent bottlers, such as Douglas Laing, Signatory Vintage, and Gordon & MacPhail, have released a range of Port Ellen whiskies, each capturing a different facet of the distillery's character.
These independent bottlings often feature Port Ellen whiskies matured in rare cask types, single-cask releases, or limited-edition bottlings that showcase the distillery's exceptional spirit. As a result, these expressions have become highly prized by collectors and connoisseurs alike, offering a glimpse into the distillery's illustrious past and the magic of its whiskies.
The Future of Port Ellen Distillery
As Port Ellen embarks on its journey towards revival, the distillery will strive to honour its rich history and the legacy of its whiskies while also embracing the future. The distillery's reopening, scheduled for 2023, will see the production of new whiskies that combine traditional methods with modern innovation.
While it remains to be seen how the new Port Ellen whiskies will compare to their iconic predecessors, there is no doubt that the distillery's revival will generate a new wave of excitement and anticipation among whisky enthusiasts worldwide. The reawakening of Port Ellen will mark a new chapter in Islay's whisky-making story, reaffirming the island's status as a bastion of exceptional Scotch whisky production.
Visiting Port Ellen Distillery
For those planning a visit to Islay, the opportunity to explore Port Ellen Distillery promises to be a memorable experience. When it reopens, the distillery is expected to offer guided tours that provide an in-depth look at its storied past, production process, and future ambitions. Visitors will have the chance to witness firsthand the distillery's commitment to craftsmanship, innovation, and tradition, and sample a selection of whiskies that celebrate the spirit of Port Ellen.
Port Ellen's Whiskies, past, present and future
Port Ellen Distillery is a testament to the enduring appeal of exceptional whisky and the power of resilience in the face of adversity. With its storied history, iconic whiskies, and ambitious plans for the future, Port Ellen has captured the hearts and minds of whisky enthusiasts the world over. As the distillery prepares to open its doors once more, a new generation of whisky lovers will have the opportunity to discover the magic of Port Ellen and celebrate the rebirth of a legendary Islay distillery. Whether through exploring its rare and cherished expressions, delving into independent bottlings, or eagerly awaiting the first sip of its new whiskies, the spirit of Port Ellen Distillery will continue to captivate and inspire for years to come.