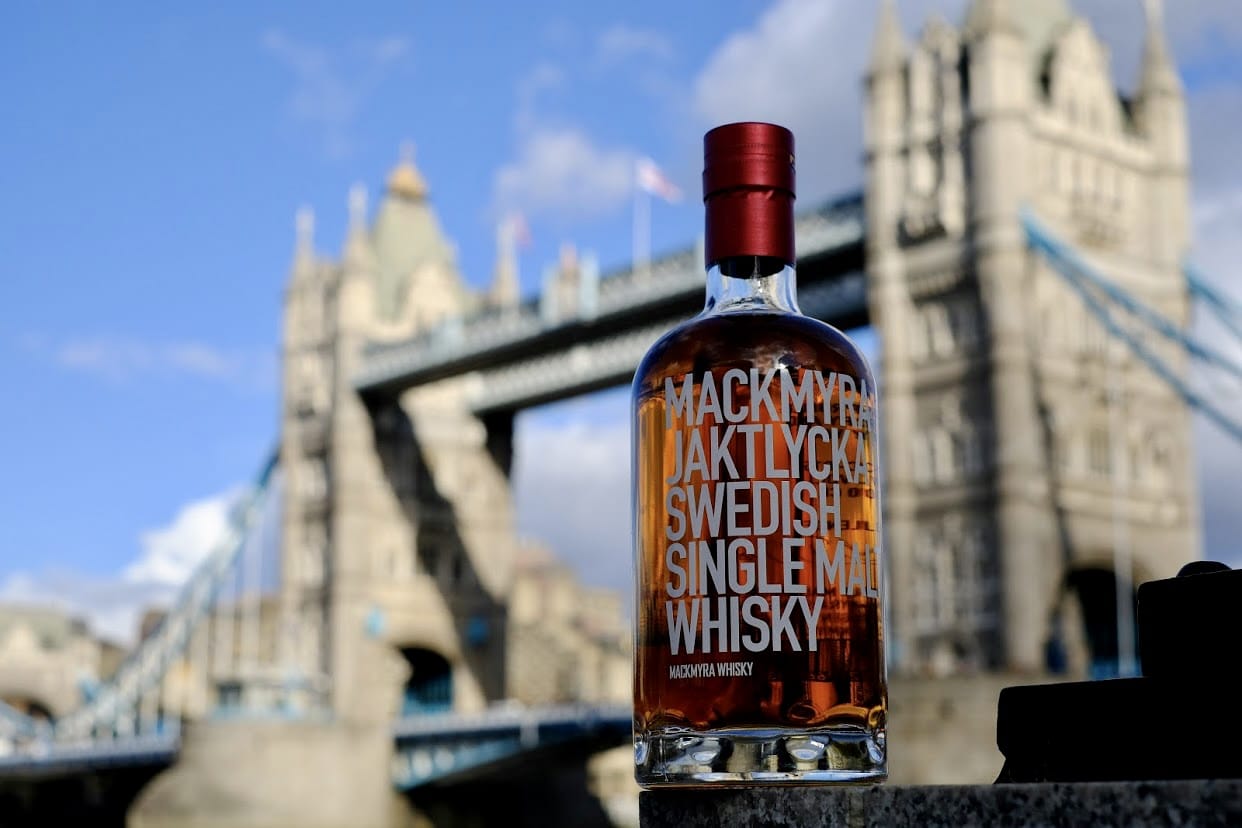 Review of Mackmyra Jaktlycka Swedish Whisky
Jaktlycka roughly translates from Swedish as "happy hunting" in English. I first tried this with my good friends Dan from Summerton Whisky Club and Ian, who you may know as @PoshScotch on Instagram; we were on one of our much-enjoyed photoshoots in Autumn, in between the many lockdowns we've all experienced over the past year. Hunting for good photos, if you will! Jaktlycka is a tribute to the Autumnal treasures that can be found in the ancient Swedish woods. While we weren't in a wood when we tried this, we were surrounded by a forest of stone and concrete, of steel and glass, in the heart of London. 
This Swedish whisky is based in the main on Mackmyra's elegant recipe aged mainly in casks that previously held Swedish berry wine from the craft producer, Grythyttan, and combined with a few smoky recipe casks. Grythyttan Vin is run by Per and Ingunn, two passionate Swedish winemakers who want to highlight the tastes and grandeur of the Nordic forests. With berries, fruit and birch sap, they create natural berry wines with no additives.
So, let's cut to the hunt and try this limited edition Swedish whisky, bottled at 46.1% ABV.
Tasting notes for Mackmyra Jaktlycka
Colour: Light bronze, with multiple little legs sliding down my copita glass.
Nose: Perfumed and floral. Sharp, fresh red berries such as cranberries; and, with Sweden in mind it does, somewhat aptly, remind me of the lingonberry sauce I had with meatballs when last in Sweden. Vanilla and malt in the background.
Palate: Medium mouthfeel, with a nice density to it. Full of red fruit and berries, including more cranberry and lingonberries. A slight caramel or malt sweetness to balance against the fruit.
Finish: A medium finish. The berries fade through caramel into a gentle wood spice at the end.
Review of Mackmyra Jaktlycka
One of the things I like about Mackmyra is their adventurous and unrestrained approach to cask maturation. This whisky was matured in casks seasoned with berry wine. And guess what, it tastes like berries. That's mission complete, in my books. A most enjoyable dram that I've enjoyed over a few nights; the kind of whisky you can either sit and unpick, or kick back and enjoy in front of the telly.