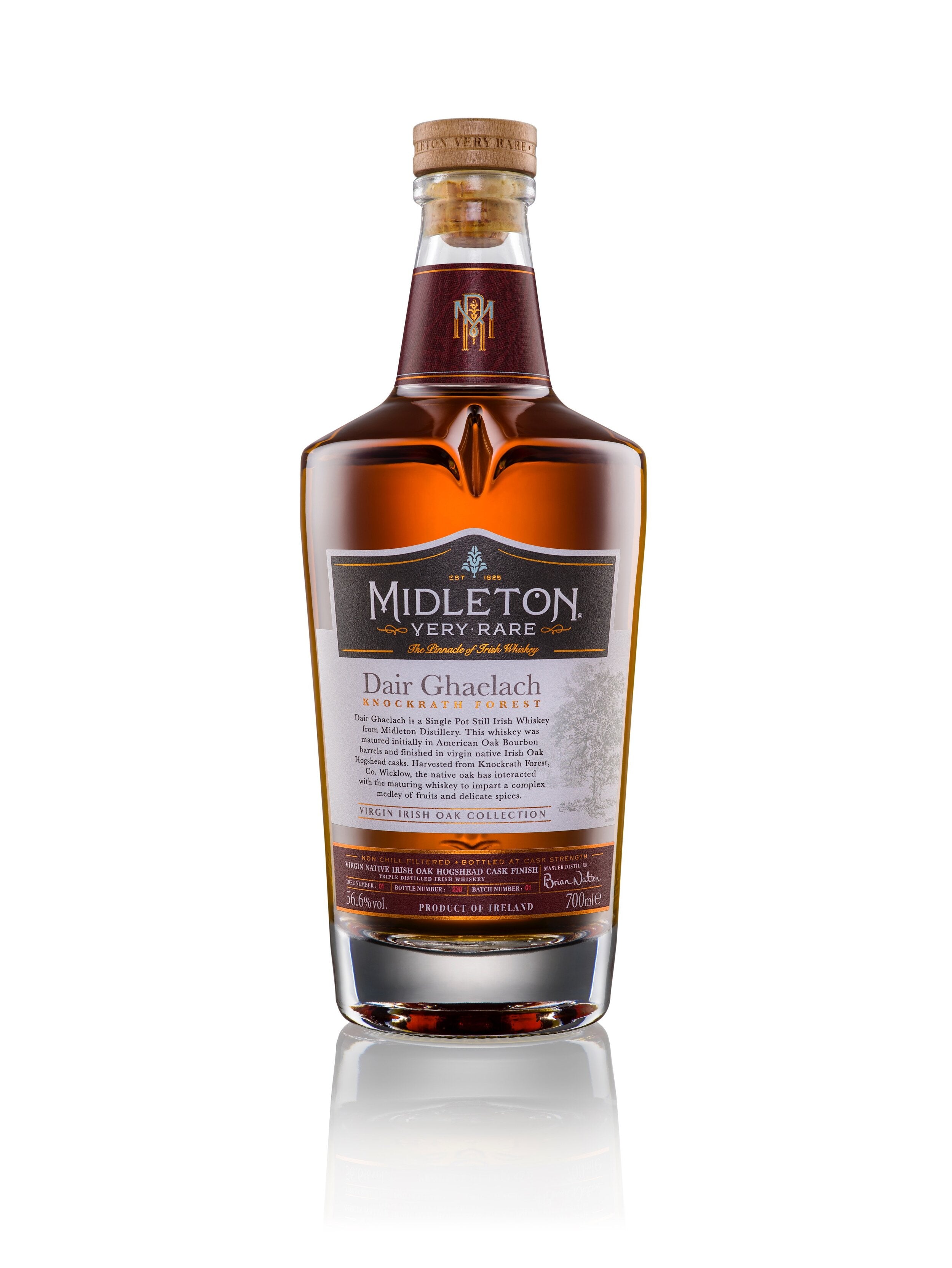 Knockrath Forest single pot still Irish whiskey
Irish Distillers have launched Midleton Very Rare Dair Ghaelach Knockrath Forest, the third release in the Dair Ghaelach collection. This new whiskey has been matured in barrels made from virgin Irish oak grown in Knockrath Forest, County Wicklow, as a tribute to Midleton's Irish heritage.
Work on Dair Ghaelach, which translates as 'Irish oak', began over a decade ago when Midleton decided to explore the possibility of maturing Irish whiskey in native oak. Midleton's team, including Master of Maturation Kevin O'Gorman, Master Cooper Ger Buckley and Master Blender Billy Leighton, sourced sustainable Irish oak from estates throughout Ireland to produce a series of whiskeys, each with their own individual history and taste profile, that could be traced back to the specific tree from which the oak cask was made.
For the third edition, the Midleton team selected the Knockrath estate in the ancient Vale of Clara where the oak has grown for more than 150 years amidst the landscape of mountains and lakes. Known for its cool summers and heavy rainfall, the climate of County Wicklow impacts the density and porosity of the oak. This, in addition to a lighter toasting of the wood and unique combination of distillates, results in subtle flavour differences between Dair Ghaelach Knockrath Forest and its predecessors, Dair Ghaelach Grinsell's Wood (launched in 2015 and matured in Irish oak barrels grown on the Ballaghtobin Estate in County Kilkenny) and Dair Ghaelach Bluebell Forest (launched in 2017 and matured in oak from the Castle Blunden Estate in County Kilkenny).
Since the 16th century the Brabazon family has watched over Knockrath Forest and continues to sustainably manage the trees from one season to the next. Under their guardianship, the Knockrath estate became one of the first sites where the iconic Great Spotted Woodpecker – engraved into the whiskey's stunning wooden case – set up residence on its return to Ireland following years in exile. Today, after ten years of silence, the woodpecker's drumming can be heard throughout the forests of Wicklow and beyond thanks to the Brabazon family and the expanding oak forests.
Once felled, the trees were shipped to the Maderbar sawmills in Baralla, north-west Spain, where they were traditionally quarter-sawn into staves for barrel manufacturing and transferred to the Antonio Páez Lobato cooperage in Jerez. After a 15-month drying process, the staves were worked into barrels and given a light toasting before returning to Ireland. Back at Midleton Distillery, the virgin oak casks were filled with Irish pot still whiskeys ranging in age from 13-26 years.
Following two further years maturing in the Irish oak, O'Gorman and Leighton checked the barrels each month until they decided the whiskey had the right balance of flavour, aroma and wood contribution, ready for bottling.
Midleton Very Rare Dair Ghaelach Knockrath Forest is bottled at cask strength, ranging from 56.1% – 56.6% ABV, giving drinkers the opportunity to taste Irish whiskey almost directly from Irish oak. The native wood contributes notes of caramel, fruits, vanilla and chocolate for a smooth and robust whiskey.
Midleton Very Rare Dair Ghaelach Knockrath Forest tasting notes
Nose: Pot still spices are accentuated by the Irish oak contribution, adding toasted wood with hints of vanilla and roasted coffee, layered over fresh fruit.
Taste: Classic pot still spices give a good mouthfeel, while the influence of the Irish oak adds sweet notes including chocolate and honeycomb.
Finish: A long finish with fruit and spices, ending with the Irish oak.
Billy Leighton, Master Blender, said: "It's an honour to present the latest edition in the Midleton Very Rare Dair Ghaelach collection. Truly a taste of Ireland, the barley, water, oak and indeed craftspeople at the heart of this expression are all home-grown, making us extremely proud to share this latest expression in the Midleton story with the world."
If you're interested in trying Dair Ghaelach Knockrath Forest then you'll be able to find it in Ireland, UK, France, US and China; the recommended selling price is €310 a bottle.