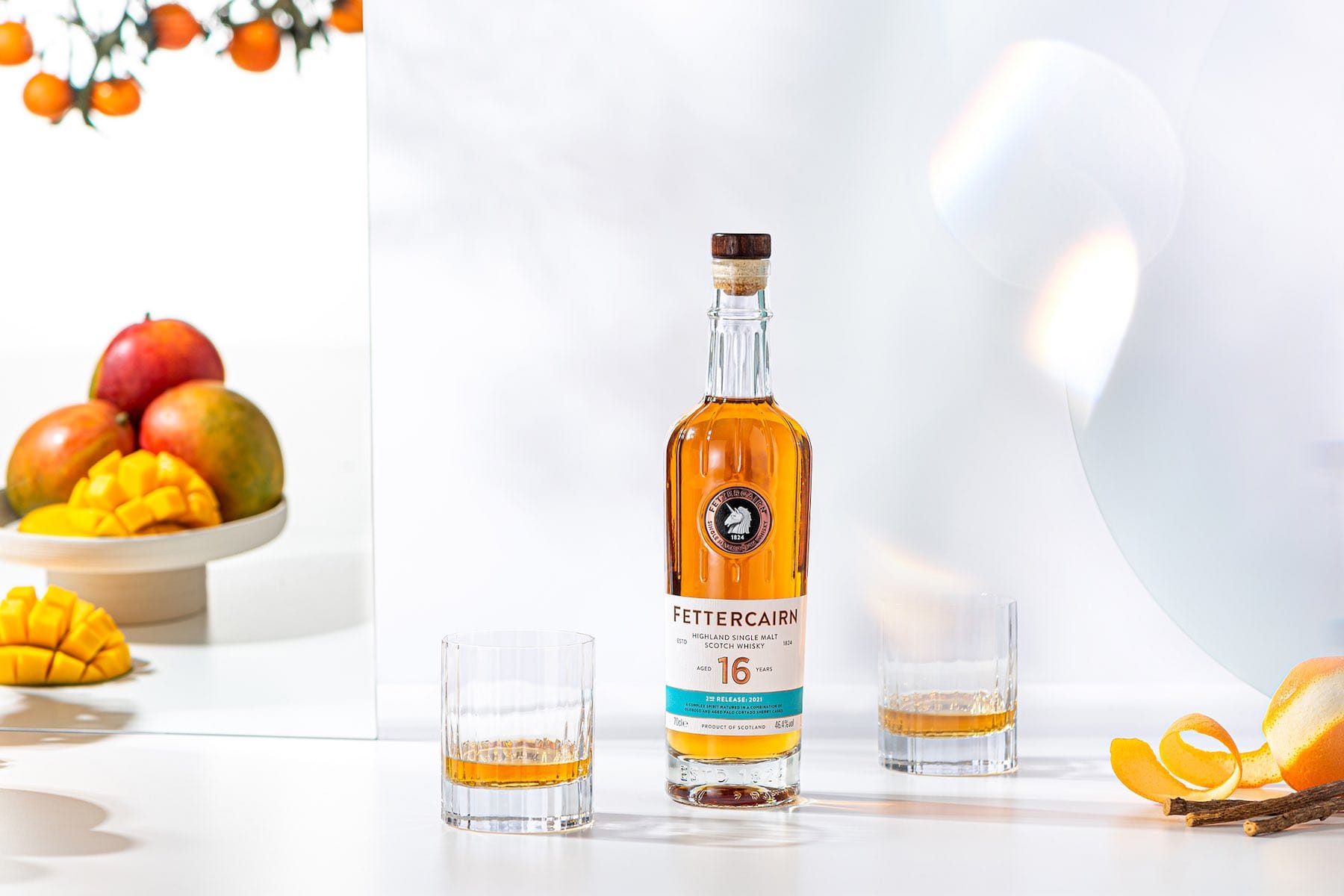 Fettercairn 16 Years Old 2021 Edition
Following the success of the first Fettercairn 16 Years Old last year, the distillery has released its successor. The annual series celebrates different maturation stories, while showcasing the distillery's tropical style. This particular profile is achieved from the distinctive copper cooling ring distillation process.         
The release uses sherry matured and finished casks to create a refined but classic combination of Fettercairn and sherry styles. The casks from a small, family run Bodega in Jerez include first fill Oloroso, refill Oloroso and first fill aged Palo Cortado Sherry butts. These marry together to enhance the distinctive distillery character. 
These casks were selected to keep the balance of Fettercairn's house style, while taking on the sweetness of nutty Oloroso. Vanilla and citrus notes from the Palo Cortado butts add depth to Fettercairn's exotic fruit character. It's bottled at 46.4%, natural colour and non-chill filtered.
Fettercairn 16 Year Old official tasting notes
Colour: Natural colour; rich honey and bronze.

Nose: Sugared almonds, dried fruit and aged wood feature.

Palate: Alphonso mango, rich citrus zest and apricots. Walnut, coffee and liquorice notes.

Finish: Salted caramel, sandalwood and iced ginger cake.  
Gregg Glass is the Master Whisky Maker at Fettercairn. He said, "This 16 Year Old limited edition was borne from fully-matured sherry casks combined with old Oloroso and Palo Cortado butts. This was about retaining the balance of Fettercairn's tropical style while elevating the pure beauty of Palo Cortado and Oloroso casks. Combining these elements allow us to share another aspect and dimension to our unique warehouse stocks." 
Kirsteen Beeston is Head of International Malts at Whyte and Mackay. She said, "The enthusiasm we saw for our first 16 Years Old reinforced our desire to create whiskies inspired by our whisky making philosophy. This 16 Years Old reveals balanced tropical and soft spice flavours. It showcases the approach we take to making single malt. This time, we've called on rare Palo Cortado which is a dry Sherry alongside the dark richness of Oloroso. These add a special flair to this single malt. They showcase the excellent maturation expertise coupled with the ripe tropical distillery character. We're confident this year's 16 Years Old will be another Fettercairn that excites whisky drinkers."
If you'd like to try Fettercairn 16 Years Old, it's available in Europe from December, and in Asia in early 2022. It's priced at around £69. And, if you'd like to see what we have available, you can find our sherry cask whiskies here.