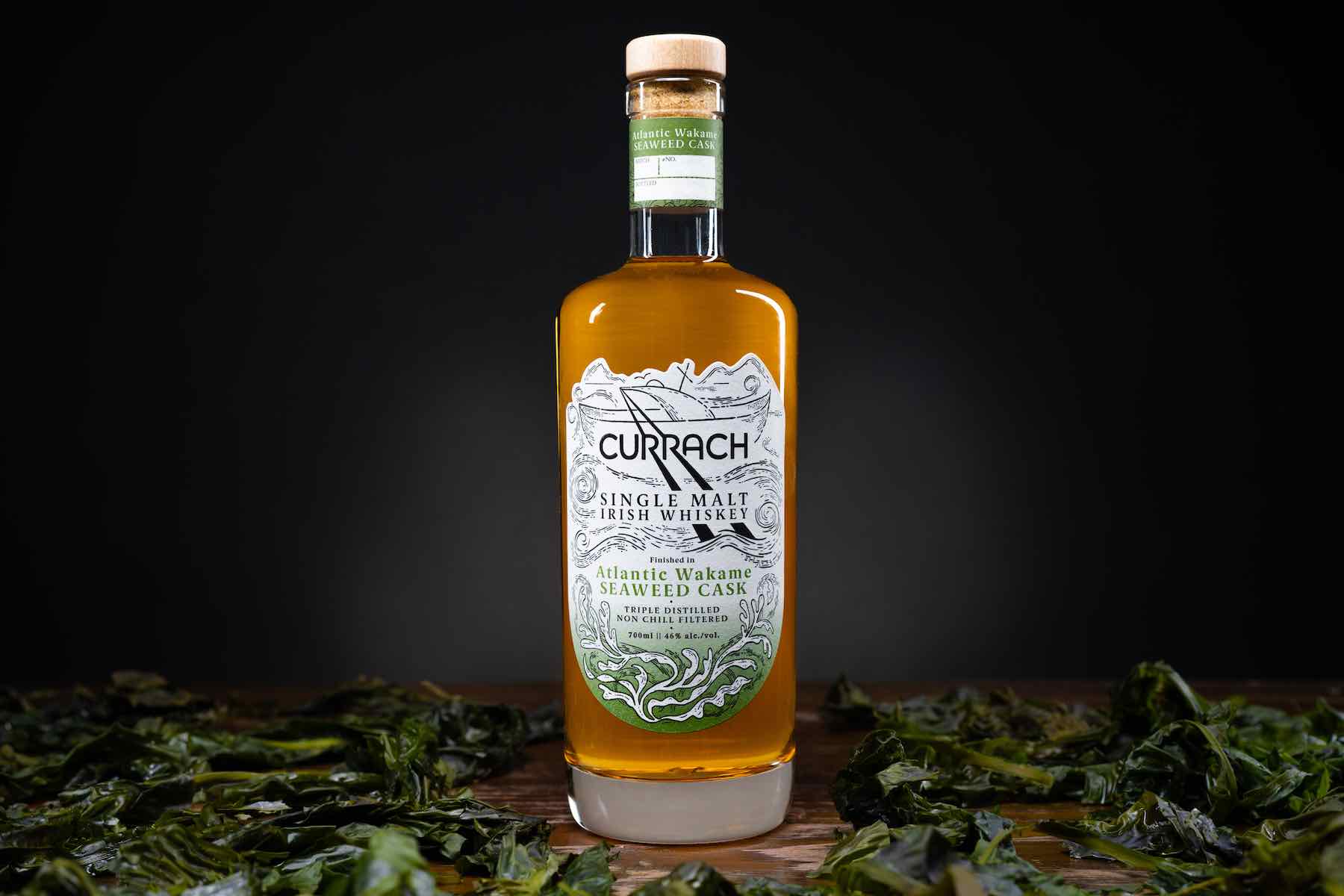 Currach Single Malt Irish Whiskey Atlantic Wakame Seaweed Cask
Currach Single Malt Irish Whiskey
Currach Single Malt Irish Whiskey make innovative whiskeys. They were the first to use seaweed charred casks to finish their whiskey. Currach's first whiskey used Irish Atlantic Kombu Kelp seaweed. They've now released their second expression. Currach Single Malt Irish Whiskey - Atlantic Wakame Seaweed Cask. 
They used the same process to create both expressions. The key difference is the seaweed used to char the individual casks. The flavours from both whiskies are different. They share the same single malt DNA. But have distinctive sweet, savoury and maritime qualities of their own. This shows the diversity of Ireland's maritime terroir, and how this influences whiskey.
Currach Wakame Cask
Currach Wakame Cask is an intriguing whiskey. Complex yet subtle, vegetal yet sweet, light yet deep. Made from 100% Irish malted barley, it is a triple distilled single malt Irish whiskey. It was first matured in 1st fill American oak ex-bourbon barrels. Then it was finished in Atlantic Wakame seaweed charred virgin American oak casks. It is non-chill filtered, natural colour, and 46% ABV. A limited edition, the initial batch 3,000 bottles.
Tasting Notes
Nose: An intriguing and enticing nose. Sea salt and rye cracker aromas give way to a golden caramel sweetness. At the back there are vegetal hints with a touch of iodine.
Palate: Cracked pepper and oak spice, followed by briny yet sweet maritime notes. Complemented by a white wine fruitiness, butterscotch and herbal green tea undertones.
Finish: An elegant sweet and salty finish. A touch of liquorice. Plenty of umami and maritime character.
Wakame Seaweed
Hand-harvested off the wild Atlantic coast of Co. Clare, Wakame seaweed is 100 % natural and organic certified. Wakame, a green seaweed varietal, is both rare and seasonal, and considered to be the king of seaweeds. You can find it in the extreme lower shore on wave-battered rocks and in rock pools along the coast of Ireland. It grows in the winter months. Harvest is in mid-spring/early summer when it is at its nutritional prime. Wakame has low light limitations and does not grow in the mid-summer months.
Wakame has a subtle, but distinctive taste and texture. It has a briny, salty, and umami flavour with a degree of sweetness. It's used in salads, soups, snacks, and as a seasoning, particularly in Japanese cuisine. 
Seaweed Harvesting
Seaweed harvesting employs about 400 people in Ireland. It's a part time job, as it is very weather and tide dependent. The Talty Family are fourth generation Seaweed Harvesters. They ensure only the finest seaweeds go into Currach Single Malt Whiskey. All their seaweeds grow off the Wild Atlantic Way in County Clare. Hand-harvested in season to provide the best nutrition, their seaweeds are organic certified. The precious harvesting waters are tested quarterly to ensure they're the best quality. 
Patrick Shelley is the Founder of Origin Spirits Ireland Ltd. He said "Our vision with Currach was to create a single malt Irish whiskey inspired by the Irish terroir. We are fortunate to have some of the best malted barley in the world. And our coast yields lots of organic and sustainable seaweed. The union of these elements together in a whiskey is a world's first. We were very encouraged by the success of our initial Kombu release. It is now available in 20 countries. Our customers can discover more of Ireland's coast with our Atlantic Wakame Cask. It is a whiskey of sensory paradoxes. At its heart, it is a smooth Irish single malt. But it has subtle briny and maritime characteristics often found in Scotch. This gives it a rich, multi-layered and complex character." 
If you'd like to try this whisky, it sells for around 60 Euros on Currach Whiskey's website.