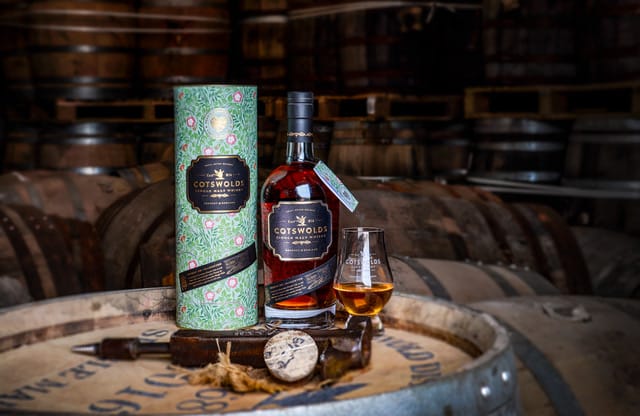 Cotswolds Hearts and Crafts Pineau De Charentes Cask Single Malt Whisky
In celebration of St George's Day Cotswolds Distillery has released its second Heart and Crafts expression, which is a single malt whisky aged in Pineau de Charentes casks.
Pineau de Charentes is a little-known regional specialty of the Charentes Maritime region of France, sitting north of Bordeaux and encompasses the Cognac producing region. It is made from fresh grape juice, which is blended with Cognac and left to age in oak barrels for a number of years. The sweetness of the grape juice tempers the bite of the Cognac, which combined with dry nutty notes from European oak casks makes it a great aperitif.
Cotswolds Hearts and Crafts Pineau de Charentes Cask has been aged in the white grape Pineau casks and the French oak imparts a slightly more bitter and tannic note than the American oak used by the distillery for aging their whisky. Bottled at 55.2% ABV, this could be perfect for PX sherry fans who are looking for something different.
Cotswolds Hearts and Crafts Pineau de Charentes Cask Tasting Notes
Nose: Wonderfully rich, tonka bean, marzipan and caramelised peaches.
Palate: Raisins, brazil nuts, toffee, fudge and dried orange peel.
Finish: Warm and long finish, hints of white pepper and almonds.
Daniel Szor, Cotswolds Distillery Founder said: "I first started drinking Pineau on a trip to the beautiful Atlantic island of Isle de Ré, just off the cost of La Rochelle, in 1994 and I've always had a soft spot for it, hence the excitement at the idea of aging our Cotswolds single malt spirit in these casks.'
The whisky has been matured for its full term in the casks, and the techniques of rejuvenation and seasoning under pressure allows the distillery to get the best out of the wine and the wood. As the woodgrain is not tight, more tannins come into the spirit.
Inspired by the Arts and Crafts Movement this second expression continues with a William Morris design, which is both classic and contemporary. This prolific and innovative designer was one of the leaders of the Arts and Crafts Movement, which was created in the late 19th century and stood for the importance of traditional craftsmanship, the same values upon which the beautiful rural distillery was built.  William Morris spent much of his time in the summer in his Cotswolds home, Kelmscott Manor and the verdant green leaves featured on the label and luxury gift box are perfect for the lushness and vitality of spring and celebrate St George's Day which is a highlight of spring festivities.
If you'd like to try this whisky you can pick up a bottle for £74.95 from Cotswolds Distillery's website, while stocks (limited to 1,600 bottles) last.