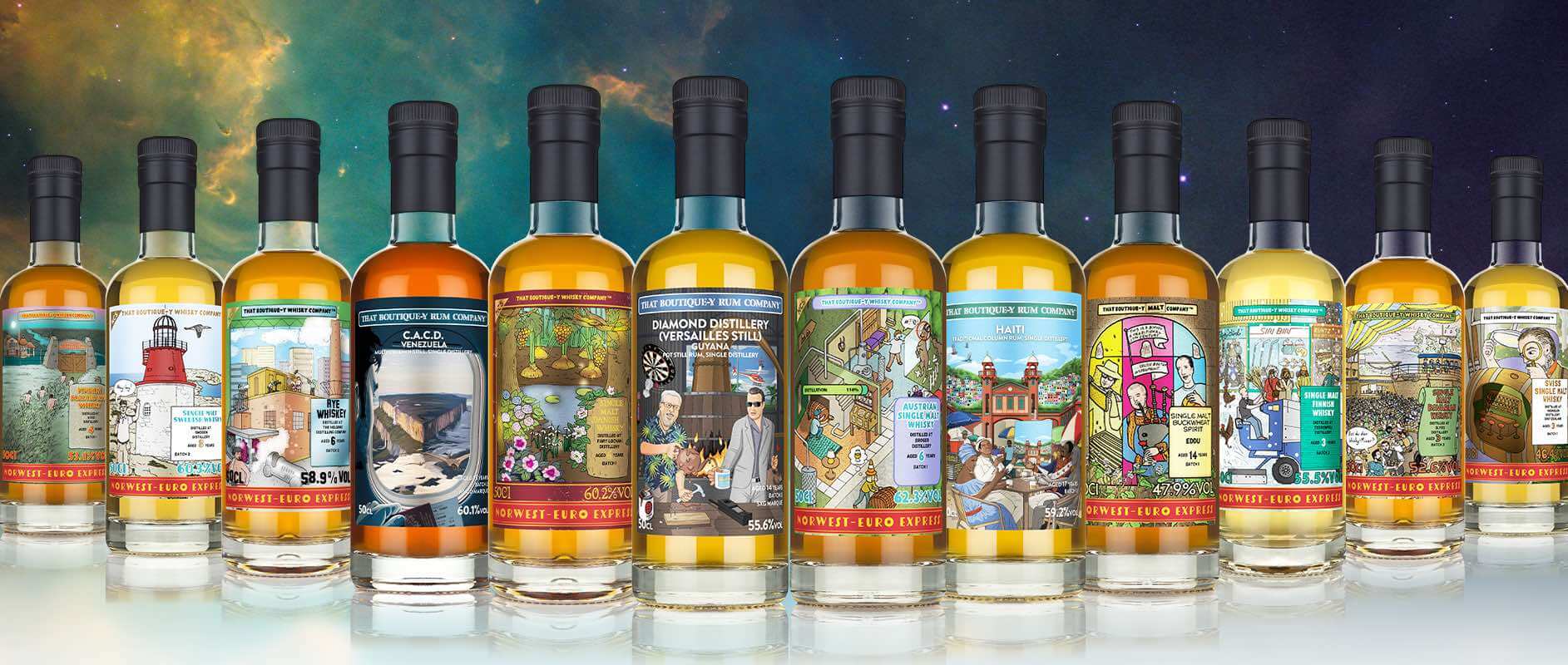 That Boutique-y Whisky Company welcome you aboard the Norwest-Euro Express
That Boutique-y Whisky Company have announced their first  series release of 2022. The independent bottler brings a focus to the wide range of whiskies being produced in North-West Europe. This release sees the brand follow on from previous themed releases including the Australia Series and Wine Cask Series. These have seen TBWC shine a light on specific geographical and category focused elements of whiskies from across the globe. 
Boutique-y made the move to focused quarterly releases in August 2020. This release is the sixth series to be launched. It consists of nine whiskies from seven countries, including five first batch whiskies for TBWC. 
Sam Simmons is Head of Whisky for Atom Brands. He said: "If you're someone who still thinks whisky starts with Scotland or Ireland and ends with America, it's time to get aboard the Norwest-Euro Express. This collection hails from Northern Europe's finest rye, buckwheat and malt distilleries. 
For me, Kyrö makes one of the finest ryes in the world. The cask we selected is an outstanding example. But the big eye-openers were the Whisky Advocate World Whisky of the Year winners Broger. We selected a big, industrial example of their Burn Out style. As well as the 14yo buckwheat whisky from our friends at Eddu that is in turns spicy, sweet and savoury." 
This latest release produces new batches of past favourites. It includes Helsinki Distilling Company and Teerenpeli, alongside brand new bottlings. The Norwest-Euro Express also includes TBWC's first bottling of Austrian distillery Broger, Finnish distillery Kyrö and Danish distillery Fary Lochan, a small family distillery located in the village of Farre. The release from Fary Lochan is a six year old single malt matured in ex-Pedro Ximenez Sherry Casks 
Thomas Smidt-Kjærby is Chairman, CCO Export and more at Fary Lochan Distillery. He said: "We try to push some limits in our whisky and in the whisky making. Our rich and oily spirit balances well with the sweetness and smoothness of a PX sherry cask. We are happy to be able to share this whisky with whisky lovers in the UK. You produce a lot of fantastic whisky in the UK yourselves, so it is a great pleasure to be a part of this fine company.  Danish whisky is moving forward and we are happy to represent our country in the UK with this bottling." 
As per previous releases, the Norwest-Euro Express will be joined by a selection of Scotch Whiskies. To commemorate the Boutique-y themed releases, this latest series will also include three blended scotches. All of which come with a nostalgic wink to the historic Scotch Whisky world. There's also one "spirit drink"; a 52 Year Old whose long maturation has taken the ABV below 40%. 
That Boutique-y Whisky Company Norwest-Euro Express Lineup
Broger Austrian Single Malt 6 Year Old - £69.95
Eddu Single Malt Buckwheat Spirit 14 Year Old - £119.95
Fary Lochan Danish Single Malt 6 Year Old - £99.95
Helsinki Distilling Co. Finnish Rye Whisky Batch 2 6 Year Old - £69.95

 

HighGlen Swiss Single Malt 3 Year Old - £69.95
Kyrö Finnish Malted Rye Whisky 4 Year Old - £59.95
Smogen Swedish Single Malt Batch 2 8 Year Old - £129.95
Slyrs German Single Malt Batch 3 3 Year Old - £74.95
Teerenpeli Finnish Single Malt Batch 2 3 Year Old - £59.95

 
The first release of 2022 also includes TBWC's sister company That Boutique-y Rum Company. Unlike the previous three themed releases, TBRC will not be releasing rums under the same theme as TBWC. Instead, they will bring a focus to a special selection of three rums that have been sought-after. They come from Venezuela, Guyana and Haiti, and showcase the wide range of character and variety within the rum category. 
Peter Holland is Global Brand Ambassador for That Boutique-y Rum Company. He said: "The themed releases have been a wonderful way for us to explore the world of Rum. But we've had some previous bottlings that have had folks clamouring for more. So we've waved goodbye to the whisky train for the moment and pulled out a few special casks we bet will show well." 
That Boutique-y Rum Company Lineup
C.A.C.D Multi-Column Still Rum Batch 2 13 Year Old - £54.95
Haiti Traditional Column Still Rum Batch 3 17 Year Old - £79.95
Diamond Distillery (Versailles Still) Pot Still Rum Batch 3 14 Year Old - £52.95

 
The releases will launch on 25th February. So pick your favourite, and keep an eye out!