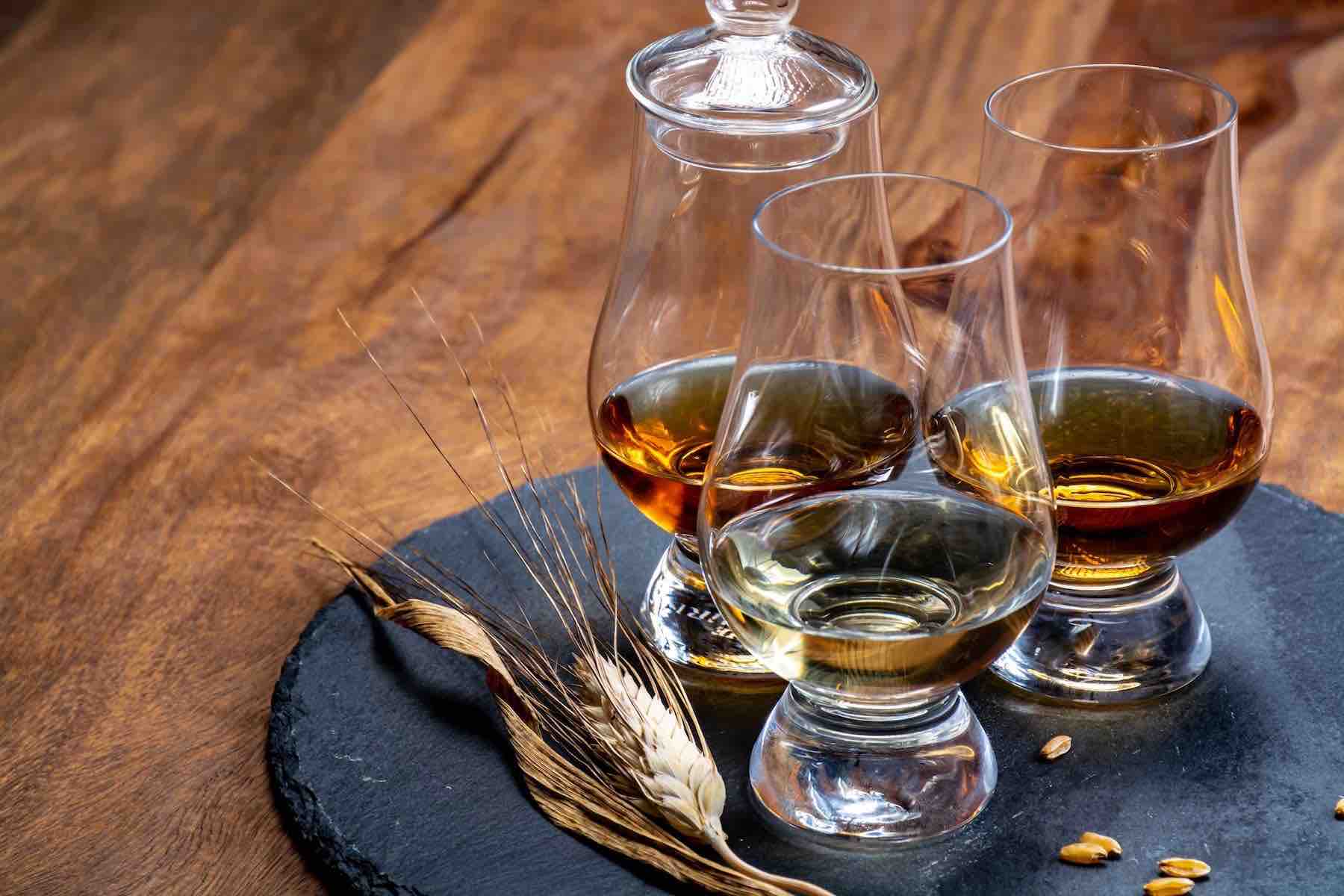 Is whisky / whiskey vegan?
The short answer is, yes whiskey is vegan. The three ingredients in whisky are water, yeast, and a cereal grain.
But, let's take a closer look. Are there any situations when whisky would not be vegan? Well, it turns out that there are actually. To understand why whisky may sometimes not be vegan, we need to look at how it's made. 
Why is whisky vegan?
First why, in 99% of cases, is whiskey vegan? Whisky has three ingredients: water, yeast and a cereal grain. Single Malt scotch whisky must use malted barley. Grain whisky or bourbon can use from other whole grains like corn, rye, wheat. You can read more about what whisky is made from here. But, in summary, that's all gravy for a vegan. Well, that was a bad choice of words because vegans can't have gravy. But you know what I mean, if whisky is made from water, yeast and grains then it's fine for vegans to eat. But there are some examples when a super strict vegan, shouldn't drink whisky.
Whisky liqueurs made with honey or cream
The first and most obvious example is a whisky liqueur. Whisky liqueurs are a great way to take a someone who doesn't like drinking whisky and ease them into it. 
Brose is an example of a whisky liqueur that has been around for centuries. It's made of a mixture of whisky, honey, oatmeal and cream. The best known modern whisky liqueur is Drambuie. Legend says Bonnie Prince Charlie gave the recipe to Captain John MacKinnon in return for sanctuary on Isle of Skye in 1746. It's made from a blend of whisky, herbs, spices and heather honey. Because it has honey in it, it isn't suitable for vegans. Tennessee Honey from Jack Daniels is another example. And Columba Cream, created on the Isle of Mull in 1982, is bad for a vegan because it has both honey and cream in it. It's like a delicious alternative to Baileys Irish Cream, but I'm afraid to say a vegan no-no.  
Port cask finished whiskies
Next, lets look at the pitfalls a vegan might have with finishing. The ingredients you're ingesting might all be vegan. But a super strict vegan might have a problem if the whisky finished in a exotic cask. 
It is becoming more popular to finish whisky in port casks. GlenDronach, Glenmorangie and Kavalan all come to mind. There are two styles of Port: Wood Aged and Bottle Aged. Wood Aged Ports go through a filter before bottling. Those filters use gelatin as a fining agent not considered suitable for vegans. And gelatin is no good for vegans! 
In case you're wondering, bottled Aged Ports are not filtered.  So, they are suitable for vegans. But if we're looking at why a vegan might not be able to drink whisky, it's possible a whisky finished in an ex-port cask may have been in contact with gelatin. Now, I'm not a vegan, so I don't know how big a deal that is to people; but I do think its interesting to know.
Tennessee Whiskey and the Lincoln Country Process
The next possible area could fall on our good friend Jack Daniels. We've already talked about Tennessee Honey having, well, honey in it. There is another area where a Tennessee whiskey may not be suitable for vegetarians. The difference between Tennessee whiskey and regular bourbon is the Lincoln County Process. Tennessee whisky, before bottling, filters through 10 feet of sugar maple charcoal. Now, it is possible that some charcoal could be made by heating animal bones. This isn't the case at Jack Daniels. But in theory if you were looking at other brands of Tennessee Whiskey, then might the charcoal not be vegan? But that may be grasping at straws, rather than charred animal bones.
Label glue
But, speaking of tenuous links, there is one more place where a vegan might have issue with whisky. That's with the label on the bottle itself. Some adhesives used to stick the label on may contain caseins, along with other polymers. Caseins come from cow's milk proteins. So, you could argue that these adhesives make the product unsuitable for vegans; but that's a bit of a sticky issue.
Is whisky suitable for vegans?
Yes, most whisky is suitable for vegans. Two key exceptions are cream-based liqueurs and whiskies that use honey. There are a few other aspects to note. These include: Tennesse whiskey made using charcoal; port finished whiskies; and, the glue used to stick labels on bottles. Vegans should exercise personal choice on these details
Further reading: if you enjoyed this blog, here are some other useful articles: