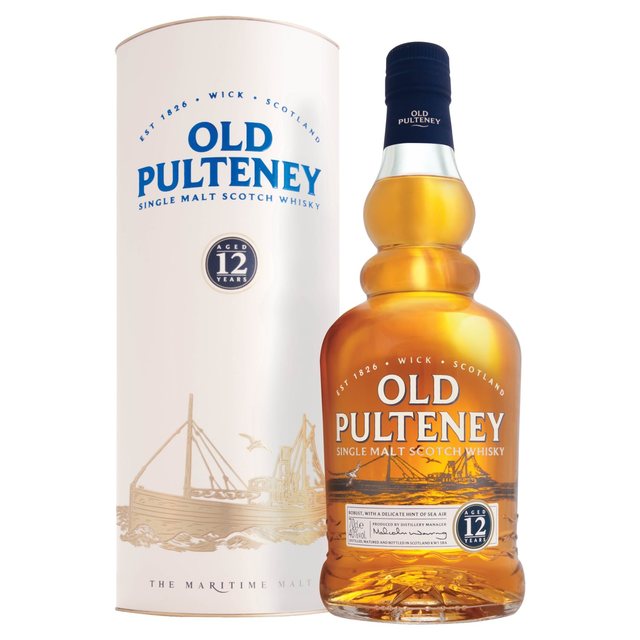 Old Pulteney 12 year old review
We have to say, that we are biased when it comes to Old Pulteney 12 year old. It was our first whisky and if it was your first whisky too, we're sure it also has a special place in your hearts, along with the first girl you kissed and the first poem you translated from Ancient Greek. You never forget your first.  
Old Pulteney is matured wholly in air-dried, hand-selected, ex-bourbon casks. Unlike the upmarket single cask that Old Pulteney also releases, the 12yo is chill-filtered and caramel coloured. We hate to say it, but we sort of hold the handsome colour against it. Old Pulteney comes from Wick, the most northerly distillery on the Scottish mainland. When the distillery was founded in 1826 it was only accessible by sea. The barley was brought in on boats and the whisky was shipped out the same way. The sea air eats into the spirit the same way it gnaws on Wick's ramshackle buildings. It just doesn't seem right for a whisky steeped in maritime history to look shiny and new in its bottle.
The bottle itself holds a secret. The Old Pulteney bottle was inspired by the shape of their pot stills, which feature unusually large boiling balls providing a lot of reflux and making the whisky more fragrant. Pulteney Distillery has the only pot still in Scotland that doesn't have a swan neck. The shape is like the small stills they used during prohibition and we like to imagine Old Pulteney tastes like the stuff smugglers and pirates would have drunk. Like we said, we do have a soft spot for this one.
Nose: Like walking along the coast and taking a deep breath, there is brine and salt twisted into maltiness. It's rough and feels like a fisherman grabs a fist full of almonds and holds his hand over your face.
Palate: Salty, like sucking on a sardine that was swimming in a barrel of toffee apples.
Finish: Zesty, like licking salt off your hand and biting a slice of a lime. A bit like a tequila shot. The finish drops dead all of a sudden. A bit like you've had a lot of  tequila shots.  
Objectively, this isn't a spectacular dram, but let's not forget we're in the entry-level market. At this price point, it's a decent introduction to a uniquely coastal distillery and taste.  
Watch our review
If you enjoyed this article, you might also enjoy our video on Old Pulteney where we review this dram in under 60 seconds.