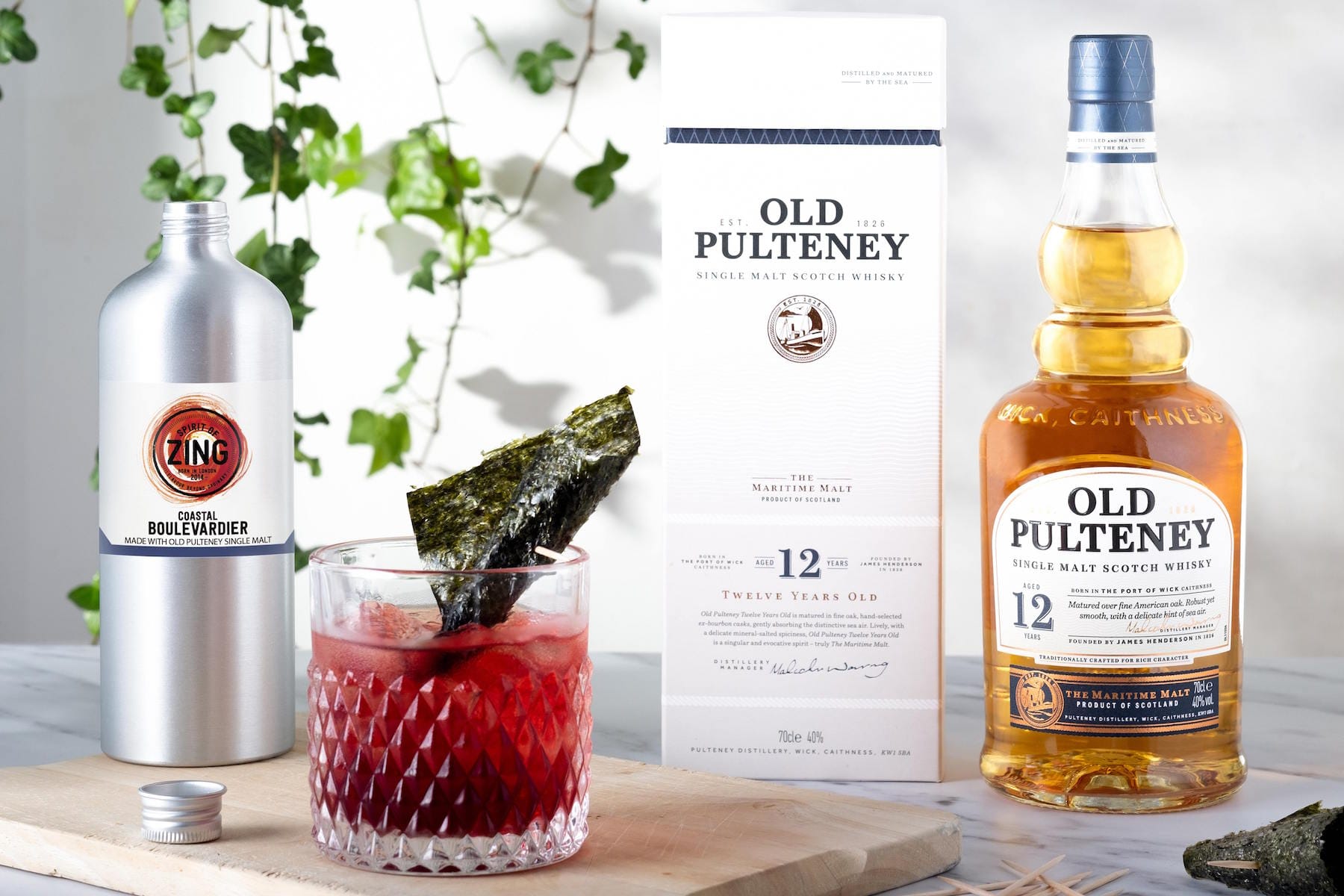 Old Pulteney and World of Zing create seaweed cocktail
To mark World Earth Day on April 22, Old Pulteney has teamed up with bottled cocktail innovators World of Zing to create a unique limited edition seaweed cocktail for a great cause. 10% of proceeds will go to Old Pulteney's new sustainability partner, SeaTrees, a kelp restoration charity with a mission to help combat climate change.
The cocktail highlights Old Pulteney's collaboration with kelp restoration non-profit, SeaTrees, launching a new commitment to plant more than 4,000 mangrove trees globally, and restore 2,665 square-feet of kelp forest. 
From today, the 'Coastal Boulevardier' is available for pre-order on World of Zing with delivery across the UK. In addition, 10% of sales will go to SeaTrees, helping to build a more sustainable future for our oceans and planet.
Expert mixologist, Pritesh Mody, has crafted this coastal take on a classic boulevardier, inspired by Old Pulteney's maritime roots and the single malt's new Seatrees' mission. Shaped by the sea, Old Pulteney's briny finish marries beautifully with the tang of seaweed bitters, whilst the malt's citrusy notes complement the fruitiness of the Port and perfectly contrast with the bitter-sweet Campari. Served in reusable aluminium bottles, the 500ml bottle will contain five serves.
The Maritime Malt is a product of its environment, coming from one of Scotland's most northerly distilleries based in the coastal town of Wick. Old Pulteney's past, present and even the taste of the whisky itself is positively influenced by its intrinsic connection to the sea. A shared respect for the power of the ocean aligns Old Pulteney with the SeaTrees project, which like whisky making, brings together age-old wisdom with innovation and science. The project is set to sequester carbon, increase biodiversity and protect over 700 species of fish, invertebrates and algae.
Malcolm Waring, Distillery Manager at Old Pulteney said: "Since the first barrel of Old Pulteney whisky was filled to serve its thriving coastal community in 1826, we owe our very existence to the sea and wear our title of 'The Maritime Malt' with pride. With this partnership, we wanted to give back to the sea that has given so much to us. Tying in with our malt's history and connection with the sea, seaweed luckily makes for a delicious and sustainable cocktail ingredient and World of Zing has brought our new cocktail to life marvellously." 
Pritesh Mody, Founder, World of Zing, adds: "We love working with seaweed in cocktails and Old Pulteney's briny notes lend themselves beautifully to our new Coastal Boulevardier. We're on our own sustainability journey too and the Old Pulteney x SeaTrees partnership aligns perfectly with what we're all trying to achieve - plus our customers get to give something back to our oceans every order. Win win."
Regenerating kelp forests and planting mangrove trees is one of the most effective ways to suck carbon out of the atmosphere. Mangrove forests sequester 5 times more CO2 than a tropical forest, and the latest science shows kelp forests can sequester even more CO2 than mangrove forests.   
The Old Pulteney and World of Zing limited edition cocktail is priced at £25 and is available for UK wide delivery on World of Zing.