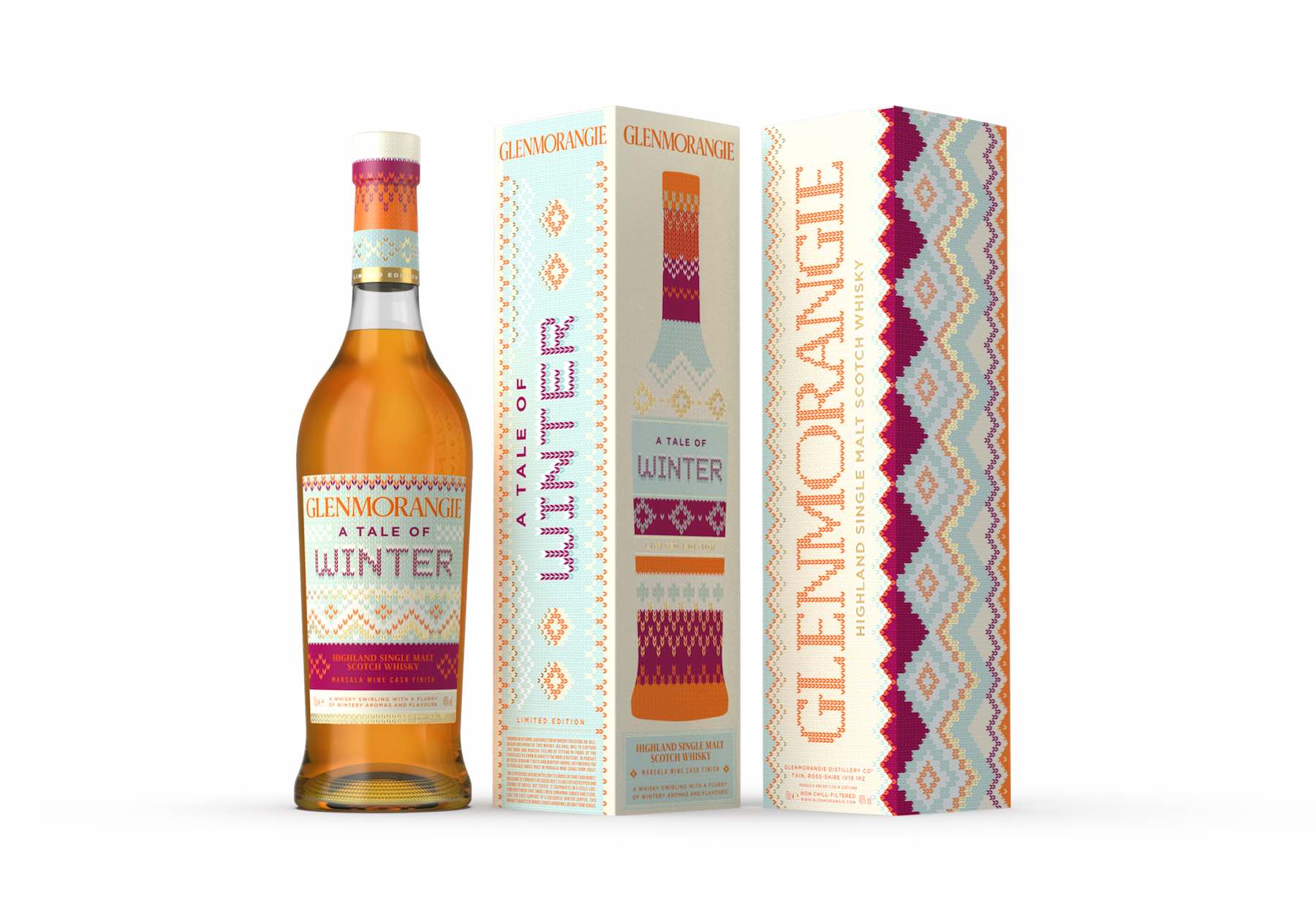 Glenmorangie A Tale of Winter
Glenmorangie have launched a new whisky called A Tale of Winter. When snowed in at home, Glenmorangie's Director of Whisky Creation found himself daydreaming. He dreamt of a whisky that captured the cosiness of a winter jumper, while the world outside is white. With wintry aromas and tastes, A Tale of Winter brings Dr Bill Lumsden's snug feeling to life. It is a 13 year old single malt finished in Marsala wine casks from Sicily. Bottled non-chill filtered at 46% ABV, it will retail for £75.
Led by Dr Bill, Glenmorangie love creating new whiskies. They craft their delicate, fruity spirit in stills as tall as a giraffe to allow more space for taste and aroma. Then they age it in the finest casks, all to bring joy to whisky lovers old and new. Some years ago, Dr Bill pulled on his most colourful winter knit at home in Scotland after a heavy snowfall. And he began to wonder... what if he could capture the joy of cosy moments indoors by the fire, while snow lay all around?
With this wintry whisky in mind, Dr Bill choose a parcel of bourbon casks. He finished these in casks which once held Marsala wine – known for its sweet and fruity flavours. The result has notes of fruit, honey and Brazil-nut toffee, together with cinnamon, ginger and clove.
Glenmorangie A Tale of Winter official tasting notes
Colour: Amber

Nose: Curious and slightly sharp. The classic Marsala top-note of oxidised fruits. Hints of orange toffee with a fragrant top note of lavender honey and sweet rose. With water, some caramelised fruits (oranges & pears) emerge. There's a hint of sandalwood, brazil nut and hint of pine sap.

Palate: A juicy viscous, but slightly peppery mouthfeel. A burst of sweet, nutty flavours – cocoa powder, red pepper, Brazil nut toffee and sweet barley malt.

Finish: Sweet demerara sugar and a long spicy aftertaste of clove, ginger and cinnamon.
Dr Bill said: "We all know the delight of snuggling up in a winter jumper by the fire, when it's snowy outside. With flavours as bright as my favourite woollen sweater, A Tale of Winter captures those cosy moments. The experience begins with light flurries of fruit and honey. It builds to torrents of cocoa dust, flakes of red pepper and chunks of Brazil-nut toffee. It culminates in a feels-like-forever finish that swirls with cinnamon, ginger and clove."