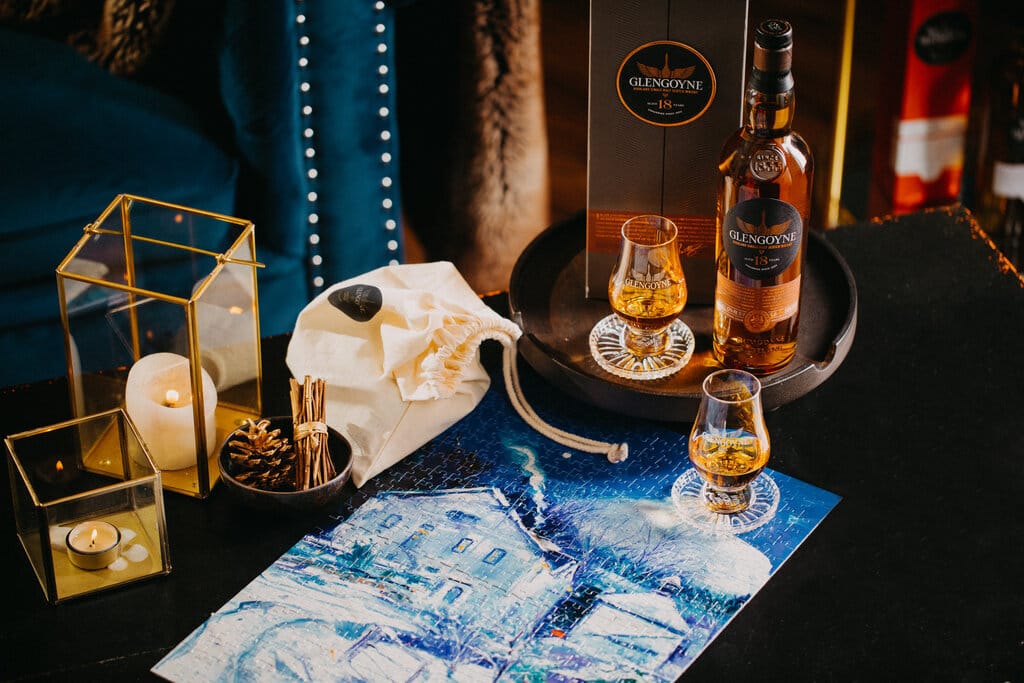 Christmas Gift Ideas from Glengoyne Whisky Distillery
As we approach mid November, people's minds are starting to turn towards Christmas. And you might be trying to think of whisky gift ideas for whisky lovers. We recently wrote a guide to our top 10 best whisky gift ideas under £50, and our top 30 best whisky gifts for under £30. Here's another couple of Christmas gift ideas you can add to your lists.
Glengoyne has three Christmas gifts which celebrate the link between the passage of time so necessary for making single malt whisky, and enjoying a relaxing time over Christmas.
The first is something that really is a traditional Christmas activity: a jigsaw. Glengoyne's jigsaw is made up of 500 pieces depicting the Glengoyne Distillery in the Highlands. The second is a "Time Capsule" whisky tasting set. And the third is a "Time Keeper" gift pack which Glengoyne has put together. 
Glengoyne's whisky jigsaw puzzle features Scottish artist John Lowrie Morrison's piece, "Heavy Snow at Glengoyne Distillery". It should take around 4 to 6 hours to complete, which sounds perfect while enjoying a couple of drams of whisky - of course. You can actually get the jigsaw free if you buy a bottle of Glengoyne's 18 year old single malt scotch whisky, which retails for £109, during the festive period. So that just leaves the tricky decision: do you give some lucky whisky lover both the jigsaw and the bottle of whisky; or do you give the jigsaw and keep the whisky for yourself?! Tough decision. 
The 'Time Capsule' is a set of three whisky samples from Glengoyne distillery. It includes their 12 year old, 18 year old and new non-age statement Chapter Two from their Legacy Series. The whisky tasting sets are available in two sizes: one version has three 5cl bottles and costs £25, and the other has three 20cl bottles and costs £65. 
Third but by no means least, Glengoyne's 'Time Keeper' gift set focusses on their sweet and zesty 12 Year Old expression. The gift set includes a 70cl bottle of this core single malt, together with a tasting booklet and a Glengoyne branded nosing glass. A nice gift set for the whisky lover in your life, costing £50.
If you need more present ideas, don't forget to read our top 10 Christmas gift ideas here.