Spiritfilled Mythical Beasts Glenrothes 15 Year Old
---
Sale price

$141.00
Regular price
(/)

Key Facts About This Whisky
Bottler: Spiritfilled
Founders: Russell Spratley and Ross Archer
Range: Mythical Beasts
Release: Nyami Nyami
Distillery: Glenrothes
Age: 15 Years Old
Region: Speyside
Cask Type: Single cask, first fill sherry butt
Alcohol by Volume: Cask strength at 55.0%
Bottled: Natural colour and without chill filtration
Limited Edition: 588 bottles
Bottle Size: 700ml
Awards: Gold Medal at the Spring Tasting 2022 of The Spirits Business; Silver Medal at the International Wine Spirit Competition 2022, with a score of 92/100; Gold Medal, Whisky Highball Category, The Spirits Business.
Tasting Notes
Nose: Rich apricot and orange marmalade extend with Brazil nuts. Then vanilla and lemon meringue appear, with a burst of maltyness and oak providing a spine.
Palate: Soft, rich mouthfeel. Concentrated flavours embrace each other, apricots, apricot jam, juicy lemon freshness and indulgent orange marmalade. Gingerbread emerges and maltyness grows backed up by oak and underlying toasted notes, with a luscious finale of fruit compote and nutmeg.
Finish: Tangy dryness grows with malty, oak notes, culminating in orange marmalade underlined by dryness.
Tasting notes by: Ian Wisniewski; Spirits Writer and Broadcaster, specialising in whisky.
About this single cask Glenrothes
The third release in Spiritfilled's Mythical Beasts series, is a stunning Glenrothes malt from the heart of Speyside. This single malt has been maturing in the same cask since it's filling. The exciting part is it's a first fill sherry butt. The wonderful golden colour thanks to the sherry influence, has also created a very special flavour - enhanced by the traditional Glenrothes profile. With a limited number of 588 bottles from this cask at 55% ABV, it's a beautiful addition to their range.
About Spiritfilled's Mythical Beast, Nyami Nyami
The sparkling blue waters of the mighty Spey wind their way through the idyllic Speyside landscape, their depths home to myriad mysteries and myths. Gliding effortlessly through deep waterways, the River God Nyami Nyami radiates benevolence, using his supernatural powers to provide sustenance for his followers, bestowing wealth and good fortune, and protecting them from dark forces in troubled times. Yet there is a poignancy about his solitude; he searches the rivers endlessly, seeking a reunion with his beloved mate. If thwarted, this powerful beast has only to shake his mighty snake-like tail to send tremors through the earth and waves crashing to the riverbank. Smooth, strong and complex, with a sting in the tail, this mythical beast leaves a lasting impression.
Where can you ship?

We're based in the UK, but we can ship to many countries.

We deliver to Australia, Canada (Alberta), China, Denmark, Finland, Germany, Greece, Guernsey, Hong Kong, Ireland, Israel, Italy, Japan, Jersey, Lithuania, Luxembourg, Macao, Netherlands, New Zealand, Norway, Philippines, Singapore, South Africa, South Korea, Taiwan, UK, US (certain states*), and Vietnam.

*We can ship to the following US states duty-paid (so no further taxes for you): Alaska, California, Connecticut, Delaware, District of Columbia, Florida, Georgia, Illinois, Louisiana,Maine, Maryland, Massachusetts, Nebraska, New Jersey, New Mexico, New York, North Carolina, Oregon, Pennsylvania, Rhode Island, South Carolina, Texas, Vermont, Virginia, Washington, Wyoming.

How much is shipping?

Shipping charges are calculated during checkout, depending on where you live and how many bottles you're buying. Shipping within the UK is free on orders over £100.

What about taxes?

All alcoholic products sold by TopWhiskies are sold subject to UK alcohol tax, which is already included in the price.

UK sales are subject to VAT (currently 20%), which is included in the price. Sales outside of the UK are not subject to this tax, and international prices do not include it.

We use a specialist US shipper who sorts out US taxes. These costs are factored into the US shipping charges. So shipping may look pricey, but remember it covers your taxes as well.

For all other territories, including those in Europe, please note: your order could be subject to local sales taxes and duties upon arrival in the destination country. All additional charges are the responsibility of the recipient. As customs policies vary widely from country to country, TopWhiskies has no control over these charges, so you should contact your local customs office for further information. If you refuse to pay any import duties and taxes, this could result in the goods being destroyed by customs or being returned back to us - any refund offered would include a deduction of our costs.

Which couriers do you use?

In the UK we use Royal Mail, Parcelforce and APC. US orders are sent via UPS. International orders use FedEx and DHL.

Need help?

For help, or custom orders, please contact Ed on email ed@topwhiskies.com
Quality products, independent brands

All the brands I work with are independent. Many of them are small brands, run by one or two people with a whole load of passion. As a result, these unique products are top quality.

Personal support

Need help? Write to me at ed@topwhiskies.com. It's always me at the end of the email, and I'm always glad to help.

Five-star service

With happy whisky-loving customers all around the world, we're rated five stars for our service.

Secure checkout

We accept all major cards, along with PayPal and Apple Pay. Check out securely online, with the safety of SSL encryption. You can pay in a wide range of currencies, whatever is most convenient for you.
Choose options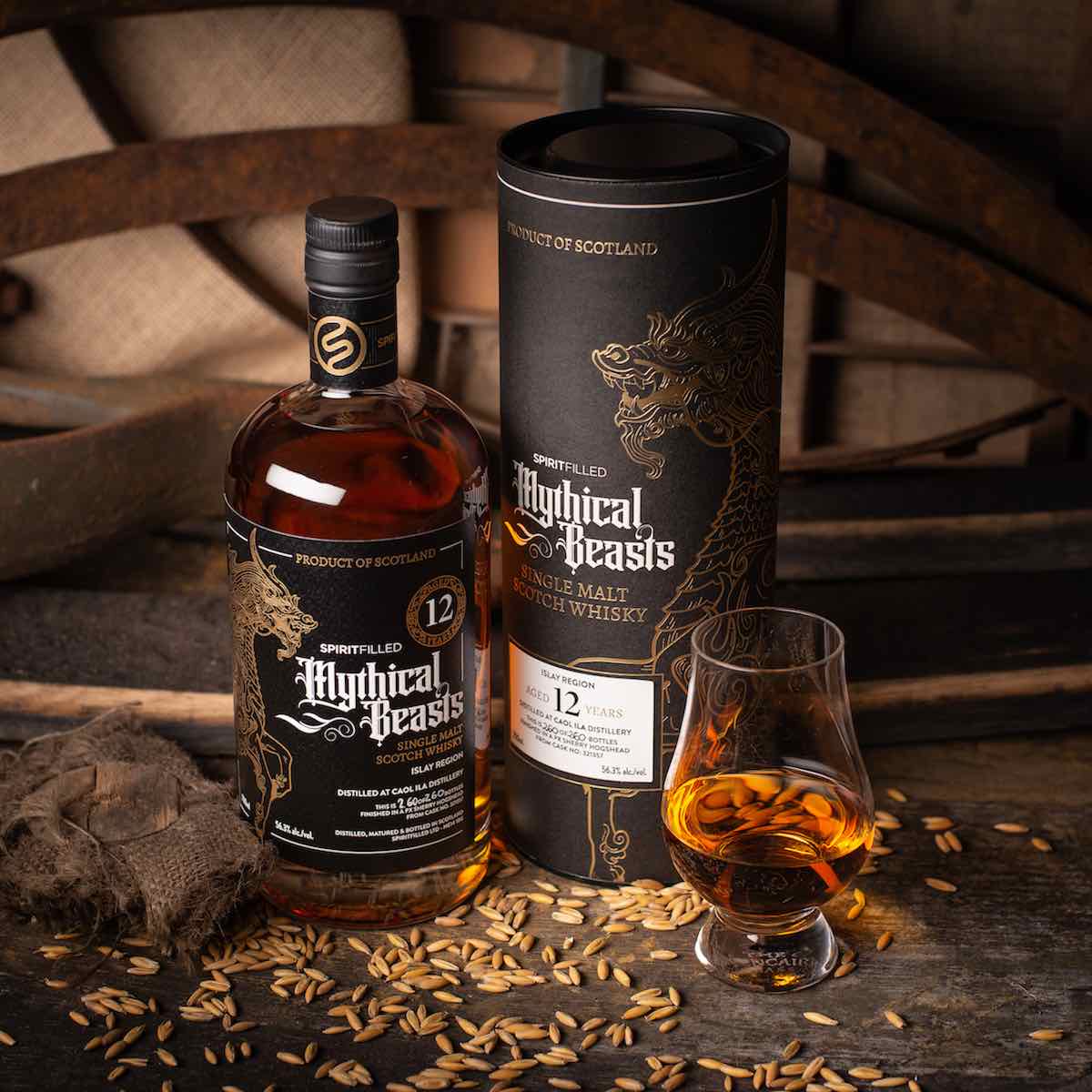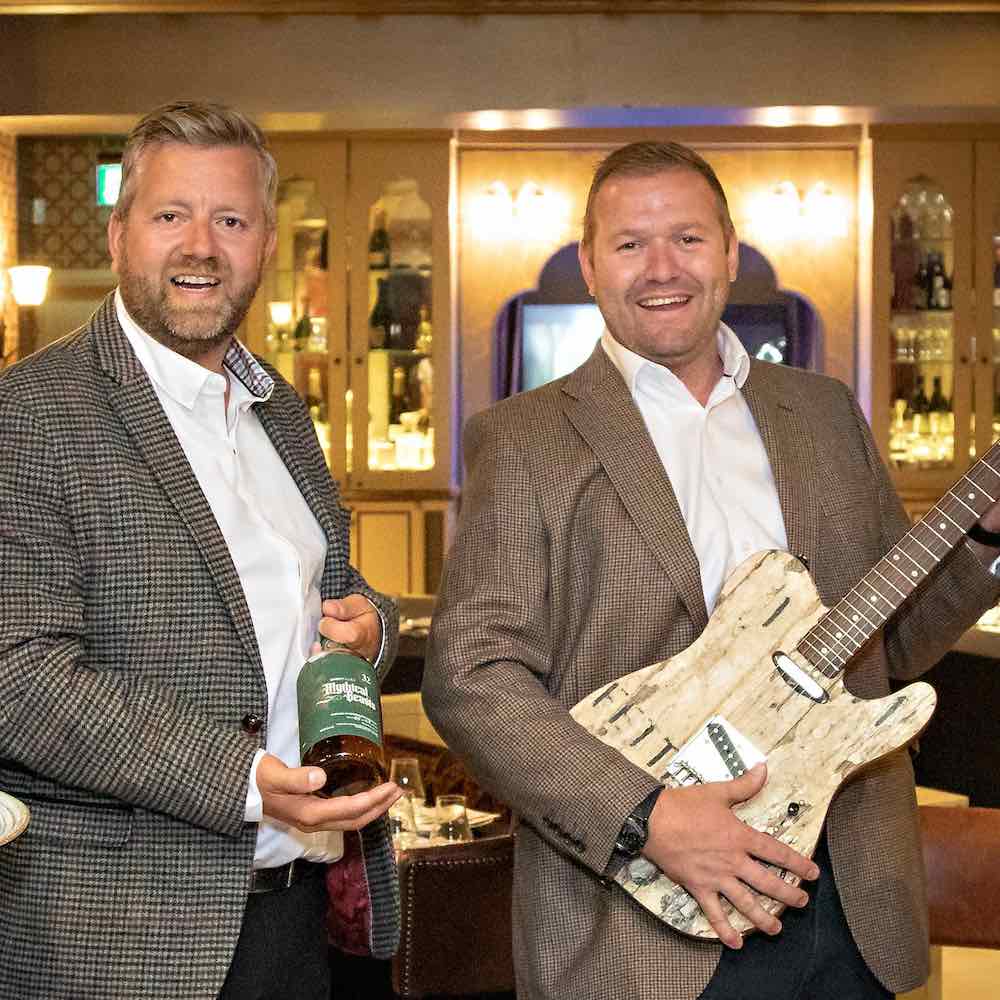 Meet The Founders
Russell Spratley and Ross Archer
Spiritfilled was founded by two entrepreneurial best friends, who both love whisky. Russell and Ross stared Spiritfilled as cask broker, helping clients around the world to buy and sell quality whisky casks.

As they explored the warehouses of Scotland, somethings Russell and Ross would discover a certain cask that they'd fall in love with. They couldn't part ways with these super special casks, and so decided to bottle these themselves. Mythical Beasts is their independent bottler label, under which they release their single cask whiskies.