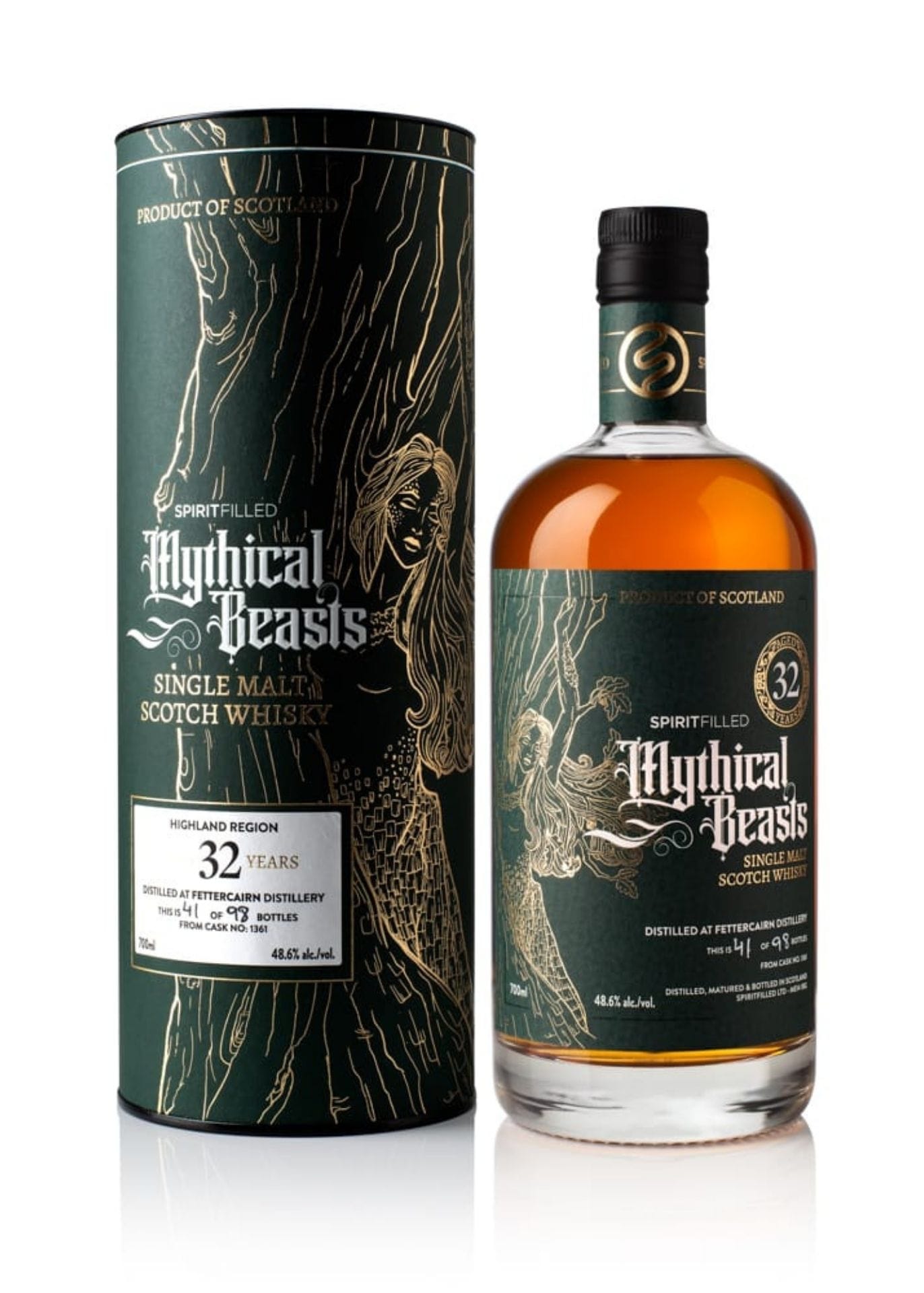 Spiritfilled Mythical Beasts Fettercairn 32 Year Old
---
Sale price

$499.00
Regular price
(/)

Key Facts About This Whisky
Bottler: Spiritfilled
Founders: Russell Spratley and Ross Archer
Range: Mythical Beasts
Release: The Dryad
Distillery: Fettercairn
Age: 32 Years Old
Region: Highlands
Cask Type: Single cask bourbon hogshead
Alcohol by Volume: Cask strength at 48.6%
Bottled: Natural colour and without chill filtration
Limited Edition: 98 bottles
Bottle Size: 700ml
Tasting Notes
Nose: Rich, juicy apricots and raisins, followed by caramelised apples, garnished with creme brûlée and gingerbread, around a core of oak and English breakfast tea.
Palate: Elegant, generous mouthfeel, opens with juicy apricots, orange marmalade, lemon tart and hints of English breakfast tea, subtle sweetness and distinct dryness establish parameters and unite to create richness, with a finale of gingerbread, oak and maltiness.
Finish: Light dryness joined by maltiness, as dryness grows oak and orange marmalade join in.
Tasting notes by: Ian Wisniewski; Spirits Writer and Broadcaster, specialising in whisky.
About this single cask Fettercairn
Spiritfilled's second release in the series is an exciting one. They procured the cask from a private seller who has held the cask for over 30 years. With an outturn of 98 bottles, and at a cask strength of 48.6%, this whisky is an absolute winner. They didn't need to change anything about the profile of this single malt, it's been maturing in an ex-Bourbon hogshead since the filling in July 1989.
About Spiritfilled's Mythical Beast, The Dryad
Deep in the beautiful forested green glens and groves of the Highlands stands a mighty oak. Strong and silent, it hides a secret, hidden in its core: a tree nymph, beautiful, shy and unique. The Dryad is deserving of our respect, with hidden strengths and beneficial supernatural powers, deeply connected to its Celtic roots, with an air of ancient timelessness. Our whisky reflects the smooth-flowing power of this mythical being, in touch with Nature and the spirit of Scotland, housed in oak, flavoured with a hint of mystery and a timeless mystical quality.
Where can you ship?

We're based in the UK, but we can ship to many countries.

We deliver to Australia, Canada (Alberta), China, Denmark, Finland, Germany, Greece, Guernsey, Hong Kong, Ireland, Israel, Italy, Japan, Jersey, Lithuania, Luxembourg, Macao, Netherlands, New Zealand, Norway, Philippines, Singapore, South Africa, South Korea, Taiwan, UK, US (certain states*), and Vietnam.

*We can ship to the following US states duty-paid (so no further taxes for you): Alaska, California, Connecticut, Delaware, District of Columbia, Florida, Georgia, Illinois, Louisiana,Maine, Maryland, Massachusetts, Nebraska, New Jersey, New Mexico, New York, North Carolina, Oregon, Pennsylvania, Rhode Island, South Carolina, Texas, Vermont, Virginia, Washington, Wyoming.

How much is shipping?

Shipping charges are calculated during checkout, depending on where you live and how many bottles you're buying. Shipping within the UK is free on orders over £100.

What about taxes?

All alcoholic products sold by TopWhiskies are sold subject to UK alcohol tax, which is already included in the price.

UK sales are subject to VAT (currently 20%), which is included in the price. Sales outside of the UK are not subject to this tax, and international prices do not include it.

We use a specialist US shipper who sorts out US taxes. These costs are factored into the US shipping charges. So shipping may look pricey, but remember it covers your taxes as well.

For all other territories, including those in Europe, please note: your order could be subject to local sales taxes and duties upon arrival in the destination country. All additional charges are the responsibility of the recipient. As customs policies vary widely from country to country, TopWhiskies has no control over these charges, so you should contact your local customs office for further information. If you refuse to pay any import duties and taxes, this could result in the goods being destroyed by customs or being returned back to us - any refund offered would include a deduction of our costs.

Which couriers do you use?

In the UK we use Royal Mail, Parcelforce and APC. US orders are sent via UPS. International orders use FedEx and DHL.

Need help?

For help, or custom orders, please contact Ed on email ed@topwhiskies.com
Quality products, independent brands

All the brands I work with are independent. Many of them are small brands, run by one or two people with a whole load of passion. As a result, these unique products are top quality.

Personal support

Need help? Write to me at ed@topwhiskies.com. It's always me at the end of the email, and I'm always glad to help.

Five-star service

With happy whisky-loving customers all around the world, we're rated five stars for our service.

Secure checkout

We accept all major cards, along with PayPal and Apple Pay. Check out securely online, with the safety of SSL encryption. You can pay in a wide range of currencies, whatever is most convenient for you.
Choose options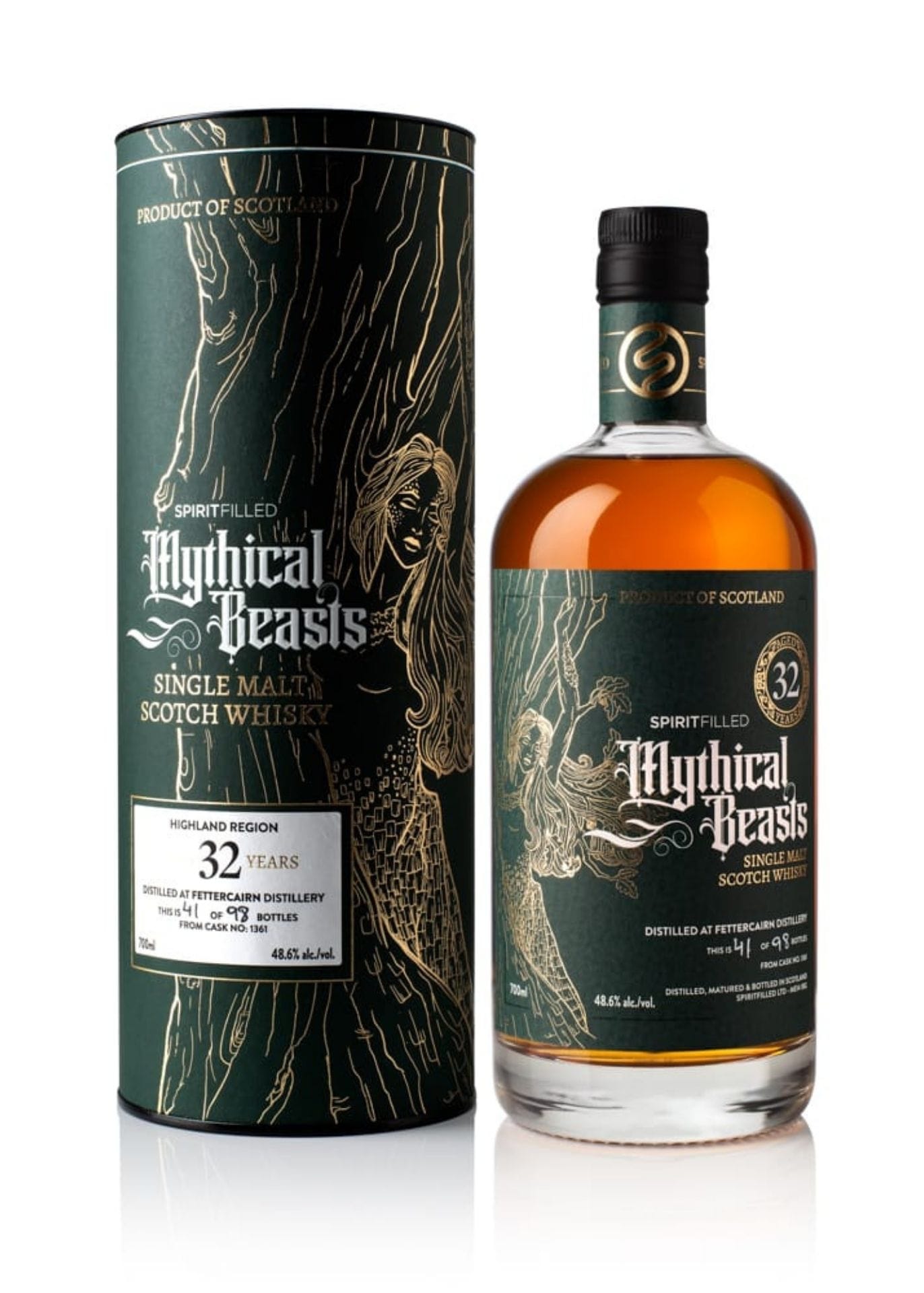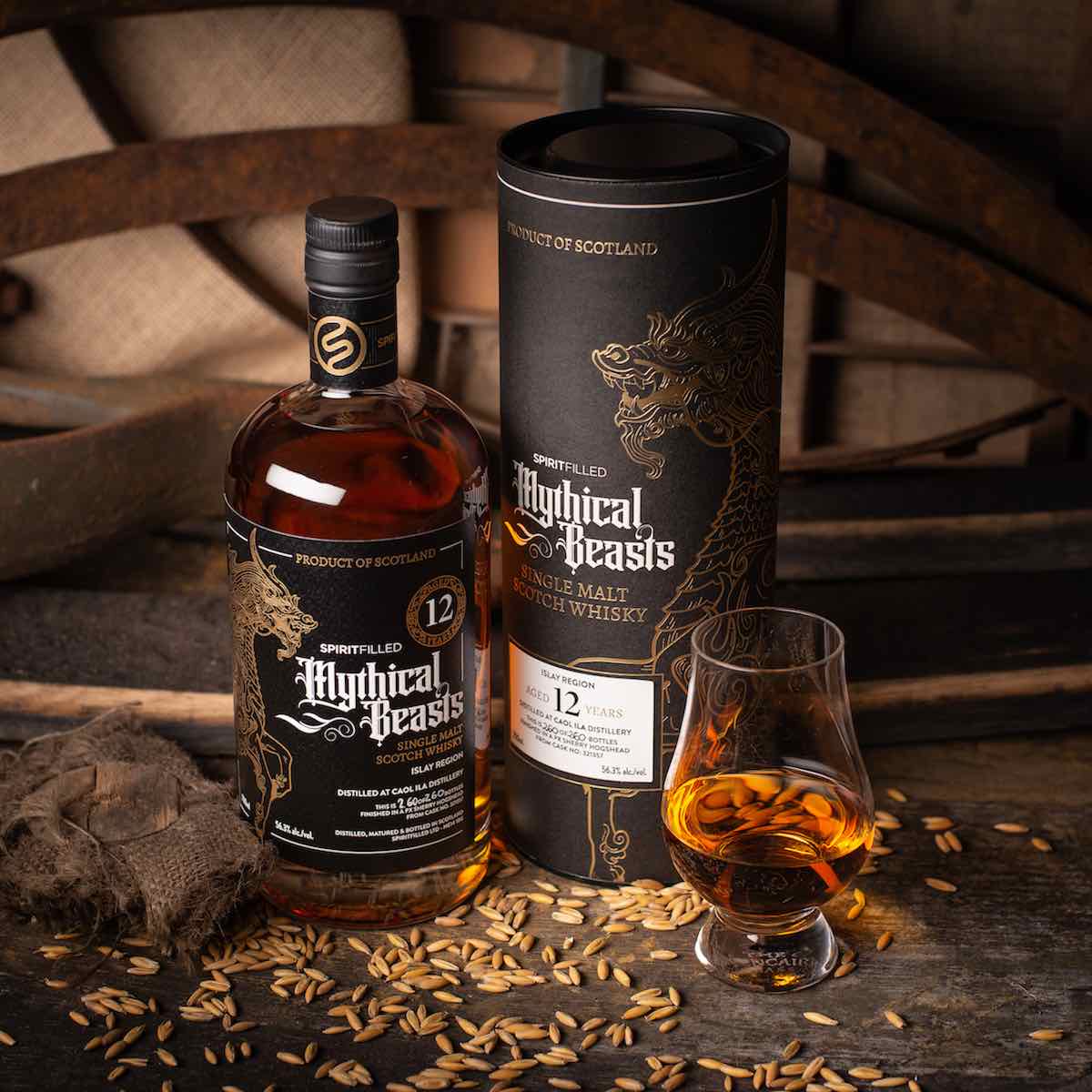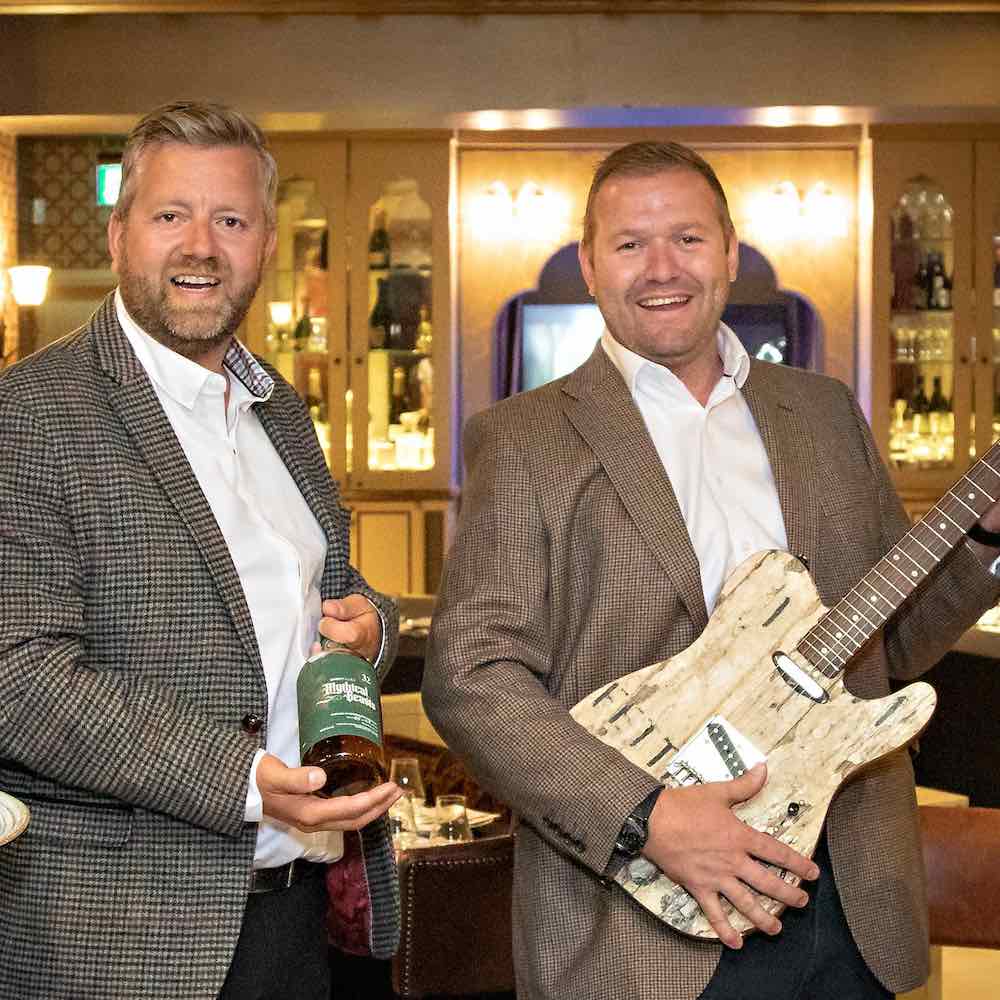 Meet The Founders
Russell Spratley and Ross Archer
Spiritfilled was founded by two entrepreneurial best friends, who both love whisky. Russell and Ross stared Spiritfilled as cask broker, helping clients around the world to buy and sell quality whisky casks.

As they explored the warehouses of Scotland, somethings Russell and Ross would discover a certain cask that they'd fall in love with. They couldn't part ways with these super special casks, and so decided to bottle these themselves. Mythical Beasts is their independent bottler label, under which they release their single cask whiskies.