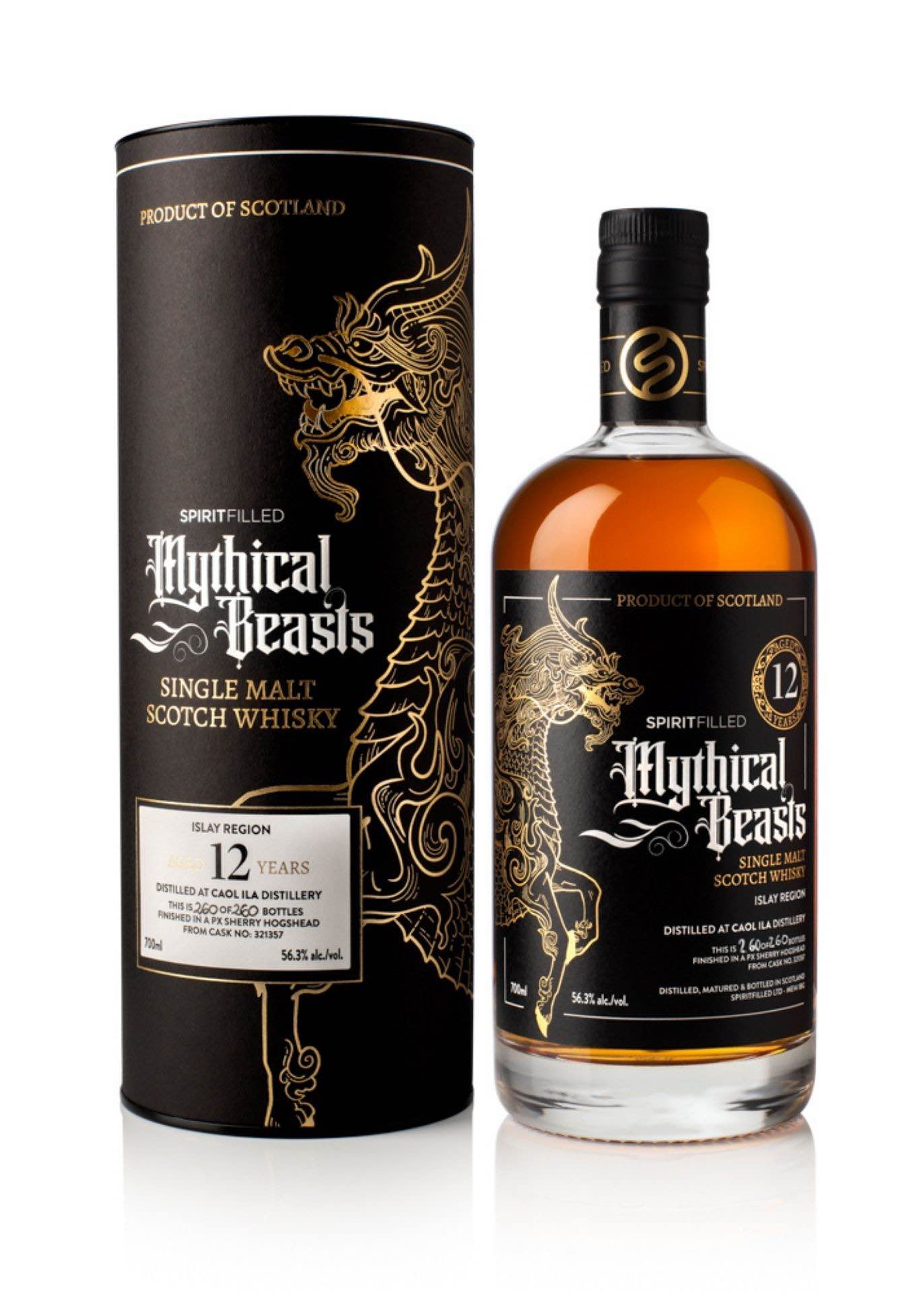 Spiritfilled Mythical Beasts Caol Ila 12 Year Old
---
Sale price

$92.00
Regular price
(/)

Key Facts About This Whisky
Bottler: Spiritfilled
Founders: Russell Spratley and Ross Archer
Range: Mythical Beasts
Distillery: Caol Ila
Age: 12 Years Old
Region: Islay, Scotland
Cask Type: Finished in a single PX Sherry hogshead
Alcohol by Volume: Cask strength at 56.3%
Bottled: Natural colour and without chill filtration
Limited Edition: 260 bottles
Bottle Size: 700ml
Awards: Gold Medal at the Autumn 2021 Tasting of The Drinks and Spirits Business
Scotch Tasting Notes
Without water
Nose: Initial earthiness, black olives in brine, followed by burnt toast, barbecue and asphalt notes, then caramel and toffee apples add richness, with Brazil nuts at the edges.
Palate: Gentle, yielding mouthfeel, like silk draped across the tongue, toasted, barbecue notes gradually emerge spanning the palate, and as the barbecue notes intensify juicy, citrus top notes appear, and continue with creamy vanilla and caramel, above a base layer of dry oak and digestive biscuit maltiness.
Finish: Dryness and toastiness build up into barbecue notes, with light maltiness, oak and finally fruity sweetness.
With a teaspoon of water added
Nose: More focused aromas combine to give creosote with a background of embers, oak and brine.
Palate: Creamy mouthfeel, sweet-dry-rich balance, suffused with wafts of toastiness, vanilla and citrus, underlined by oak dryness.
Finish: Big toasty note followed by dryness with a hint of caramel.
Tasting notes by: Ian Wisniewski; Spirits Writer and Broadcaster, specialising in whisky.
About this Caol Ila
Spiritfilled are proud to introduce their initial bottling of Single Malt Scotch Whisky. There were 260 bottles produced at a cask strength of 56.3% ABV.
This Single Malt was moved into a Pedro Ximénez Sherry Cask for finishing - an intensely sweet and dark sherry complimenting the Caol Ila perfectly. The PX cask underwent a special process called New Era Of Cask (NEOC), to bring out the full flavour profiles of the sherry cask into the whisky. They are the first company to ever use this process in Scotch whisky, and won a gold medal for their work at the Autumn 2021 Tasting of The Spirits Business. 
About Spiritfilled's Mythical Beast
The Qilin is a magical beast whose mythology combines the essence of Scotland with the spirit of Asia. Galloping through eastern forests, proudly sporting a majestic horn and with a wreath of divine flames coating its equine form, it mirrors the Unicorn, the national symbol of Scotland. Their distant familial ties interweave the sterling values of Scotland with the magic of Asia, representing wisdom, justice and truth. Legend has it that all who commune with the Qilin reap the rewards of its benevolent spirit, finding good fortune and prosperity. Rich in character and flavour, echoing ages past, the Qilin brings elements of ancient mythology into the modern age.
Where can you ship?

We're based in the UK, but we can ship to many countries.

We deliver to Australia, Canada (Alberta), China, Denmark, Finland, Germany, Greece, Guernsey, Hong Kong, Ireland, Israel, Italy, Japan, Jersey, Lithuania, Luxembourg, Macao, Netherlands, New Zealand, Norway, Philippines, Singapore, South Africa, South Korea, Taiwan, UK, US (certain states*), and Vietnam.

*We can ship to the following US states duty-paid (so no further taxes for you): Alaska, California, Connecticut, Delaware, District of Columbia, Florida, Georgia, Illinois, Louisiana,Maine, Maryland, Massachusetts, Nebraska, New Jersey, New Mexico, New York, North Carolina, Oregon, Pennsylvania, Rhode Island, South Carolina, Texas, Vermont, Virginia, Washington, Wyoming.

How much is shipping?

Shipping charges are calculated during checkout, depending on where you live and how many bottles you're buying. Shipping within the UK is free on orders over £100.

What about taxes?

All alcoholic products sold by TopWhiskies are sold subject to UK alcohol tax, which is already included in the price.

UK sales are subject to VAT (currently 20%), which is included in the price. Sales outside of the UK are not subject to this tax, and international prices do not include it.

We use a specialist US shipper who sorts out US taxes. These costs are factored into the US shipping charges. So shipping may look pricey, but remember it covers your taxes as well.

For all other territories, including those in Europe, please note: your order could be subject to local sales taxes and duties upon arrival in the destination country. All additional charges are the responsibility of the recipient. As customs policies vary widely from country to country, TopWhiskies has no control over these charges, so you should contact your local customs office for further information. If you refuse to pay any import duties and taxes, this could result in the goods being destroyed by customs or being returned back to us - any refund offered would include a deduction of our costs.

Which couriers do you use?

In the UK we use Royal Mail, Parcelforce and APC. US orders are sent via UPS. International orders use FedEx and DHL.

Need help?

For help, or custom orders, please contact Ed on email ed@topwhiskies.com
Quality products, independent brands

All the brands I work with are independent. Many of them are small brands, run by one or two people with a whole load of passion. As a result, these unique products are top quality.

Personal support

Need help? Write to me at ed@topwhiskies.com. It's always me at the end of the email, and I'm always glad to help.

Five-star service

With happy whisky-loving customers all around the world, we're rated five stars for our service.

Secure checkout

We accept all major cards, along with PayPal and Apple Pay. Check out securely online, with the safety of SSL encryption. You can pay in a wide range of currencies, whatever is most convenient for you.
Choose options