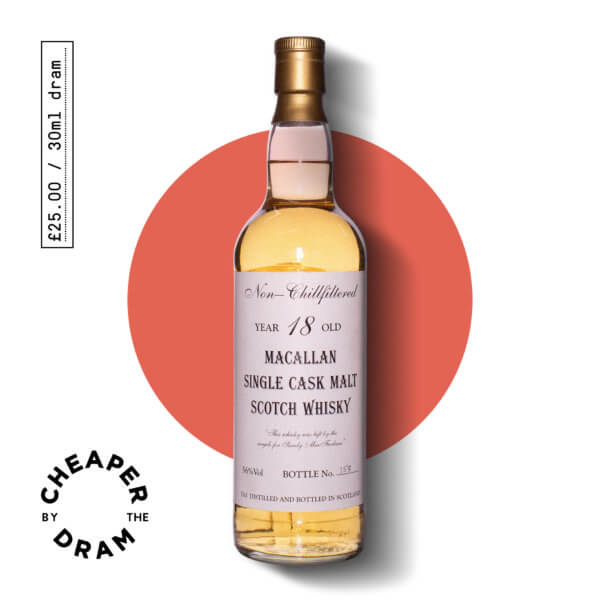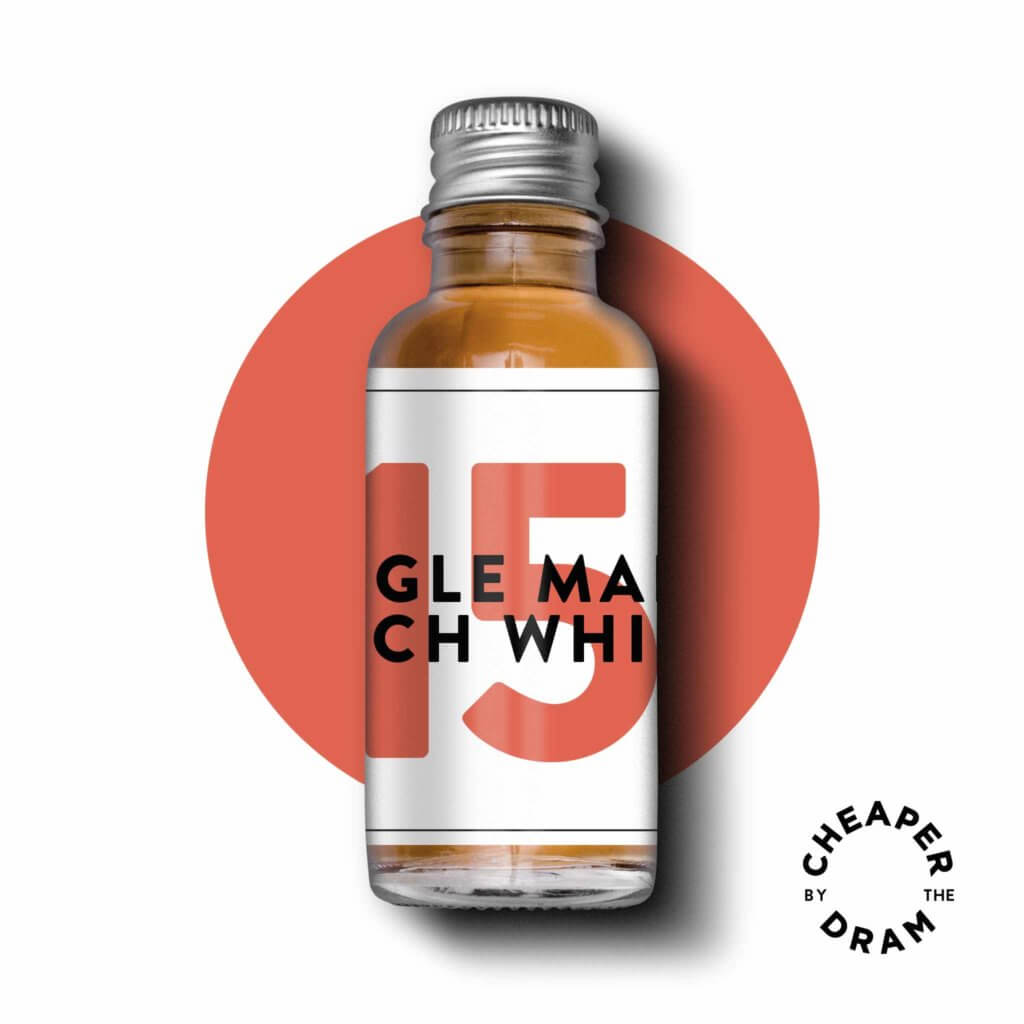 Macallan 18 year old Single Malt Scotch whisky from 1989 (30ml dram)
---
Sale price

$33.00
Regular price
(/)

About This Dram
Cheaper By The Dram shares the cost of expensive whiskies between customers by splitting bottles into drams.
The whisky in Cheaper by the Dram NO.15 was distilled in 1989 at the Macallan distillery. It was matured for 18 years before it was bottled as part of a private bottling for 'Sandy MacFarlane.'
The current retail price of a 700ml bottle is £825.
About This Whisky
Distilled: Macallan Distillery
Region: Speyside
Bottled By: Sandy MacFarlane
Type: Single Malt Scotch Whisky
Age: 18 Year Old
Bottled: 1989
Dram Size: 30ml miniature
Alcohol by Volume: 56%
About this Macallan Single Malt Scotch Whisky
The whisky decanted into Cheaper by the Dram NO.15 was distilled in 1989 at the Macallan distillery. It was matured for 18 years before it was bottled at 56% as part of a private bottling for 'Sandy MacFarlane.'
This bottle recently went at auction for £300, whereas official Macallan distillery 18 year old bottlings from 1989 go for £700-£900 at auction and retail at over £1,600.
The single malt whisky in CBTD NO.15 was distilled in a year which saw the fall of the Berlin Wall, UK Prime Minister Margaret Thatcher's government introduce the unpopular Poll Tax amid widespread protests and the first release of the bestselling Nintendo Game Boy.
The Macallan distillery
Located in the Speyside region the Macallan distillery was first legally licenced to Alexander Reid in 1824. Originally one of Speyside's farm distilleries, previously unlicensed whisky stills had operated at the Macallan site. In 1868 Macallan was taken over by James Stuart who rebuilt the distillery plant, although in 1892 his ownership ended when Macallan was sold to Roderick Kemp who had formerly owned the Talisker distillery. Kemp's successors retained ownership until 1996 when Macallan was taken over by the Edrington Group. These changes in ownership have ensured Macallan's continued expansion, from the original plant housing two stills in a wooden shed to a total of twenty-one stills by 1975. As with virtually every Scottish distillery, Macallan was traditionally used as a malt for blending although as result of a downturn in the blended whisky market in the 1980s Macallan's focus shifted to the emerging demand for single malts. A decision to mature the distillery's maltings exclusively in ex-sherry casks saw Macallan become the first distillery to create 'bespoke casks', selecting the trees to provide barrel timber and specifying the coopering process and oloroso sherry used for seasoning. Macallan's efforts to produce bespoke expressions has more recently led to a greater emphasis on bottles for the luxury whisky market, including 50- and 60-year aged Macallan decanters and the Fine & Rare vintage range with expressions which date back to 1926.
This 1989 distilled Macallan single cask expression was matured for 18 years before being bottled at cask strength in a private bottling. Although the details of this Macallan are a little mysterious the front label bears the name Sandy MacFarlane, possibly the cask's owner or the person for whom the cask was bottled. The rear label tells the story of the cask itself: nicknamed 'Sandy Macallan' it was born (or distilled) in 1989 at Craigellachie, which is the location of the Macallan distillery. It was then moved by a new owner to Ben Nevis where it matured for 18 years. The tongue in cheek description goes on to say how the whisky was 'destined to remain a single malt rather than contributing to a blend' and describes 'Sandy Macallan' received an annual visit from the angels, a reference to the 'angels share' the amount of liquid which evaporates from the cask during maturation. As Macallan was long renowned for exclusively using ex-sherry casks for maturation before the introduction of the 'Fine Oak' range in 2004, this vintage dram will likely give the drinker a taste of the distillery's traditional sherry dominant malt expression and maturation style.
Where can you ship?

We're based in the UK, but we can ship to many countries.

We deliver to Australia, Canada (Alberta), China, Denmark, Finland, Germany, Greece, Guernsey, Hong Kong, Ireland, Israel, Italy, Japan, Jersey, Lithuania, Luxembourg, Macao, Netherlands, New Zealand, Norway, Philippines, Singapore, South Africa, South Korea, Taiwan, UK, US (certain states*), and Vietnam.

*We can ship to the following US states duty-paid (so no further taxes for you): Alaska, California, Connecticut, Delaware, District of Columbia, Florida, Georgia, Illinois, Louisiana,Maine, Maryland, Massachusetts, Nebraska, New Jersey, New Mexico, New York, North Carolina, Oregon, Pennsylvania, Rhode Island, South Carolina, Texas, Vermont, Virginia, Washington, Wyoming.

How much is shipping?

Shipping charges are calculated during checkout, depending on where you live and how many bottles you're buying. Shipping within the UK is free on orders over £100.

What about taxes?

All alcoholic products sold by TopWhiskies are sold subject to UK alcohol tax, which is already included in the price.

UK sales are subject to VAT (currently 20%), which is included in the price. Sales outside of the UK are not subject to this tax, and international prices do not include it.

We use a specialist US shipper who sorts out US taxes. These costs are factored into the US shipping charges. So shipping may look pricey, but remember it covers your taxes as well.

For all other territories, including those in Europe, please note: your order could be subject to local sales taxes and duties upon arrival in the destination country. All additional charges are the responsibility of the recipient. As customs policies vary widely from country to country, TopWhiskies has no control over these charges, so you should contact your local customs office for further information. If you refuse to pay any import duties and taxes, this could result in the goods being destroyed by customs or being returned back to us - any refund offered would include a deduction of our costs.

Which couriers do you use?

In the UK we use Royal Mail, Parcelforce and APC. US orders are sent via UPS. International orders use FedEx and DHL.

Need help?

For help, or custom orders, please contact Ed on email ed@topwhiskies.com
Quality products, independent brands

All the brands I work with are independent. Many of them are small brands, run by one or two people with a whole load of passion. As a result, these unique products are top quality.

Personal support

Need help? Write to me at ed@topwhiskies.com. It's always me at the end of the email, and I'm always glad to help.

Five-star service

With happy whisky-loving customers all around the world, we're rated five stars for our service.

Secure checkout

We accept all major cards, along with PayPal and Apple Pay. Check out securely online, with the safety of SSL encryption. You can pay in a wide range of currencies, whatever is most convenient for you.
Choose options