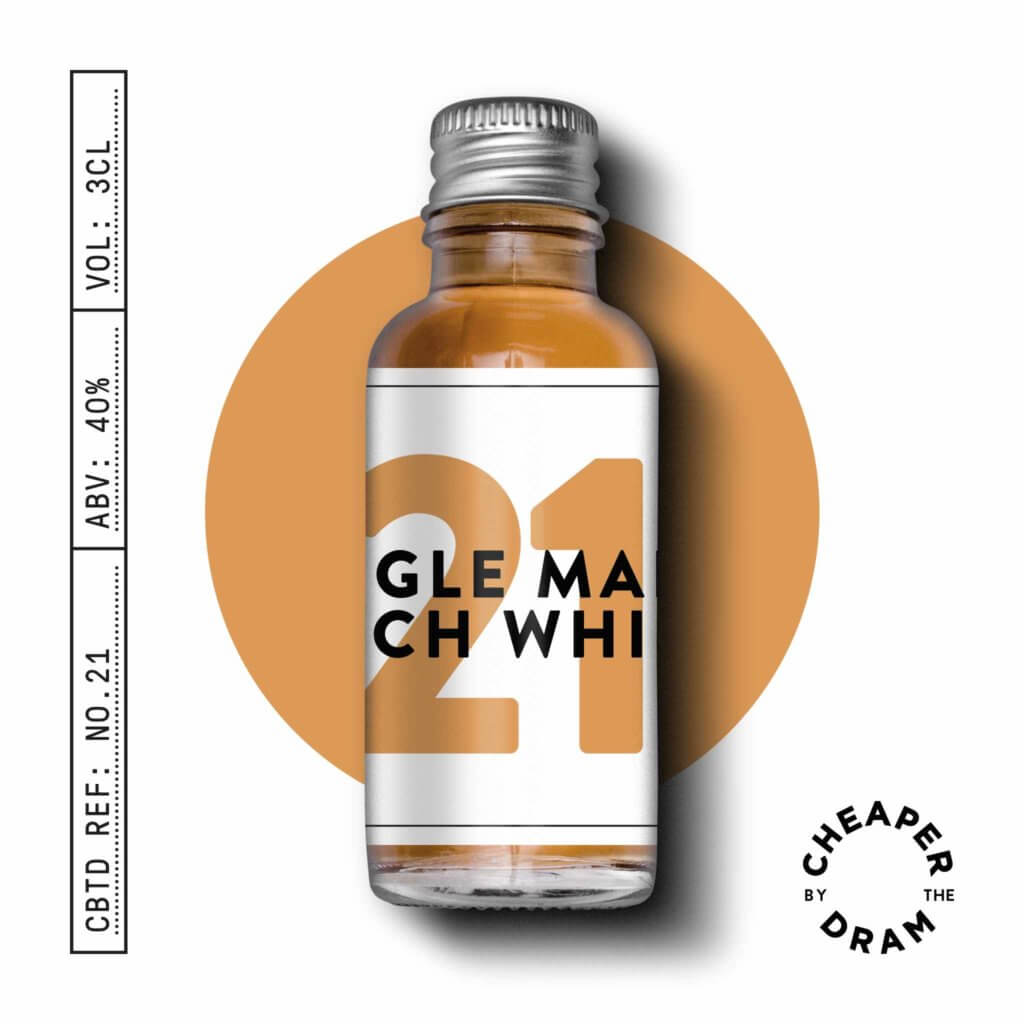 Dalwhinnie 20 year old Single Malt Scotch from 1962 (30ml)
---
Sale price

$43.00
Regular price

$0.00
(/)

About This Dram
Cheaper By The Dram shares the cost of expensive whiskies between customers by splitting bottles into drams.
The 20-year-old single malt in this dram was distilled in 1962 by Dalwhinnie Distillery, and bottled by Gordon & MacPhail in 1982 as part of their Connoisseurs Choice range.
The current retail price of a 750ml bottle is £750. 
About This Whisky
Distilled: Dalwhinnie Distillery
Region: Highlands
Bottled By: Gordon & MacPhail 
Type: Single Malt Scotch Whisky
Age: 20 Year Old
Vintage: 1962
Bottled: 1982
Dram Size: 30ml miniature
Alcohol by Volume: 40%
Series: Connoisseurs Choice
About this Dalwhinnie Single Malt Scotch
Distilled in 1962 at the Dalwhinnie Distillery the whisky in CBTD REF NO.21 was bottled at 20 years old as part of the icon brown label Connoisseurs Choice series released in the 80s by Gordon and Macphail.
The single malt whisky in CBTD REF NO.21 was distilled in a year which saw an escalation of tensions between the USA and Soviet Union in the Cuban Missile Crisis, artist Andy Warhol premiered his Campbell's Soup Cans exhibit, and the first film in the James Bond franchise, Dr No. was released in cinemas.
About Dalwhinnie distillery
A distillery was first established in the Highland village of Dalwhinnie in 1897 by three local businessmen, John Grant, Alexander Mackenzie and George Sellar, originally bearing the name Strathspey. The distillery commenced production in February 1898, although after just a few months the venture failed and by October 1898 the founders were forced to sell to AP Blyth & Son and John Somerville & Company who changed the distillery's name to Dalwhinnie. In 1905, Dalwhinnie was sold again to American distillers Cook & Berheimer, gaining the distinction of being the first Scottish distillery to be owned by a non-UK company, and the first distillery to have a US-based owner. As a result of Prohibition, Dalwhinnie would change ownership again and was eventually acquired by Distillers Company Limited (later Diageo) in 1926. Under DCL's ownership, Dalwhinnie was licenced to James Buchanan creator of the Black & White blend; Dalwhinnie's malt output remains a core part of the blend, and the distillery has become Black & White's spiritual home
In 1988, Dalwhinnie was chosen as the Highland representative and one of the founding whiskies in the United Distillers Classic Malts selection. Dalwhinnie's distillery character is lightly peated combining clear sweet flavours of cut grass and heather honey.
About the Connoisseurs Choice range 
This 1962 distilled Dalwhinnie single malt was aged for 20 years then released by independent bottler Gordon & MacPhail as part of their Connoisseurs Choice range. First created by George Urquhart in 1968, Connoisseurs Choice aimed to showcase small-batch examples of single malt in a market-focused entirely on blended whiskies. The Connoisseurs Choice range pioneered a new category in the whisky market by selecting, maturing and bottling whisky from distilleries, many of which had never before been bottled as single malt, according to the belief every distillery has a unique personality to collect a range of rare and sought after single malts from some of Scotland's long-established distilleries. The distinctive brown label identifies this bottling as a Connoisseurs Choice release dating from the 1980's. As Dalwhinnie now uses grain produced by specialist maltsters since ceasing the distillery's own grain malting in 1968, this dram distilled in 1962 will take the drinker back to Dalwhinnie's past incarnation.
Where can you ship?

We're based in the UK, but we can ship to many countries.

We deliver to Australia, Canada (Alberta), China, Denmark, Finland, Germany, Greece, Guernsey, Hong Kong, Ireland, Israel, Italy, Japan, Jersey, Lithuania, Luxembourg, Macao, Netherlands, New Zealand, Norway, Philippines, Singapore, South Africa, South Korea, Taiwan, UK, US (certain states*), and Vietnam.

*We can ship to the following US states duty-paid (so no further taxes for you): Alaska, California, Connecticut, Delaware, District of Columbia, Florida, Georgia, Illinois, Louisiana,Maine, Maryland, Massachusetts, Nebraska, New Jersey, New Mexico, New York, North Carolina, Oregon, Pennsylvania, Rhode Island, South Carolina, Texas, Vermont, Virginia, Washington, Wyoming.

How much is shipping?

Shipping charges are calculated during checkout, depending on where you live and how many bottles you're buying. Shipping within the UK is free on orders over £100.

What about taxes?

All alcoholic products sold by TopWhiskies are sold subject to UK alcohol tax, which is already included in the price.

UK sales are subject to VAT (currently 20%), which is included in the price. Sales outside of the UK are not subject to this tax, and international prices do not include it.

We use a specialist US shipper who sorts out US taxes. These costs are factored into the US shipping charges. So shipping may look pricey, but remember it covers your taxes as well.

For all other territories, including those in Europe, please note: your order could be subject to local sales taxes and duties upon arrival in the destination country. All additional charges are the responsibility of the recipient. As customs policies vary widely from country to country, TopWhiskies has no control over these charges, so you should contact your local customs office for further information. If you refuse to pay any import duties and taxes, this could result in the goods being destroyed by customs or being returned back to us - any refund offered would include a deduction of our costs.

Which couriers do you use?

In the UK we use Royal Mail, Parcelforce and APC. US orders are sent via UPS. International orders use FedEx and DHL.

Need help?

For help, or custom orders, please contact Ed on email ed@topwhiskies.com
Quality products, independent brands

All the brands I work with are independent. Many of them are small brands, run by one or two people with a whole load of passion. As a result, these unique products are top quality.

Personal support

Need help? Write to me at ed@topwhiskies.com. It's always me at the end of the email, and I'm always glad to help.

Five-star service

With happy whisky-loving customers all around the world, we're rated five stars for our service.

Secure checkout

We accept all major cards, along with PayPal and Apple Pay. Check out securely online, with the safety of SSL encryption. You can pay in a wide range of currencies, whatever is most convenient for you.
Choose options