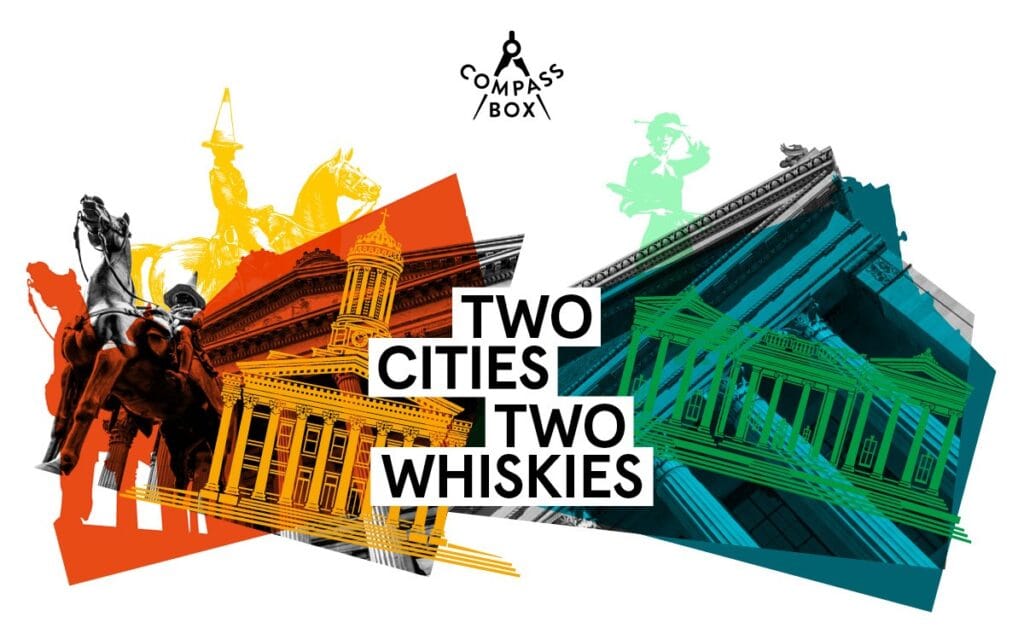 Compass Box Artist Blend and Glasgow Blend: Two Cities, Two Whiskies
Compass Box Scotch Whiskymakers have evolved their core range and redesigned the labels for two of their popular blended Scotch whiskies and simplified their names to: Artist Blend and Glasgow Blend.
Fans of the previously named Great King Street collection need not worry as both expressions contain the same award-winning liquid.
"When I first created these blended Scotch whiskies I was inspired by the writing of Aeneas MacDonald in his classic 1930 book, 'Whisky,'" explains Compass Box founder and creator John Glaser. "MacDonald wrote about the distinct differences in whisky taste between the citizens of Edinburgh and Glasgow. He also detailed what blended Scotch whisky recipes were like at the time. This was all hugely inspirational to me when I first created Artist Blend and Glasgow Blend and it made these whiskies, in effect, an homage to Scotland's two biggest cities."
Internationally renowned designers Stranger & Stranger have added their own creative twist to both labels, conveying the tale of the two cities and two whiskies through new labels that celebrate the diversity of thinking and originality of Edinburgh and Glasgow. The designs are a homage to blending's golden age in the late 19th century when individuals used artistry, creativity, and craft to pioneer the world-famous spirit: blended Scotch whisky (which is defined as a blend of single malt and single grain whiskies from different distilleries).
Compass Box Artist Blend (formally Great King Street Artist's Blend)
A tribute to Edinburgh, the new label depicts an artist in front of the world-famous Scottish National Gallery and embodies the creative spirit of Compass Box. 
Compass Box Founder, John Glaser, first created this whisky in 2011 and was inspired by 100-year-old recipes. This blended Scotch whisky has a higher proportion of single malt whiskies than is normally found in blends today, and is reminiscent of apple, salted caramel and baking spices. Artist Blend has a notably creamy mouthfeel and long finish.
A vibrantly fruity and creamy flavour profile complements the artistic endeavour and creative flair that the city is famous for. Artist Blend can be drunk neat, with a splash of water or on the rocks, and is versatile enough for cocktail creation or even a classic Highball.
Retails for around £37 for a 70cl bottle. ABV: 43%, natural colour and non-chill filtered. 
Compass Box Glasgow Blend (formally Great King Street Glasgow Blend)
Conceived as a contrast to Artist Blend, it represents the bold, fearless and humorous personality of the Glaswegians. One of Glasgow's most iconic landmarks, the statue of the Duke of Wellington, which has had various traffic cones placed on its head for the past 30 years, is on the new label for Glasgow Blend as it is a symbol of the city's sense of humour. 
This is an old-school peaty blended Scotch whisky, originally created by John Glaser in 2014, that draws on an historical reference that Glaswegians have long preferred bigger, smokier whiskies.
With a high malt content, Glasgow Blend is full, bold and smoky on the palate and unites the rich spice and fruitcake-like notes of Sherry cask ageing with the maritime punch of Islay malt whisky. 
Glasgow Blend can be poured into a tumbler or wine glass and enjoyed pre- or post-dinner, perhaps with a splash of water. The added weight of this bold blend brings extra depth to whisky-based cocktails. 
Retails for around £37 for a 70cl bottle. ABV: 43%, natural colour and non-chill filtered. 
These two versatile Compass Box whiskies, loved by bartenders around the world, can now take pride of place in home bars and are great for home cocktail creation.