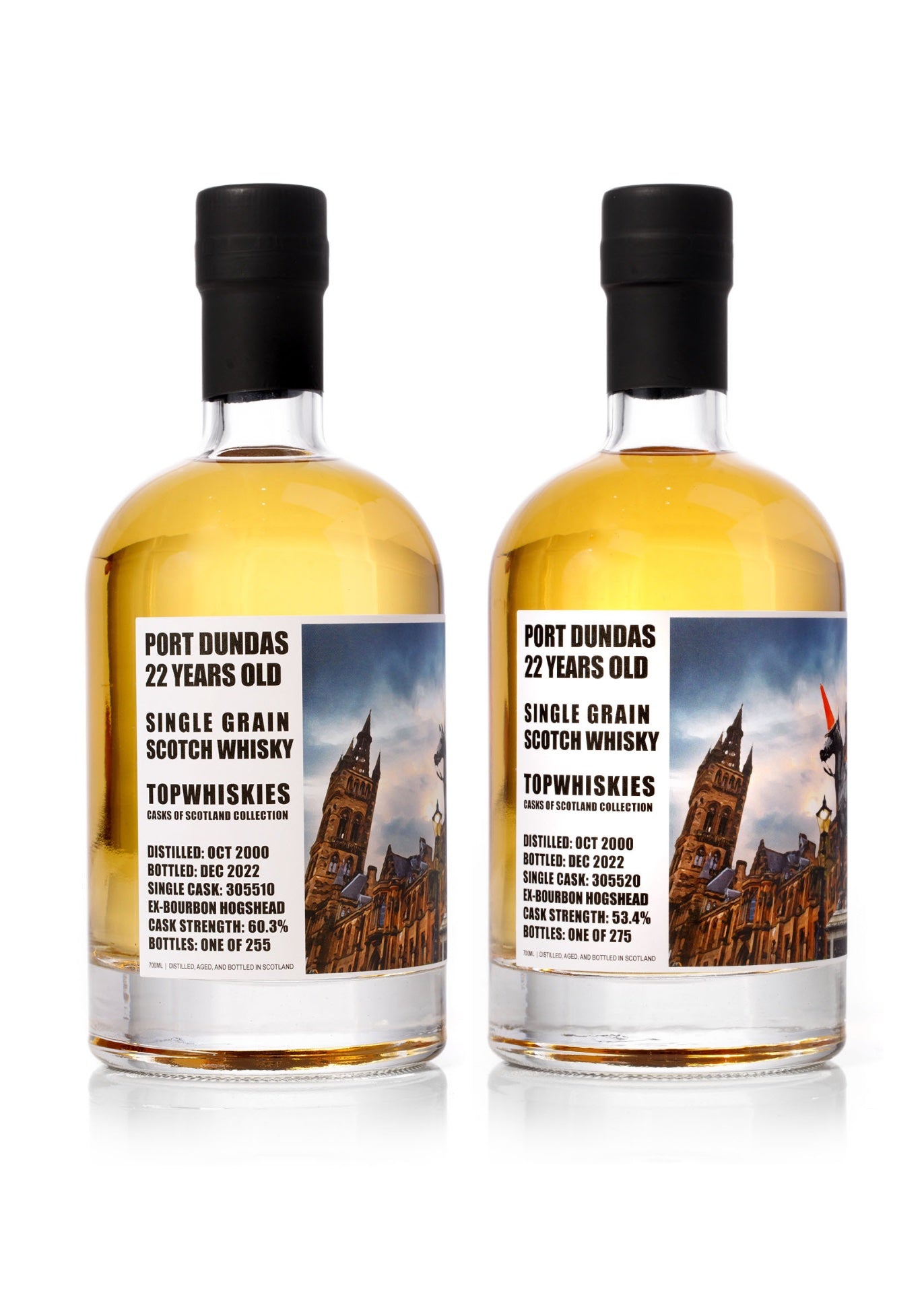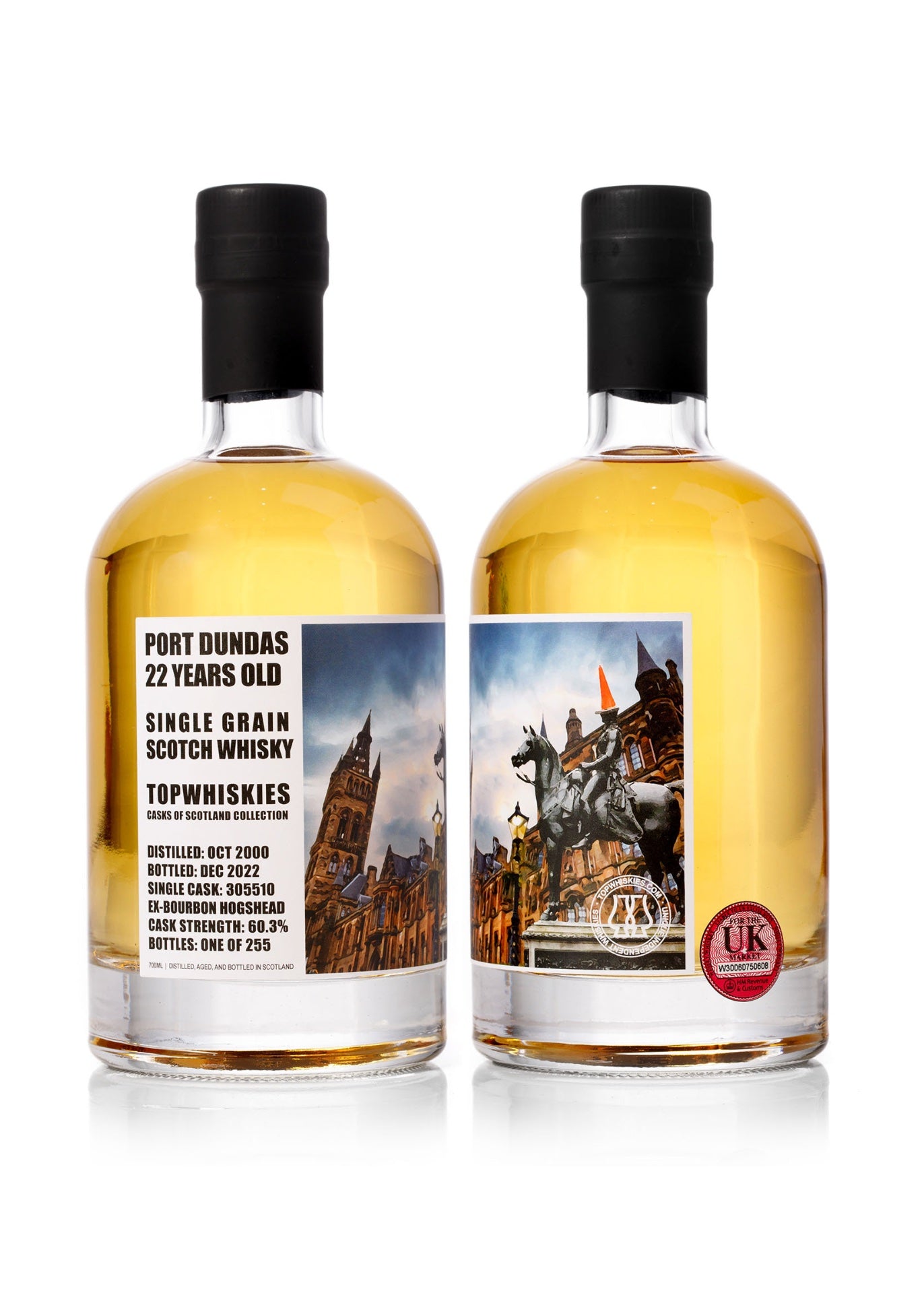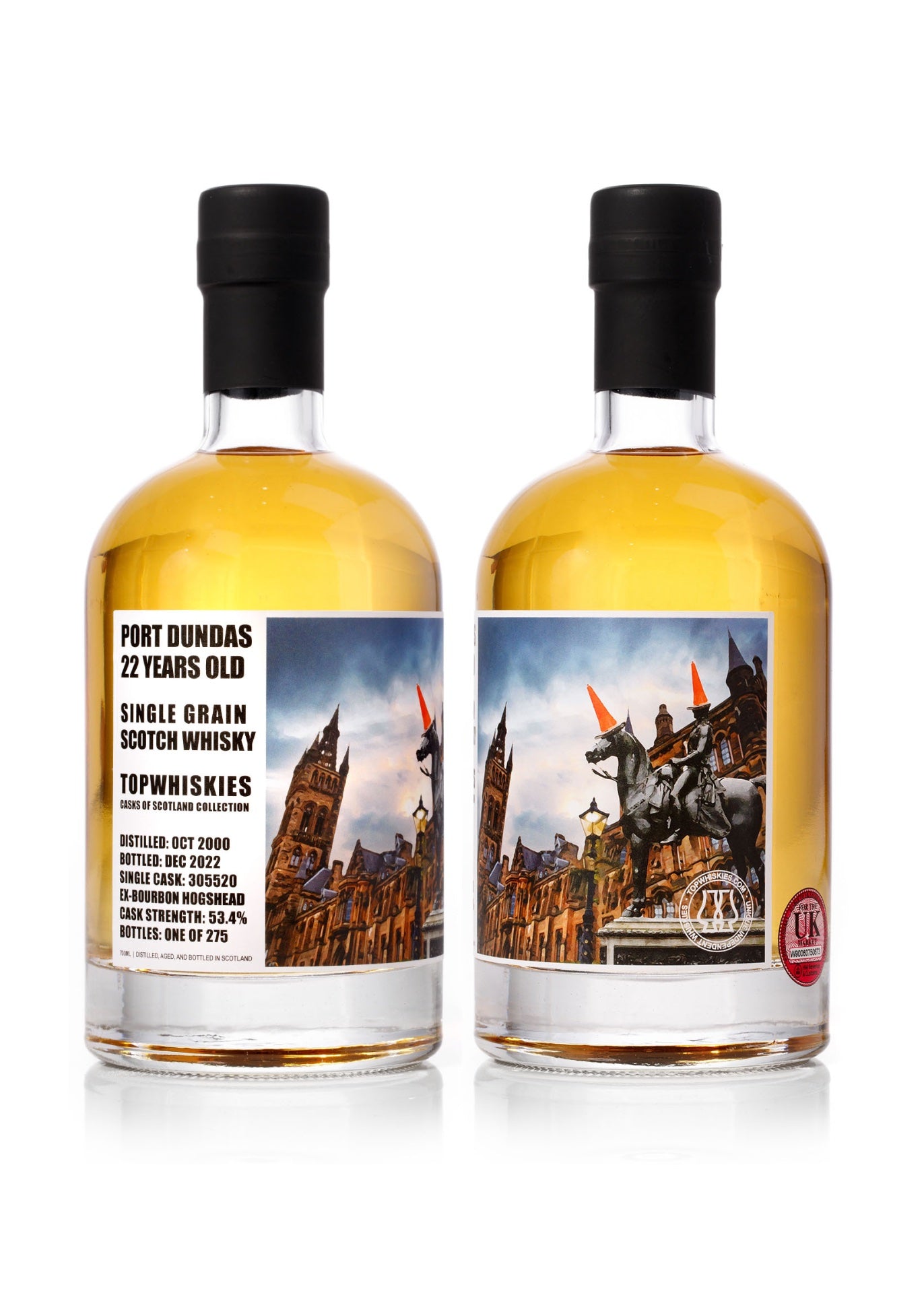 TopWhiskies Port Dundas 22 Year Old Twin Casks
---
Sale price

$216.00
Regular price
(/)

Key Facts About These Single Grain Whiskies
Bottler: TopWhiskies
Range: Casks of Scotland
Distillery: Port Dundas
Region: Lowlands, Scotland
Type: Single Grain
Age: 22 years
Distilled: October 2000
Bottled: December 2022
Cask Type: Two sister casks, bourbon hogsheads
Cask Ref: 305510 and 305520
Alcohol by Volume: Cask strength at 60.3% and 53.4%
Bottle Outturn: 255 from 305510, 275 from 305520
Bottle Size: Set of two 700ml bottles
Bottled: Natural colour and without chill filtration
Tasting Notes For Both Casks
Ed's tasting notes for Cask 305510
Colour: Natural colour, pale gold, or chardonnay. Oily, coats my glass with legs sliding down and slow-developing tears.
Nose: Apples stewed with soft berries in brown butter. Golden syrup flapjack sprinkled with cinnamon. Straw lying on the farm kitchen oak table.
Palate: Medium mouthfeel. Apples and berries with buttery vanilla toffee. Golden honey sweetness coats your breakfast oats. Alcohol is well integrated bringing body and pleasingly warm spice.
Finish: Medium. Honey-covered red fruits move into more savoury cereal and then a little spice.
Ed's tasting notes for Cask 305520
Colour: Natural colour, pale straw or chardonnay. Coats my glass, with tears that develop slowly.
Nose: Green sliced apples and peaches, topped with honeyed oats. Buttery cinnamon pastries sprinkled with flakes of toasted coconut. Dusty oak, dry summer grass, and vanilla.
Palate: Light to medium mouthfeel. A gentle floral character, followed by natural sweetness. Apples, green gauges, honeydew melon. Delicate almond sponge filled with buttercream. Alcohol is well integrated.
Finish: Medium. More fresh fruit sweetness is met with savoury cereal and a touch of gently warming wood spice.
About Port Dundas distillery
The Port Dundas distillery was a historic landmark in the city of Glasgow. Built in 1811, it sat at the highest point in the city, next to the banks of the Forth & Clyde Canal. With its good transport links and prime location in the city, which had become the blending centre of Scotland, Port Dundas grew in size to become Scotland's largest distillery. By 1885, its three Coffey and five pot stills were producing over two million gallons a year.
But in 2010 its owner Diageo decided to concentrate its grain whisky production at its Cameronbridge distillery. Although there were offers from rival distillers to buy Port Dundas they fell through – possibly due to the potential cost of upgrading the distillery. In 2011, production stopped and the site was demolished. Glasgow's landmark was lost, and Port Dundas faded into history as a "ghost distillery".
Our twin casks from Port Dundas pay tribute to this lost landmark with a label that reflects two of Glasgow's landmarks today - the Glasgow University, and the statue of the Duke of Wellington, with his infamous traffic cones (a long running joke amongst Glaswegians). We've kept both releases as single casks, bottled all-natural at cask strength, so you can try Port Dundas whisky in its purest form. 
This listing is for a pair which includes both bottles, each full size at 700ml.
Where can you ship?

We're based in the UK, but we can ship to many countries.

We deliver to Australia, Canada (Alberta), China, Denmark, Finland, Germany, Greece, Guernsey, Hong Kong, Ireland, Israel, Italy, Japan, Jersey, Lithuania, Luxembourg, Macao, Netherlands, New Zealand, Norway, Philippines, Singapore, South Africa, South Korea, Taiwan, UK, US (certain states*), and Vietnam.

*We can ship to the following US states duty-paid (so no further taxes for you): Alaska, California, Connecticut, Delaware, District of Columbia, Florida, Georgia, Illinois, Louisiana,Maine, Maryland, Massachusetts, Nebraska, New Jersey, New Mexico, New York, North Carolina, Oregon, Pennsylvania, Rhode Island, South Carolina, Texas, Vermont, Virginia, Washington, Wyoming.

How much is shipping?

Shipping charges are calculated during checkout, depending on where you live and how many bottles you're buying. Shipping within the UK is free on orders over £100.

What about taxes?

All alcoholic products sold by TopWhiskies are sold subject to UK alcohol tax, which is already included in the price.

UK sales are subject to VAT (currently 20%), which is included in the price. Sales outside of the UK are not subject to this tax, and international prices do not include it.

We use a specialist US shipper who sorts out US taxes. These costs are factored into the US shipping charges. So shipping may look pricey, but remember it covers your taxes as well.

For all other territories, including those in Europe, please note: your order could be subject to local sales taxes and duties upon arrival in the destination country. All additional charges are the responsibility of the recipient. As customs policies vary widely from country to country, TopWhiskies has no control over these charges, so you should contact your local customs office for further information. If you refuse to pay any import duties and taxes, this could result in the goods being destroyed by customs or being returned back to us - any refund offered would include a deduction of our costs.

Which couriers do you use?

In the UK we use Royal Mail, Parcelforce and APC. US orders are sent via UPS. International orders use FedEx and DHL.

Need help?

For help, or custom orders, please contact Ed on email ed@topwhiskies.com
Quality products, independent brands

All the brands I work with are independent. Many of them are small brands, run by one or two people with a whole load of passion. As a result, these unique products are top quality.

Personal support

Need help? Write to me at ed@topwhiskies.com. It's always me at the end of the email, and I'm always glad to help.

Five-star service

With happy whisky-loving customers all around the world, we're rated five stars for our service.

Secure checkout

We accept all major cards, along with PayPal and Apple Pay. Check out securely online, with the safety of SSL encryption. You can pay in a wide range of currencies, whatever is most convenient for you.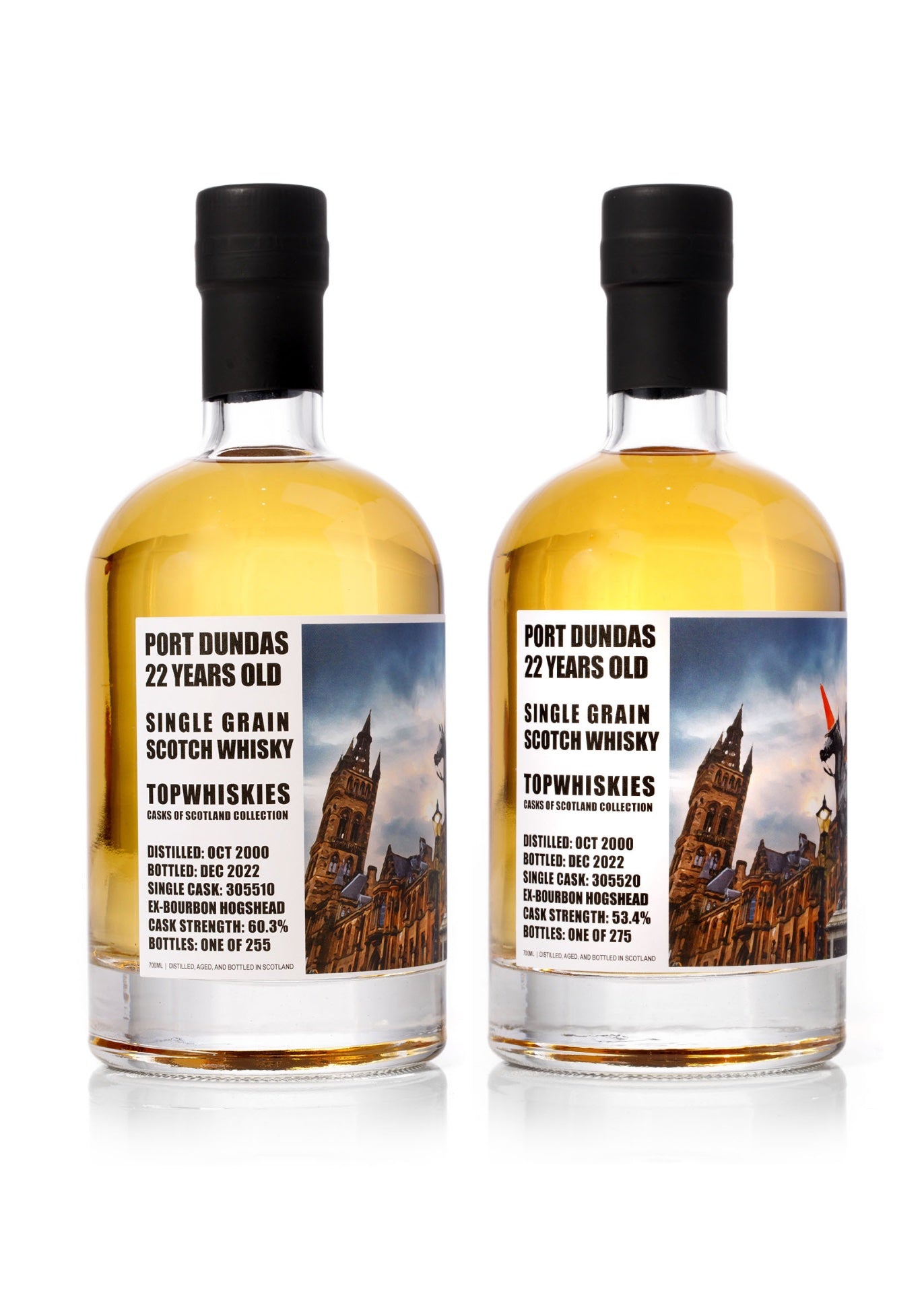 TopWhiskies Port Dundas 22 Year Old Twin Casks
Sale price

$216.00
Regular price
Choose options