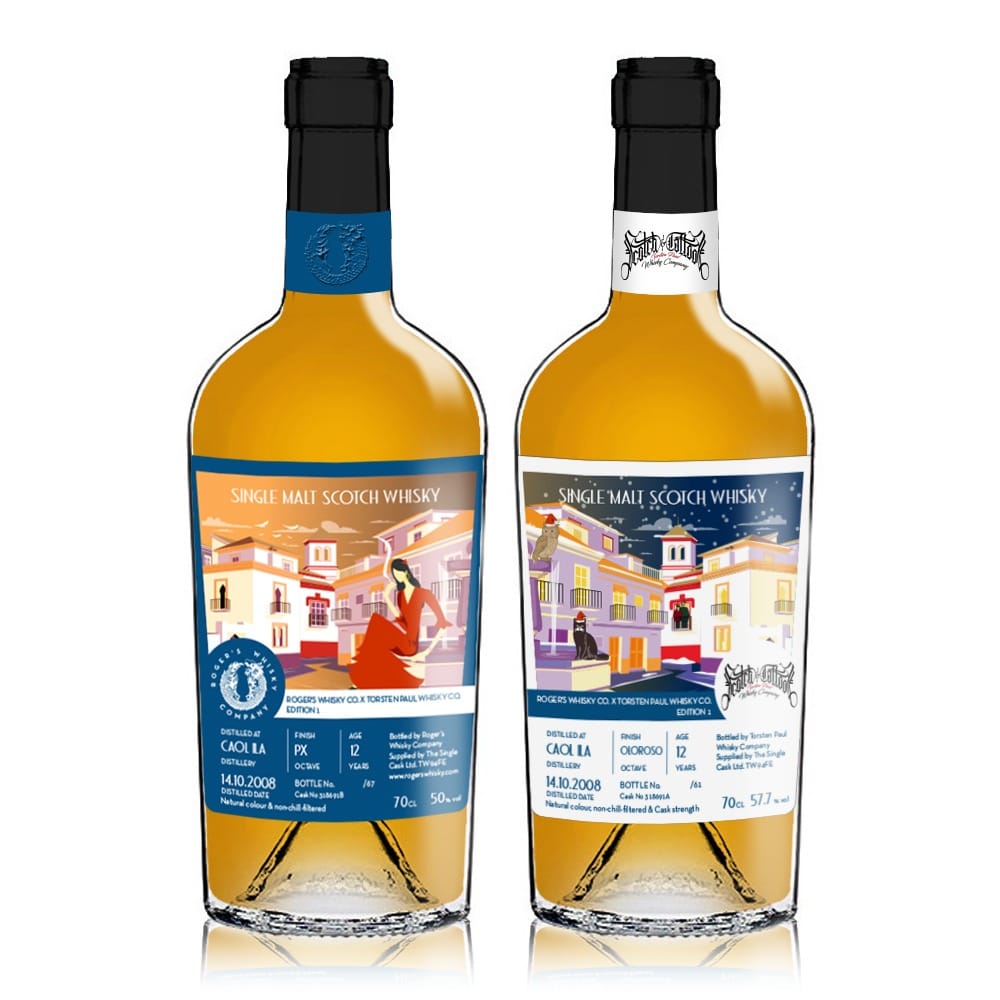 Roger's Whisky Company x Scotch & Tattoos collaboration
---
Sale price

$238.00
Regular price
(/)

Bundle of two whiskies
This is a bundle that includes both halves of Roger's Whisky Company and Scotch & Tattoos collaboration. When you add one bundle to your shopping cart, you will get two 700ml bottles of whisky, and two free face masks. Each individual bottle will retail separately for £110, but you can get 10% off both bottles when you pre-order this bundle using code RWCXSAT; that makes the package £198. You can find details of both whiskies below.
Roger's Whisky Co release
Bottler: Roger's Whisky Company
Range: Roger Whisky Co's x Scotch & Tattoos Edition 1
Distillery: Caol Ila
Age: 12 Years Old
Region: Islay, Scotland
Cask Type: Pedro Ximenez Octave finish
Cask Ref: 318691B
Alcohol by Volume: 50%
Distilled: 14 October 2008
Bottled: 20 October 2020
Outturn: 67 Bottles
Bottle Size: 700ml
Colour: Natural; a beautiful dark gold, with nice, slow tears in the glass.
Nose: A very full flavoured nose, layers of brown sugar and caramel, enhanced with figs and dates, red stewed fruit, and some cinnamon spice as well. The peat arrives in a delicate, refined way, working together well with the sweetness from the PX cask. After allowing for some breathing time, there are dark forest fruits, like blackcurrants and raspberries.
Palate: When you take a sip, the peat comes into greater focus, arriving in waves which alternate with sweet, fresh fruit. The mouthfeel is ever so slightly drying, bringing on that pleasant sensation of raspberry juice in your mouth. Even at 50% the alcohol is well integrated, giving so much room for all the refined elements coming in. 
Finish: A juicy, smooth finish, medium long, prolonging the red fruit and adding an extra note of dark chocolate.
Scotch & Tattoo's release
Bottler: Scotch & Tattoos Roger's Whisky Company
Range: Roger's Whisky Company x Scotch & Tattoos Edition 1
Distillery: Caol Ila
Age: 12 Years Old
Region: Islay, Scotland
Cask Type: Oloroso Octave finish
Cask Ref: 318691A
Alcohol by Volume: cask strength at 57.7%
Distilled: 14 October 2008
Bottled: 20 October 2020
Outturn: 62 Bottles
Bottle Size: 700ml
Where can you ship?

We're based in the UK, but we can ship to many countries.

We deliver to Australia, Canada (Alberta), China, Denmark, Finland, Germany, Greece, Guernsey, Hong Kong, Ireland, Israel, Italy, Japan, Jersey, Lithuania, Luxembourg, Macao, Netherlands, New Zealand, Norway, Philippines, Singapore, South Africa, South Korea, Taiwan, UK, US (certain states*), and Vietnam.

*We can ship to the following US states duty-paid (so no further taxes for you): Alaska, California, Connecticut, Delaware, District of Columbia, Florida, Georgia, Illinois, Louisiana,Maine, Maryland, Massachusetts, Nebraska, New Jersey, New Mexico, New York, North Carolina, Oregon, Pennsylvania, Rhode Island, South Carolina, Texas, Vermont, Virginia, Washington, Wyoming.

How much is shipping?

Shipping charges are calculated during checkout, depending on where you live and how many bottles you're buying. Shipping within the UK is free on orders over £100.

What about taxes?

All alcoholic products sold by TopWhiskies are sold subject to UK alcohol tax, which is already included in the price.

UK sales are subject to VAT (currently 20%), which is included in the price. Sales outside of the UK are not subject to this tax, and international prices do not include it.

We use a specialist US shipper who sorts out US taxes. These costs are factored into the US shipping charges. So shipping may look pricey, but remember it covers your taxes as well.

For all other territories, including those in Europe, please note: your order could be subject to local sales taxes and duties upon arrival in the destination country. All additional charges are the responsibility of the recipient. As customs policies vary widely from country to country, TopWhiskies has no control over these charges, so you should contact your local customs office for further information. If you refuse to pay any import duties and taxes, this could result in the goods being destroyed by customs or being returned back to us - any refund offered would include a deduction of our costs.

Which couriers do you use?

In the UK we use Royal Mail, Parcelforce and APC. US orders are sent via UPS. International orders use FedEx and DHL.

Need help?

For help, or custom orders, please contact Ed on email ed@topwhiskies.com
Quality products, independent brands

All the brands I work with are independent. Many of them are small brands, run by one or two people with a whole load of passion. As a result, these unique products are top quality.

Personal support

Need help? Write to me at ed@topwhiskies.com. It's always me at the end of the email, and I'm always glad to help.

Five-star service

With happy whisky-loving customers all around the world, we're rated five stars for our service.

Secure checkout

We accept all major cards, along with PayPal and Apple Pay. Check out securely online, with the safety of SSL encryption. You can pay in a wide range of currencies, whatever is most convenient for you.
Choose options