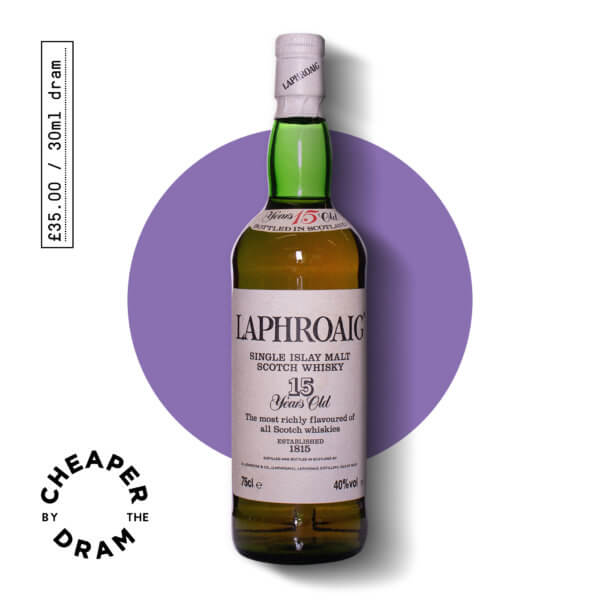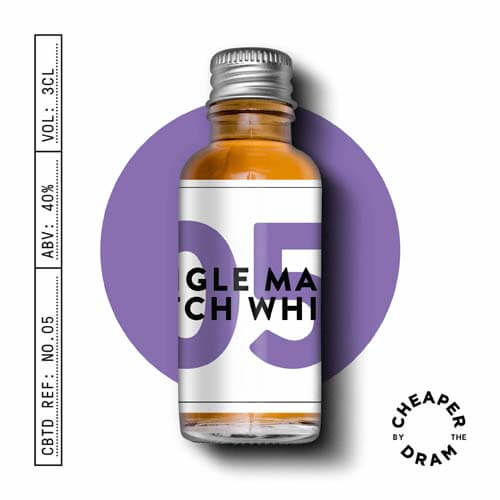 Laphroaig 15 year old Single Malt Scotch Whisky from the 1980s (30ml dram)
---
Sale price

$43.00
Regular price

$0.00
(/)

About This Dram
Cheaper By The Dram shares the cost of expensive whiskies between customers by splitting bottles into drams.
The 15-year-old whisky in release NO.05 is from an original bottle distilled by the Laphroaig distillery in the 1980s. This vintage expression was released before the Laphroaig distillery received the royal warrant from Prince Charles.
The current retail price of a 75cl bottle is £1,350
About This Whisky
Distilled: Laphroaig Distillery
Region: Islay
Bottled By: Laphroaig Distillery
Type: Single Malt Scotch Whisky
Age: 15 Year Old
Bottled: 1980s
Dram Size: 30ml miniature 
Alcohol by Volume: 40%
Series: No Royal Warrant
About Laphroaig distillery
Located on Islay's south Kildarton coast, the Laphroaig distillery is a member of the Kildarton trio alongside its neighbours Ardbeg and Lagavulin. The Laphroaig distillery was first licenced to brothers Alexander and Donald Johnson in 1815, although it is thought that the Johnsons may have operated an illicit distillery for several years before receiving their licence. The Laphroaig distillery was operated by the Johnson family until the 1960s, most notably under Donald Johnson's great-grandson Ian Hunter.
By the 1920s, under Hunter's innovative leadership the Laphroaig distillery was being sold as a single malt, unlike the majority of whiskies at this time, which were used almost exclusively for blending. When Hunter passed away in 1954, he left the distillery to his assistant Bessie Williamson who had been the de-facto manager during Hunter's extensive international sales trips. Bessie Williamson sold the distillery to American distiller Schenley in 1967, although remained as managing director running the Laphroaig distillery until she retired in 1972. A succession of owners then followed and the Laphroaig distillery has been owned by Beam-Suntory since 2014.
Whisky created at the Laphroaig distillery is the most maritime of Islay's malts. It is considered to have a distinctive medicinal character with touches of iodine, kippers, engine rooms and smoke, but softened by a sweetness derived from the distillery's preferred cask type; ex-bourbon American oak barrels.
Where can you ship?

We're based in the UK, but we can ship to many countries.

We deliver to Australia, Canada (Alberta), China, Denmark, Finland, Germany, Greece, Guernsey, Hong Kong, Ireland, Israel, Italy, Japan, Jersey, Lithuania, Luxembourg, Macao, Netherlands, New Zealand, Norway, Philippines, Singapore, South Africa, South Korea, Taiwan, UK, US (certain states*), and Vietnam.

*We can ship to the following US states duty-paid (so no further taxes for you): Alaska, California, Connecticut, Delaware, District of Columbia, Florida, Georgia, Illinois, Louisiana,Maine, Maryland, Massachusetts, Nebraska, New Jersey, New Mexico, New York, North Carolina, Oregon, Pennsylvania, Rhode Island, South Carolina, Texas, Vermont, Virginia, Washington, Wyoming.

How much is shipping?

Shipping charges are calculated during checkout, depending on where you live and how many bottles you're buying. Shipping within the UK is free on orders over £100.

What about taxes?

All alcoholic products sold by TopWhiskies are sold subject to UK alcohol tax, which is already included in the price.

UK sales are subject to VAT (currently 20%), which is included in the price. Sales outside of the UK are not subject to this tax, and international prices do not include it.

We use a specialist US shipper who sorts out US taxes. These costs are factored into the US shipping charges. So shipping may look pricey, but remember it covers your taxes as well.

For all other territories, including those in Europe, please note: your order could be subject to local sales taxes and duties upon arrival in the destination country. All additional charges are the responsibility of the recipient. As customs policies vary widely from country to country, TopWhiskies has no control over these charges, so you should contact your local customs office for further information. If you refuse to pay any import duties and taxes, this could result in the goods being destroyed by customs or being returned back to us - any refund offered would include a deduction of our costs.

Which couriers do you use?

In the UK we use Royal Mail, Parcelforce and APC. US orders are sent via UPS. International orders use FedEx and DHL.

Need help?

For help, or custom orders, please contact Ed on email ed@topwhiskies.com
Quality products, independent brands

All the brands I work with are independent. Many of them are small brands, run by one or two people with a whole load of passion. As a result, these unique products are top quality.

Personal support

Need help? Write to me at ed@topwhiskies.com. It's always me at the end of the email, and I'm always glad to help.

Five-star service

With happy whisky-loving customers all around the world, we're rated five stars for our service.

Secure checkout

We accept all major cards, along with PayPal and Apple Pay. Check out securely online, with the safety of SSL encryption. You can pay in a wide range of currencies, whatever is most convenient for you.
Choose options