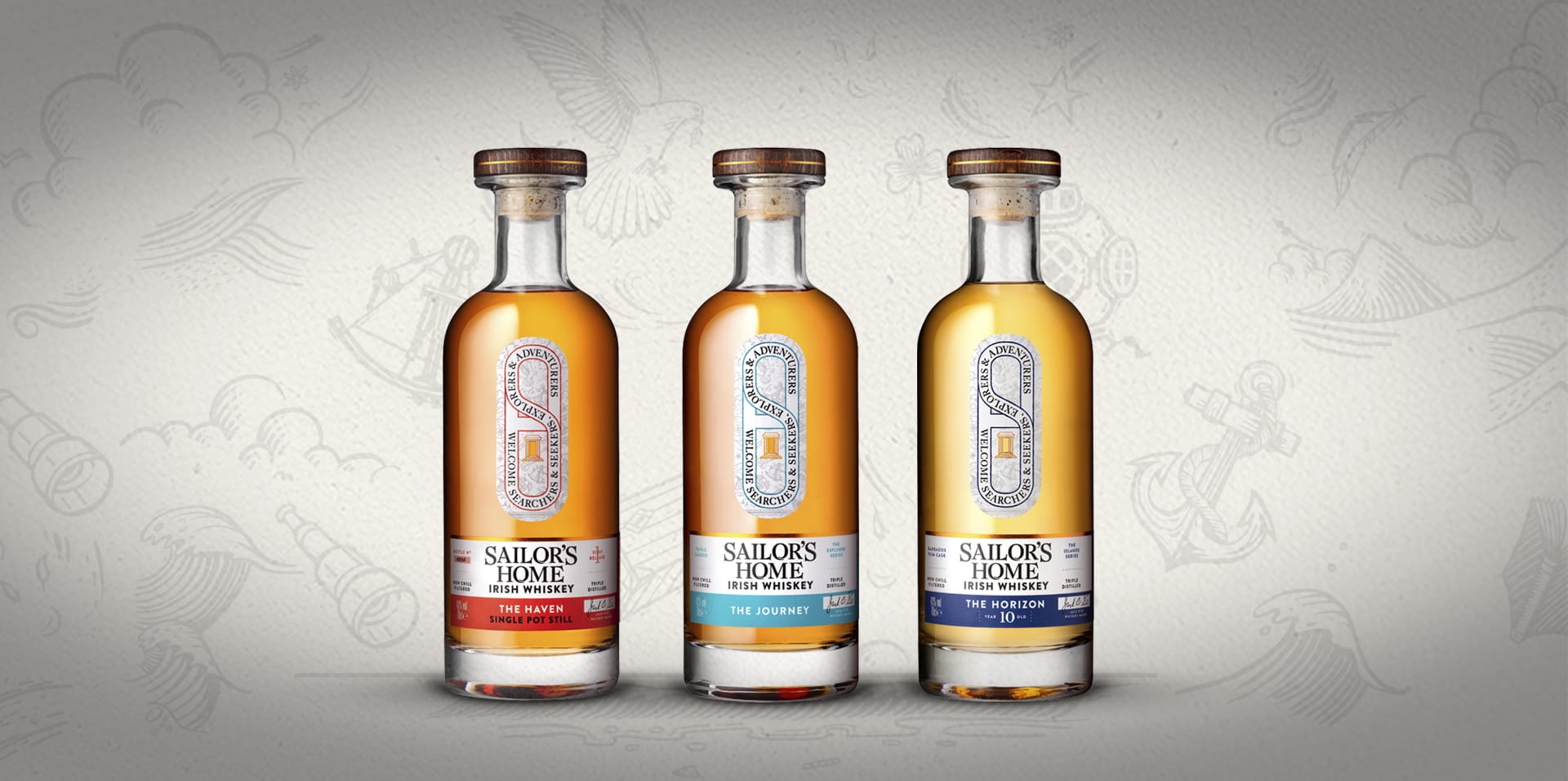 Sailor's Home Irish Whiskey
MADE IN IRELAND, SHAPED BY THE WORLD
Sailor's Home Irish Whiskey is a new brand from Limerick. They've recently launched their first three Irish whiskies: The Haven, The Journey and The Horizon. Crafted by legendary master whiskey maker Dr. Jack Ó'Sé, their distinct flavours have been shaped by a bold approach to blending, ageing and finishing. Sailor's Home wants to take whiskey lovers on a new journey, with flavours that push the boundaries of what is expected of a premium Irish Whiskey.
Sailor's Home is by the rugged and untamed Wild Atlantic Way on the Western coast of Ireland and the original Sailor's Home, a shelter built for the international community of seafarers travelling through the port of Limerick from Spain, America and the Caribbean in the 1800s. Sailor's Home and Dr. Jack Ó'Sé's approach to making respects tradition, while forging a new approach to Irish Whiskey that places taste above all.
Using his 40+ years of experience blending Irish whiskey and his interest in new techniques, Dr. Jack has brought this vision to life and pushed the boundaries of traditional Irish Whiskey with three distinctive expressions, created to be enjoyed by adventurous drinkers and bartenders seeking out new flavours.
The Journey Irish Whiskey
Bottled at 43% ABV, the Journey Irish Whiskey is aged initially in virgin American oak, followed by recasking into American bourbon barrels before being blended with malt Irish whiskey that has been matured in American bourbon and finished in Jamaican rum casks. The resulting whiskey has tropical fruit and rum notes with sticky toffee pudding and malty depth before a long, almost sweet finish. 
Nose: Butterscotch, toasted oak, dark rum notes
Taste: Sticky toffee, rum roundness balanced with malt depth
Finish: Ripe banana, molasses & vanilla
If you'd like to try this great new Irish whiskey then you can buy Sailor's Home The Journey here.
The Haven Single Pot Still Irish Whiskey
This is Sailor's Home first release of a single pot still Irish whiskey - created with both malted and un-malted Irish barley and oats that is then triple pot distilled resulting in a rich, creamy and smooth distillate. The new make spirit is initially matured in American bourbon barrels and Spanish Oloroso sherry casks, giving the liquid a flavour full of pot still spices, roasted almonds and vanilla notes whilst the finish is long with brown sugar and ripe black fruits. 
Nose: Green grapes, warm spice & honeyed oak.
Taste: Creamy mouthfeel, pot spices, roasted almonds & vanilla notes.
Finish: Brown sugar, ripe black fruits.
If you'd like to try this great new Irish whiskey then you can buy Sailor's Home The Haven here.
The Horizon 10 Year Old Irish Whiskey
The Horizon is crafted from Irish malt and grain whiskeys that have been matured for at least 10 years in American bourbon barrels. The whiskey is then filled into carefully selected Barbados rum casks for a finishing period of 6 months introducing lush, refined flavour twists typical of Caribbean rums like caramelised banana and rich brown sugar. 
Nose: Mouth-watering brown sugar and ripe tropical fruits.
Taste: Melting pot of malted honey, oak depth, silk rum, vanilla and caramelised banana.
Finish: Buttery toffee with orange zest.
If you'd like to try this great new Irish whiskey then you can buy Sailor's Home The Horizon here.
Dr. Jack Ó'Sé, Sailor's Home's Master Whiskey Maker said: "We've created a range of three truly distinctive whiskeys made in Ireland but shaped by the world. It's been amazing to work with these liquids, being adventurous with flavours is what Sailor's Home is all about. We look to explore and go beyond, so that a new generation of Irish whiskey drinkers can join us along this journey of discovery."
You can find out more about Sailor's Home Irish Whiskeys here, and read our Q&A with the Sailor's Home team here.