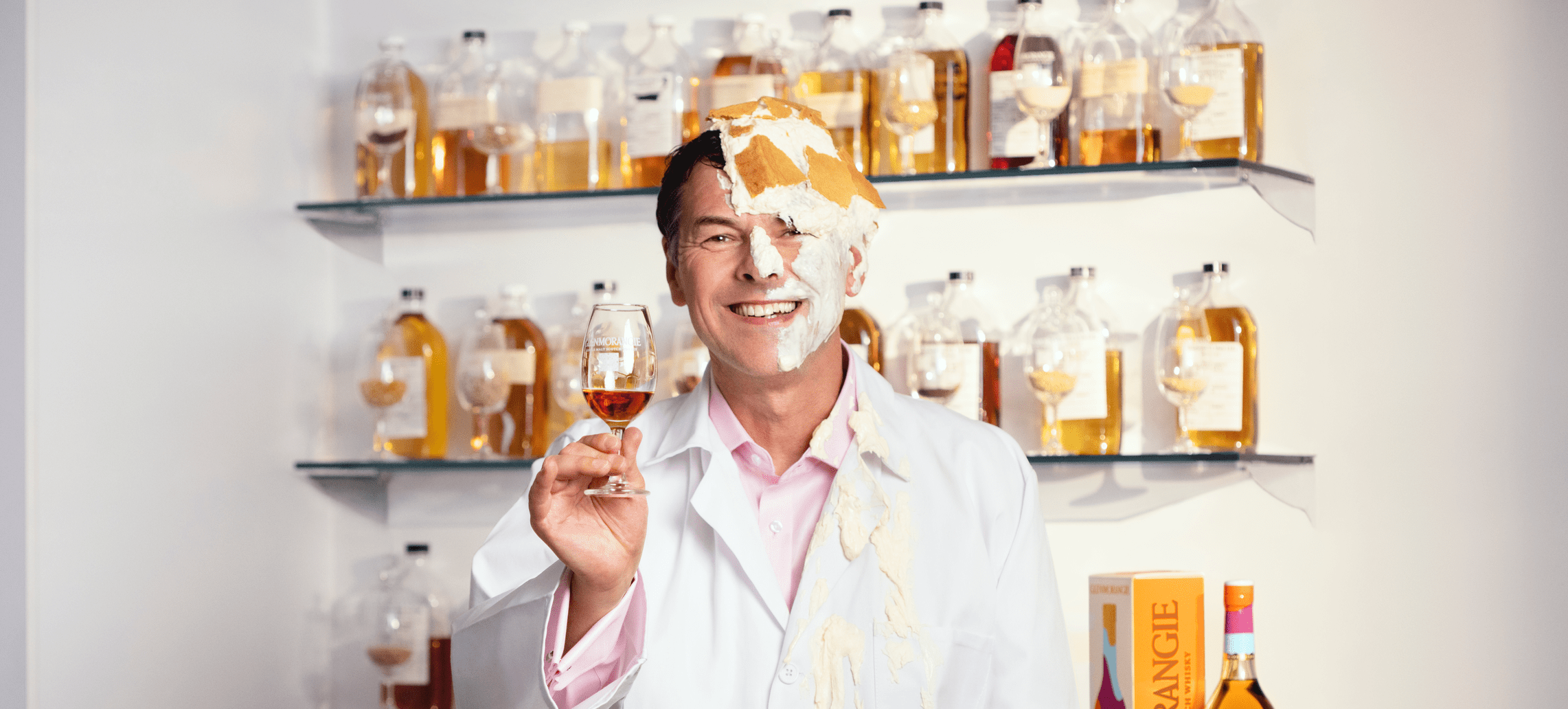 Glenmorangie A Tale of Cake
If there are two things we love, they're whisky and cake. Inspired by favourite memories of baking, birthdays and more, Glenmorangie A Tale of Cake celebrates all that is good about cake. And to celebrate this limited edition single malt whisky award-winning pastry chef Dominique Ansel has come up with a cake and cocktail pairing – a "CakeTail".
Dreaming of cake and whisky
Glenmorangie A Tale of Cake began when Dr Bill Lumsden, Glenmorangie's Director of Whisky Creation, found himself musing over how some of his most joyful memories involved cake – from baking with his granny, to the pineapple upside down cake his daughter made him for his birthday. Dreaming of encapsulating cake's magic in a single malt whisky, he experimented by finishing Glenmorangie in Tokaji dessert wine casks which layer sweet, honeyed notes with Glenmorangie's smooth, fruity character.
Tokaji wine casks
Tokaji wines are highly prized dessert wines from the Hungarian region of Tokaj, created using noble-rot grapes. Noble rot fungus (Botrytis cinerea) grows in moist conditions, making grapes shrivel up and concentrating their sugars, to create unique flavours. Many years ago, Dr Bill Lumsden, who is fascinated by wine, became intrigued by the cult status of Tokaji wines, with their sweet and distinctively honeyed notes. Sourcing a few casks, he began experimenting, and discovered the extraordinarily mellow tastes they could bring to Glenmorangie. Inspired by those early experiments, he revisited Royal Tokaji casks for Glenmorangie A Tale of Cake. He began with the fruity, fragrant spirit distilled in Glenmorangie's towering copper stills, the tallest in Scotland. With necks the same height as a giraffe, they take Glenmorangie's whisky on a longer excursion, for a more delicate spirit with more space for taste and aroma. He first aged this spirit in bourbon casks, for Glenmorangie's signature citrus complexity. Then he transferred the whisky into Tokaji casks to create this limited edition's wonderful balance of sweet, fruity flavours.
Whisky and cake cocktails
Of course, you can't have a cake-themed whisky without... cake. So Glenmorangie paired up with Dominique Ansel. Like Dr Bill, the pastry chef hailed as "the Willy Wonka of New York", has a passion for exploring new tastes (take for example his world-famous Cronut® – a donut-croissant hybrid). Imagining how he could bring cake and whisky together, he created a unique twist on a pineapple boat cake inspired by Glenmorangie A Tale of Cake. Paired with a pineapple Old Fashioned cocktail by expert mixologist Jeremy Le Blanche, it makes a deliciously indulgent CakeTail. What is more, Dominique and Jeremy have also invented CakeTail pairings to celebrate three of Glenmorangie's most-loved whiskies: The Original, The Lasanta and The Quinta Ruban.
Glenmorangie's CakeTail pairings will be available to a lucky few from his bakery in New York. But to make sure everyone can indulge, Dominique and Jeremy will also share versions that are easy to recreate at home - see below if you fancy getting your apron on (please send us cake if you do).
Dr Bill said: "Like so many of us, some of my favourite memories come from cake, whether it be helping my granny in her kitchen, or the pineapple birthday cake my daughter surprised me with one year. By finishing whisky in Tokaji wine casks, I've captured the joy of those indulgent cake moments in Glenmorangie A Tale of Cake. The liquid is a rich copper, but the taste is pure technicolour, luscious, sweet and complex with multi-layered bursts of honey, white chocolate and fruits with a hint of mint. As you might expect, it tastes incredible when enjoyed with actual cake, so it's fantastic to see Dominique bring it to life in his CakeTails."
Dominique said: "When I first tried Glenmorangie, it opened my senses to this amazing world of colour, texture, taste, and aroma  ̶  it's a new adventure each time. I never guessed I could enjoy whisky this much, but there is a friendliness to the way Glenmorangie tastes. Baking and whisky making are different worlds but they have a lot in common. If you stir Dr Bill's passion for single malt with my love for cake, you get the best of both our worlds!"
CakeTails - yes please!
CakeTails are cocktail and cake pairings that whisky lovers old and new can enjoy. Collaborating with Jeremy, Dominique came up with four CakeTails, based on Glenmorangie A Tale of Cake and three more of Glenmorangie's single malts: Glenmorangie Original, Glenmorangie Lasanta and Glenmorangie Quinta Ruban. Here are the four pairings.
Inspired by Glenmorangie A Tale of Cake
Eat: Dominique's take on a pineapple boat cake celebrates the whisky's delightfully sweet, fruity tastes in mini sandwich-style cakes made from slices of almond sponge soaked in a whisky syrup and layered with fresh pineapple and a brown sugar ganache.
Drink: The Cake Old Fashioned 
Ingredients:
50 ml Glenmorangie A Tale of Cake
7.5 ml coconut water
7.5 ml pineapple syrup
1 dash Peychaud's bitters
1 pinch black pepper
Method: Stir all ingredients with ice and strain into a rocks glass over block/ cubed ice.
Garnish with a twist of orange zest and a walnut. 
Inspired by Glenmorangie Original
Eat: Poached pears float in a syrup made with Glenmorangie Original and vanilla, complemented by lemon thyme and orange notes, in a creation hinting at the light, fruity tastes of Glenmorangie's signature single malt whisky.
Drink: The Pear Fizz
Ingredients:
45 ml Glenmorangie Original
25 ml pear juice
10 ml lemon juice
15 ml vanilla syrup
1 dash orange bitters
Top with a splash of Champagne
Method: Shake first five ingredients with ice and fine-strain into chilled coupe.
Add a splash (25ml max.) of Champagne. Garnish with a sprig of thyme.
Inspired by Glenmorangie Lasanta
Eat: The richness of the whisky is accentuated in Dominique's take on the affogato, with homemade chestnut ice-cream and smoked cinnamon cream showcasing The Lasanta's spiced and nutty notes.
Drink: The Frosted Flip
Ingredients:
45 ml Glenmorangie Lasanta
15 ml caramel syrup
25 ml double cream
2 dashes Fee Bros. Aztec chocolate bitters
1 dash Angostura bitters
1 whole egg
Method: Shake all ingredients with ice and fine-strain into a chilled glass over cubed ice.
Garnish with cinnamon dust and chocolate shavings.
Inspired by Glenmorangie Quinta Ruban
Eat: The whisky's deep chocolate notes shine through in a decadent dark chocolate-dipped brownie, which matches its velvety taste with a liquid praline centre infused with orange blossom and The Quinta Ruban.
Drink: Choco-Vino
Ingredients:
40 ml Glenmorangie Quinta Ruban
15 ml port wine
10 ml Campari
5 ml dark creme de cacao
Method: Stir all ingredients with ice and strain into a rocks glass over block/ cubed ice.
Garnish with a twist of orange zest.