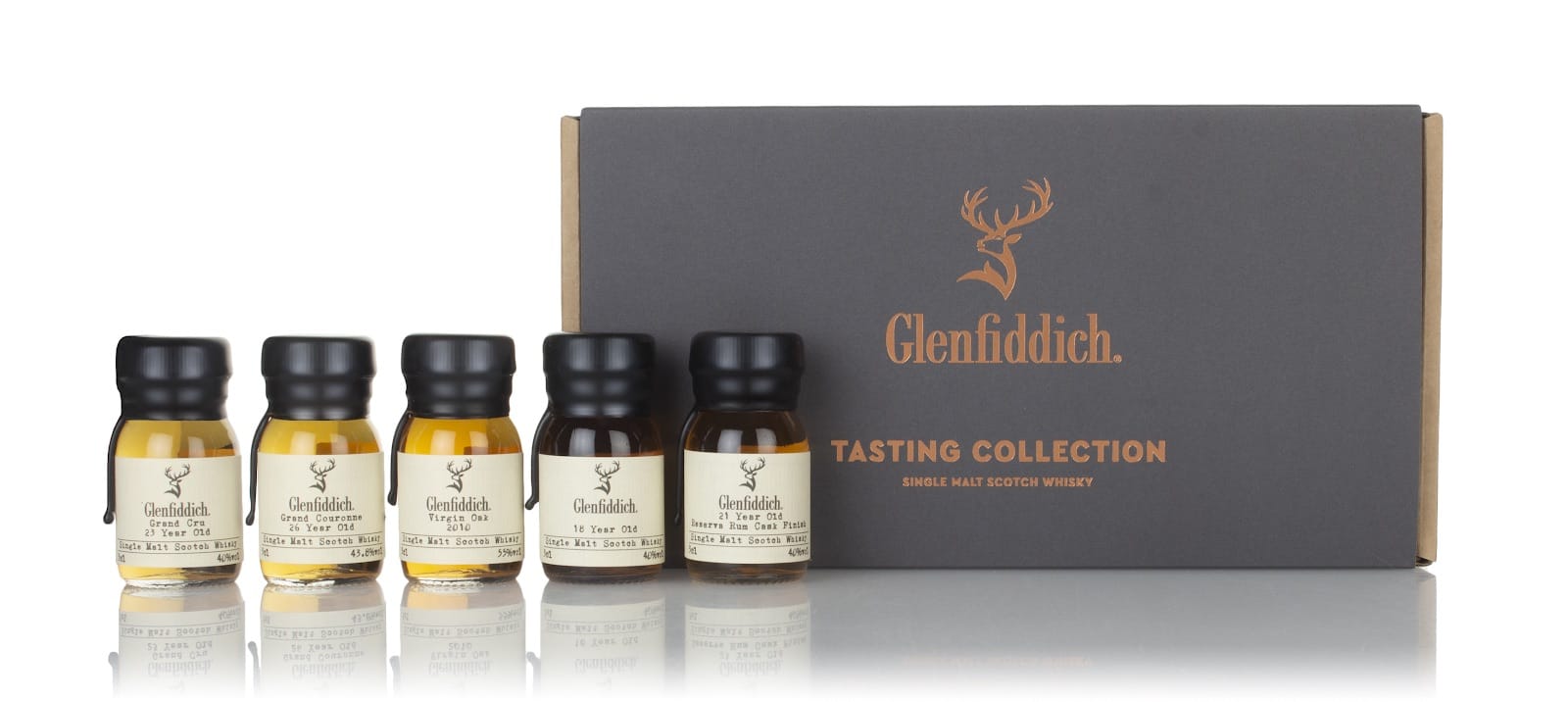 Glenfiddich Whisky Tasting Set
Glenfiddich Tasting Collection
Master of Malt has teamed up with Glenfiddich to launch a limited-edition whisky tasting set. The set gives whisky lovers the chance to try five unique single malt whiskies from Glenfiddich – four from the pre-existing range, and a previously unreleased expression. The five sample drams are each 30ml, and come in little wax sealed bottles; a great way to try Glenfiddich's whiskies, and a great whisky gift idea.
Inside the Tasting Collection, you'll find Glenfiddich's brand new expression, Grande Couronne 26 Year Old, only just released in the UK and already sold out on Master of Malt. Matured in American and European oak casks, the decadent single malt was finished in French oak ex-Cognac casks for two years before bottling.
Alongside sit two whiskies from the Glenfiddich Grand Series: the Glenfiddich Grand Cru 23 Year Old, initially aged in American and European oak casks and rare French cuvée oak casks, and Glenfiddich Gran Reserva, first matured for a lengthy 21 years in ex-bourbon casks before being moved to ex-Caribbean rum casks for four months. Last but not least, the bourbon- and sherry-matured Glenfiddich 18 Year Old and Glenfiddich Virgin Oak 2010 round off the brilliant selection.
Grande Couronne 26 Year Old Tasting Notes
Colour: Antique Gold 
Nose: Vibrant and lively with an abundance of toasty oak sweetness. Reminiscent of a French pâtisserie, freshly baked Tarte Tatin and buttery choux pastry
Palate: Deep, velvety smooth and indulgently sweet. Café crème with soft brown sugar and a hint of spice. 
Finish: Very long-lasting sweet oak.
Grand Cru 23 Year Old Tasting Notes
Colour: Dark gold.
Nose: Apple blossom, freshly baked bread and candied lemon.
Palate: Layers of rich vanilla oak, sweet brioche, sandalwood, pear sorbet and white grape Finish: Long, opulent and sweet.
Gran Reserva 21 Year Old Tasting Notes
Colour: Dark gold.
Nose: Intense vanilla sweet. Floral, hints of banana, figs, rich toffee, new leather and oak.
Palate: Initially soft, then brisk, vibrant and drying. Peppery with a touch of smoke, oak, lime, ginger and spices.
Finish: Very long, warming, dry and spicy.
Glenfiddich 18 Year Old Tasting Notes
Colour: Rich bronze.
Nose: A remarkably rich aroma with ripe orchard fruit, baked apple and robust oak.
Palate: Richly delivers luxurious dried fruit, candy peel and dates. Overlaid with elegant oak notes.
Finish: Warming, rewarding and distinguished.
Glenfiddich Virgin Oak 2010 Tasting Notes
Colour: Light Gold 
Nose: Robust oak wood, orchard fruits and malty cereal
Palate: Zesty notes of fresh oak wood, clove, vanilla and orange marmalade 
Finish: Long and lingering
Each set also includes dial-in details for a series of virtual live tastings. Hosted by Glenfiddich global brand ambassador Struan Grant Ralph, these will take place at 8pm BST on April 15, 22, and 29, giving customers the opportunity to discover more about Glenfiddich and the five whiskies.
Founded in Dufftown, Scotland by innovator William Grant, Glenfiddich first ran from the stills on Christmas Day, 1887. Adopting revolutionary methods and practices Grant's maverick attitude to whisky production saw Glenfiddich excel for over a hundred and thirty years, becoming the first single malt whisky to be promoted outside of Scotland, and ultimately, the best-selling single malt whisky in the world. While Glenfiddich is now sold in over 180 countries across the world, it is one of the few single malt distilleries to remain entirely family-owned and is still produced in the same distillery which William Grant and his children hand-built.
"It's always exciting to work with family-owned distillers like Glenfiddich, and they have really let us have access to some of their tastiest recent drops with this pack. We'd rather share a dram in person, but to have Struan take us through them online over the coming weeks is a pretty decent second," says Guy Hodcroft, spirits buyer at Master of Malt.
"We are really excited to launch this new Tasting Collection with Master of Malt to continue to make whisky more approachable and accessible," Ralph comments. "Being able to lead people on a journey through some of Glenfiddich's all-time favourites – not to mention highly sought-after and opulent new additions – and showcase a true taste of excellence with each dram is a real privilege."
The Glenfiddich and Master of Malt Tasting Collection is available for delivery across the UK for £59.99 through Master of Malt.