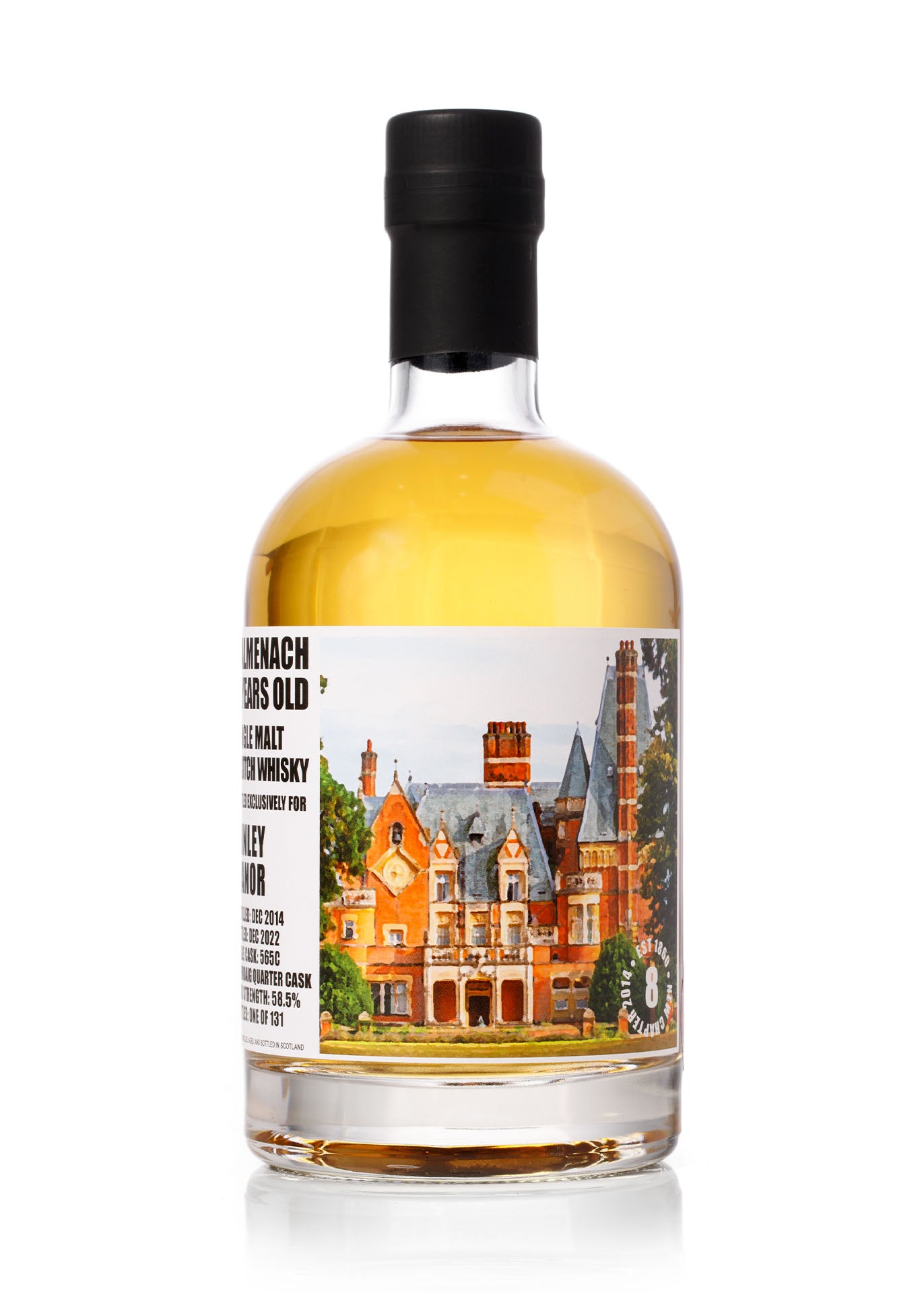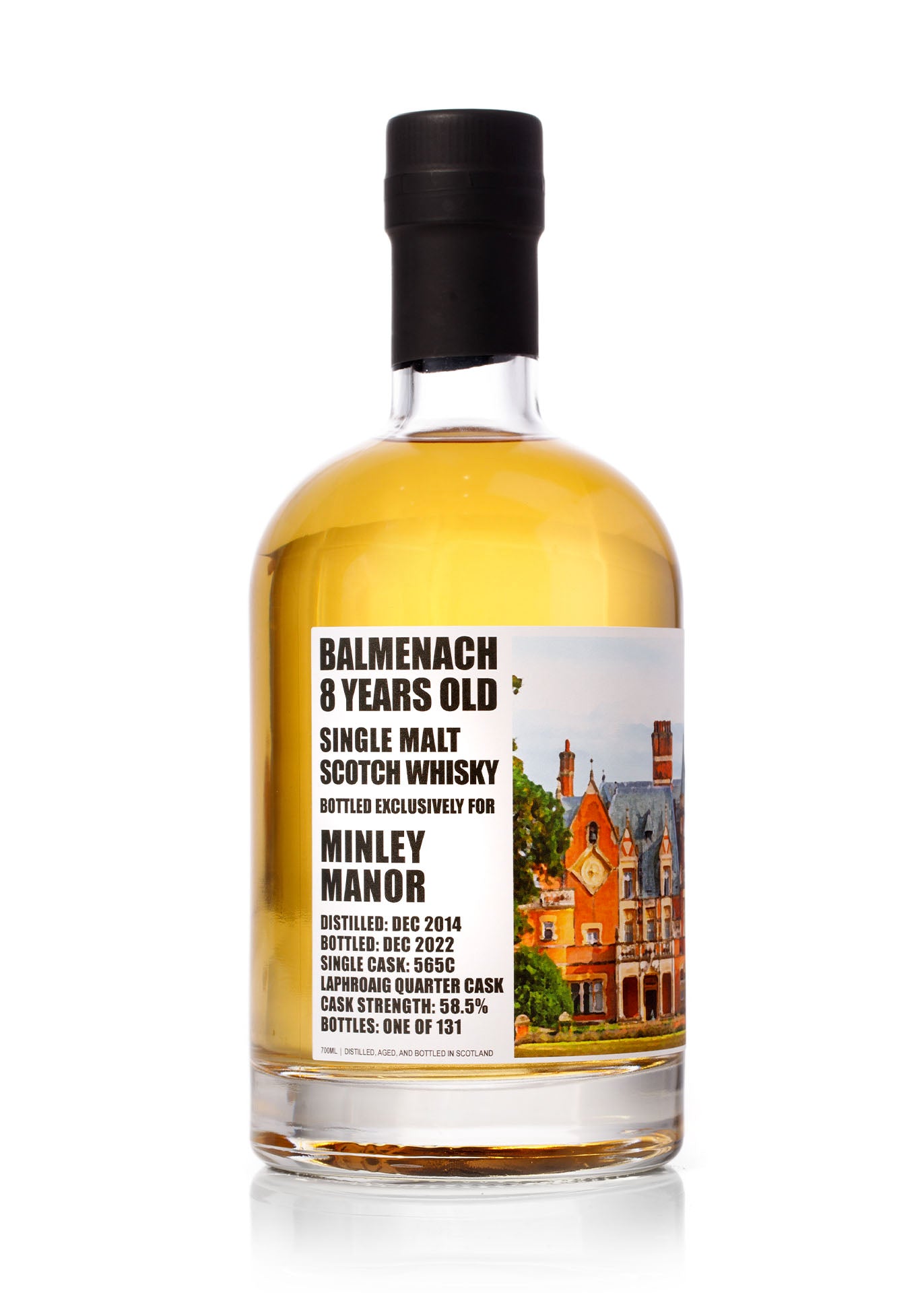 Key Facts About This Single Malt Scotch
Selected by: Ed Leigh
Bottled for: Minley Manor
Distillery: Balmenach
Region: Speyside, Scotland
Age: 8 years
Distilled: December 2014
Bottled: December 2022
Cask Type: Ex-Laphroaig quarter cask
Cask Ref: 565C
Alcohol by Volume: 58.5%
Outturn: 131 Bottles
Bottled: Natural colour and without chill filtration
Bottle Size: 700ml 
Balmenach 8 Year Old Tasting Notes
Ed's tasting notes
Colour: Natural colour, straw-like chardonnay. Oily, coating the glass with lots of parallel legs.
Nose: Big, beautiful, peat smoke. Honey-glazed ham smoked over campfire logs and served with red lingonberry sauce. Sweet malt dances with cinnamon, nutmeg and cloves.
Palate: Medium mouthfeel. Earthy peat cut with bright spice. Smoked ham in a sweet sticky glaze. Red berry fruit and mocha coffee. Alcohol is well integrated, building flavour without adding burn.
Finish: Medium. Smoked meats fade through fruit and end with an almost citrus freshness, leaving the palate ready for another sip.
About this collaboration release
Minley Manor's history is a story of England and Scotland, intertwined through the centuries. Minley Manor was built in 1860 for the Currie family. The Curries belonged to an old Scottish family descended directly from the Curries of Duns, from Berwickshire in Scotland.
The founder of Minley was Raikes Currie (1801-1881). He had made his fortune in banking. But, whisky was close to his heart. His grandfather William Currie (1756-1829) had been a distiller. The Curries clan has been associated with Scotch for centuries. Harold 'Hal' Currie (1924-2016) founded Isle of Arran Distillery in 1995. Hal was a legend in the whisky industry, and was still brokering global whisky deals until he passed away in 2016 aged 91.
In 1934 Minley Manor entered a new chapter in its life when it passed to the War Office. Over the years it was used by the Royal Engineers as a brigade headquarters, and then as an officers' mess for units stationed at Gibraltar Barracks. Over the regimental dinners through the years, many a bottle of Scotch whisky would be opened and shared amongst the officers. Stories of daring would be shared amongst these heroes, over a dram.
Fast forward to December 2022, and I worked with the team at Minley to continue the intertwining story of England and Scotland. This private label release is a single cask, cask strength, Balmenach 8 year old. Drawn from a special ex-Laphroaig quarter cask, we kept this whisky all natural, bottling at cask strength and non chill filtered.
This is a unique, and delicious, whisky to be shared with friends and family. Telling stories over a dram, just like those Royal Engineer heroes. 
Choose options