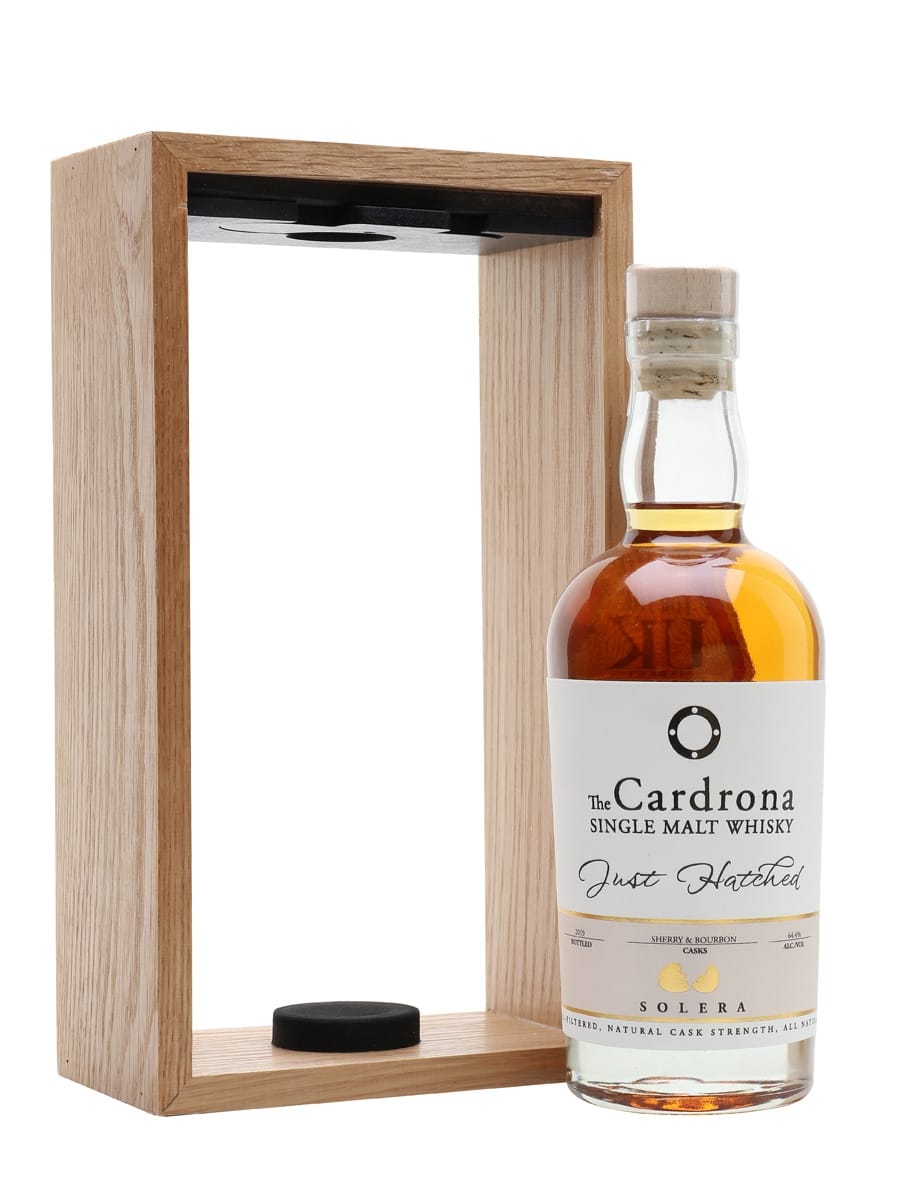 Cardrona Just Hatched Solera Single Malt (350ml)
---
Sale price

$87.00
Regular price
(/)

Key Facts About This Whisky
Distillery: Cardrona
Region: New Zealand
Cask Type: Bourbon and Sherry Casks, Solera
Age: 3 years old
Alcohol by Volume: cask strength at 64.4%
Bottled: Natural colour and without chill-filtration
Bottle Size: 350ml
Awards: New Zealand's Best Single Malt Whisky in the 12 Years And Under category at the World Whiskies Awards 2020.
Just Hatched Tasting Notes
Official Tasting Notes
Borage flower, honey, vanilla, spice, with weighted spirit on the tongue, this adolescent whisky is a strong indication of their future whiskies.
Ed's Tasting Notes
Colour: Natural colour, medium amber. An oily whisky which coats my glass, with many and overlap legs running down my glass.
Nose: Caramalised brown sugar and hay. Russet apples on an old orchard tree after the autumn rain. There is alcohol on the nose, but considering the ABV is a mighty 64.8% it is impressively well-integrated.
Palate: Viscous and full-bodied. Spiced toffee apples, forest honey and vanilla. Again, there is heat from the ABV, but you may guess mid to high 50s, not mid 60s. With water, the mouthfeel becomes creamier, the vanilla increases, a more floral character emerges, and the spice softens.
Finish: A long, warming finish with caramlised apples, spice and chilli.
You can read Ed's full review of Cardrona's Just Hatched here.
About Cardrona Just Hatched
A marriage of ex-bourbon and ex-sherry casks, this& Cardrona Single Malt Whisky "Just Hatched" is a special natural cask strength bottling marking the momentous occasion of reaching three years old.
Cardrona's Single Malt Whisky starts life traditionally from barley, yeast and water that comes from a Cardrona Alpine glacier-filled spring on their land and lends a unique mineral flavour profile. These simple ingredients are carefully milled, mashed, fermented under the watchful eye of craftswoman, Desiree Whitaker, and her small team of female distillers. After a long fermentation the wash is distilled in two small Forsyth copper pot stills, and then matured in Cardrona's pristine alpine valley.
The Cardrona Just Hatched 3 year old Solera Whisky has won New Zealand's Best Single Malt Whisky in the 12 years and under category at the World Whiskies.
Where can you ship?

We're based in the UK, but we can ship to many countries.

We deliver to Australia, Canada (Alberta), China, Denmark, Finland, Germany, Greece, Guernsey, Hong Kong, Ireland, Israel, Italy, Japan, Jersey, Lithuania, Luxembourg, Macao, Netherlands, New Zealand, Norway, Philippines, Singapore, South Africa, South Korea, Taiwan, UK, US (certain states*), and Vietnam.

*We can ship to the following US states duty-paid (so no further taxes for you): Alaska, California, Connecticut, Delaware, District of Columbia, Florida, Georgia, Illinois, Louisiana,Maine, Maryland, Massachusetts, Nebraska, New Jersey, New Mexico, New York, North Carolina, Oregon, Pennsylvania, Rhode Island, South Carolina, Texas, Vermont, Virginia, Washington, Wyoming.

How much is shipping?

Shipping charges are calculated during checkout, depending on where you live and how many bottles you're buying. Shipping within the UK is free on orders over £100.

What about taxes?

All alcoholic products sold by TopWhiskies are sold subject to UK alcohol tax, which is already included in the price.

UK sales are subject to VAT (currently 20%), which is included in the price. Sales outside of the UK are not subject to this tax, and international prices do not include it.

We use a specialist US shipper who sorts out US taxes. These costs are factored into the US shipping charges. So shipping may look pricey, but remember it covers your taxes as well.

For all other territories, including those in Europe, please note: your order could be subject to local sales taxes and duties upon arrival in the destination country. All additional charges are the responsibility of the recipient. As customs policies vary widely from country to country, TopWhiskies has no control over these charges, so you should contact your local customs office for further information. If you refuse to pay any import duties and taxes, this could result in the goods being destroyed by customs or being returned back to us - any refund offered would include a deduction of our costs.

Which couriers do you use?

In the UK we use Royal Mail, Parcelforce and APC. US orders are sent via UPS. International orders use FedEx and DHL.

Need help?

For help, or custom orders, please contact Ed on email ed@topwhiskies.com
Quality products, independent brands

All the brands I work with are independent. Many of them are small brands, run by one or two people with a whole load of passion. As a result, these unique products are top quality.

Personal support

Need help? Write to me at ed@topwhiskies.com. It's always me at the end of the email, and I'm always glad to help.

Five-star service

With happy whisky-loving customers all around the world, we're rated five stars for our service.

Secure checkout

We accept all major cards, along with PayPal and Apple Pay. Check out securely online, with the safety of SSL encryption. You can pay in a wide range of currencies, whatever is most convenient for you.
Choose options