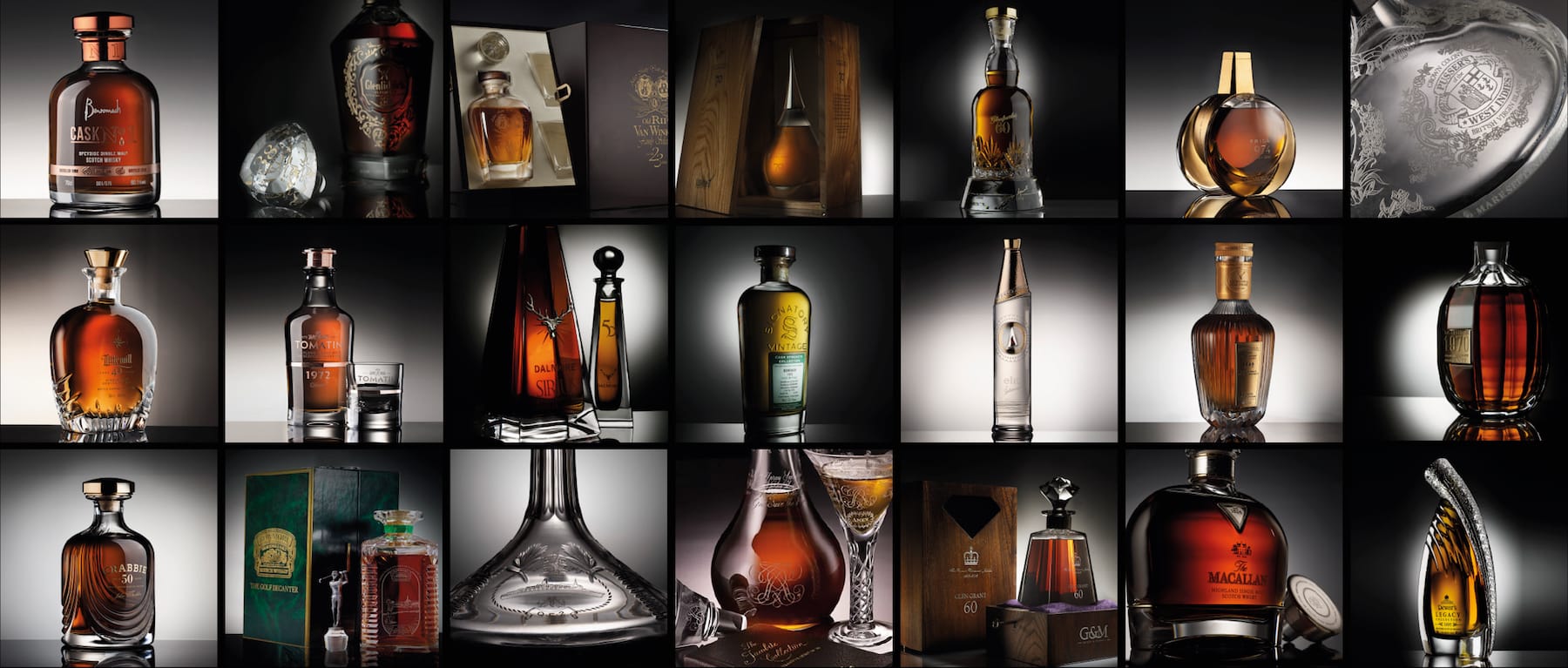 40 years of beautiful whisky decanters from Glencairn Crystal
This year marks the 40th birthday of the company behind the Glencairn whisky glass: Glencairn Crystal Studio. Founded by Raymond Davidson in 1981, the company is best known for the world's favourite whisky glass, the Glencairn Glass. First created in 2000, Glencairn Crystal now make over 3.5 million Glencairn Glasses a year, which are shipped to over 140 countries worldwide.
Glencairn Crystal has also become an expert in the design, creation and manufacture of high-end crystal and glassware, and make the decanters for some of the worlds' rarest and most exclusive spirits. Glencairn Crystal will be celebrating four decades of whisky crystalware by showcasing some of its most successful whisky decanters.
As a family firm Raymond's ethos for Glencairn was to focus on the needs of the customer and to build the crystal decanter side of the business. Raymond believed that decanters had an important role to play in the whisky world. His vision was to use pioneering innovation and craftsmanship to enhance the presentation of whisky brands, adding value to any whisky (or any other spirit) contained within a Glencairn Crystal decanter.
Since then Glencairn has gone from strength to strength creating some of the whisky industry's most prestigious and ground-breaking decanters, whilst still remaining a family run business - now run by Raymond's sons, Paul and Scott Davidson.
Over the years Glencairn Crystal has designed, created and delivered decanters to hold the world's oldest whisky, the world's oldest port and the world's oldest rum. Other memorable crystal decanters produced have ranged from a decanter sitting on a stunning engraved silver crown, appearing to float on only four points of contact, to breathtaking vessels embedded with precious rubies and sapphires. The combination of high-profile brands and revolutionary design and production processes has ensured that Glencairn Crystal has established itself as a world expert in decanter design.
To mark this special birthday, throughout 2021 the team at Glencairn Crystal will be releasing 'behind the scenes' decanter stories from the four decades and showcasing their decanter projects which truly 'capture the spirit' of what their talented craftspeople have achieved over the last 40 years. The stories will be hosted on the Glencairn Crystal website, via Glencairn's social media channels and supported with podcasts featuring interviews with key figures in the whisky industry involved in the projects.
The birthday will also be marked later this year with the official opening of the new expanded Glencairn Crystal Studio site in East Kilbride, Glasgow, which has been delayed due to the pandemic. With an investment of over a million pounds the new-look premises include a stunning refurbishment, a new brand-orientated reception and a substantial new build on the original Glencairn site to cater for expanding demand. All the building and design work has been done by local Glasgow-based businesses.
Raymond Davidson, Founder of Glencairn Crystal, said: "When I started Glencairn Crystal in 1981 it was my ambition to create the most innovative, creative and impressive crystal decanters for the drinks industry. We started off as a small business with everyone in the family rolling up their sleeves to get involved. I couldn't be prouder of everyone at Glencairn and what we have achieved together in the last forty years. In terms of our decanters I'd like to thank our customers for trusting us with such rare and beautiful spirits. Though we have grown to a team of over 70 staff now, our family values and customer relationships are still at the core of everything we do and we continue to lead the world in creating ground-breaking design and developing unique techniques that delight our customers."
Scott Davidson, Glencairn Crystal's New Product Development Director, said: "Last year was an important year for us with the 20th anniversary of our iconic Glencairn Glass for whisky, however this is also a momentous year for us as we pay homage to 40 years of Glencairn Crystal since my father started the company in 1981. We could not have built the business without our talented and passionate team, including the best craftspeople in the industry, some of whom have over 30 years experience in working with crystal. We look forward to continuing to lead the market in crystal, glass and container innovation and craftsmanship, whilst working with friends and colleagues across the industry."